If you've ever asked yourself, "Is a male incontinence pad the same thing as a bladder pad?" you're not alone! Knowing the differences between these two products can be confusing at first, but this post will answer all of your questions so you can be sure that you're using the right incontinence product.
We'll also walk you through how to wear male incontinence pads correctly to have peace of mind that you're protected against leaks throughout your day.
What is a Male Incontinence Pad?
Male incontinence pads fall under the larger category of bladder pads, but male guards are designed more specifically for the male anatomy, while a female or unisex bladder pad is usually not as shapely.
There are two types of male incontinence pads:
The Male Incontinence Shield.
The Male Guard.
Both the male incontinence shield and the male guard are discreet and absorbent pads that protect against symptoms of urinary incontinence, such as urine leakage and urine dribbles.
The main difference is that the male incontinence shield is thinner and best used for light leaks, while a male guard is thicker and better for moderate leaks.
The liners are typically made with absorbent materials, such as polymer, for fluid retention. They also usually have an adhesive strip on the backside to stick to your undergarments for stability and security.
Male guards have various absorbency levels, ranging from light to maximum absorbency.
Is a Male Incontinence Pad Right for Me?
How will you know if a male bladder pad is right for your continence care plan? Consider these things to determine if a male guard is the right incontinence product for your lifestyle.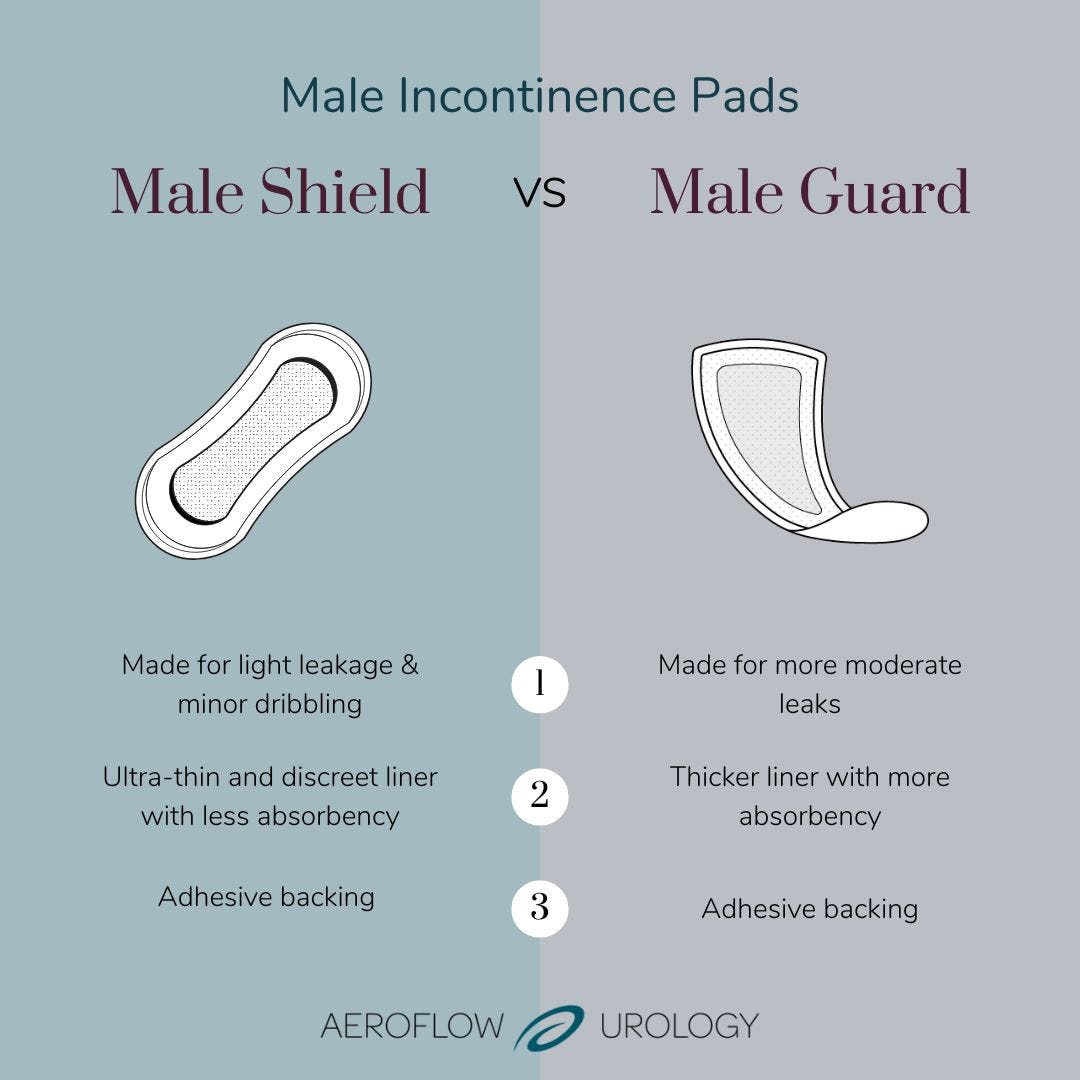 The Different Types of Incontinence Products
When deciding if a male incontinence pad is right for you, you should consider all the other incontinence products that can help manage different incontinence levels.
Adult Brief (Diaper): An adult brief or adult diaper is a disposable, tab-style diaper that allows for easy removal and lots of absorption. Adult briefs are best for a moderate to heavy bladder or bowel incontinence level.
Adult Pull-ons (Incontinence Underwear): Adult pull-ons do not come with tab closures; Instead, they are made to look like regular underwear (but not washable). These disposable protective underwear are best for moderate to heavy bladder incontinence.
Male Guards: Male guards, also known as male incontinence pads, are discreet liners that can be worn inside your clothing to catch urine leakage. These disposable pads are best for light to moderate incontinence.
Male Incontinence Shield: Male shields are similar to male guards but for lighter leaks. These absorbent and thin liners are discreet and breathable.
Booster Pads: Booster pads act as ultra-absorbent "boosters" for your other incontinence products. For example, if you wear an adult pull-up and fear you may leak more than usual, you can place a booster pad inside your pull-up to absorb urine.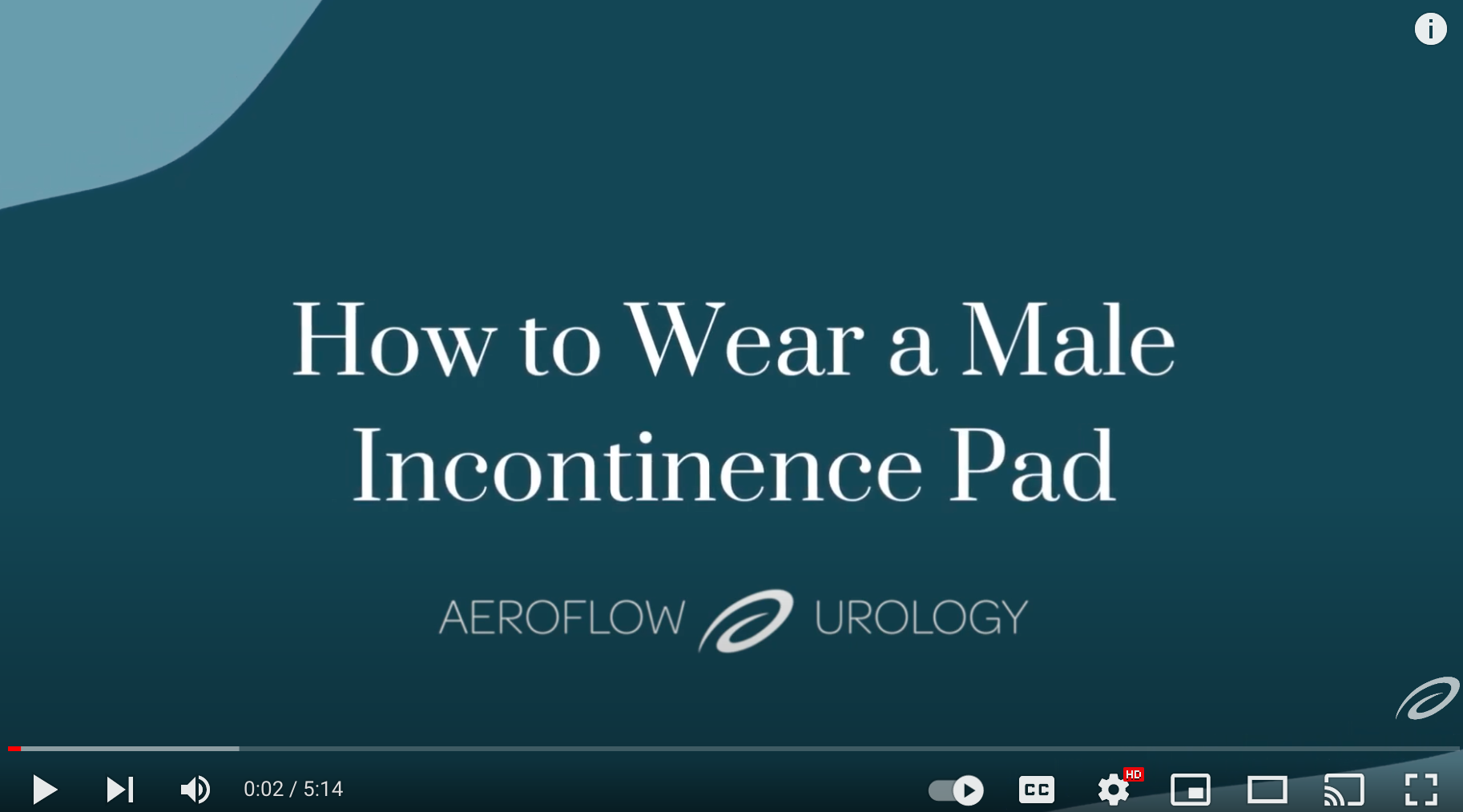 Underpads: Underpads are great for protecting furniture or bedding around the house or in your car. Made of absorbent materials with a waterproof backing, these pads can go anywhere and catch extra bladder or bowel leaks. Underpads are usually used with moderate to heavy levels of incontinence or for those who need overnight protection.
Your Incontinence Level
The level of incontinence protection you'll need is based on your level of incontinence. There are three levels of incontinence to consider when finding the right product for you:
Moderate to Light
If you have minimal to light incontinence, you most likely have stress urinary incontinence or overflow incontinence. Stress incontinence (SI) occurs when you laugh, sneeze, cough, exercise, or lift heavy objects. Overflow incontinence occurs when you can't empty your bladder completely, which causes urine overflow.
Leakage: Up to 2 cups of urine leakage per day.
Best Products: Male shields.
Moderate
A moderate level of incontinence usually means you have more bladder leakage during your day.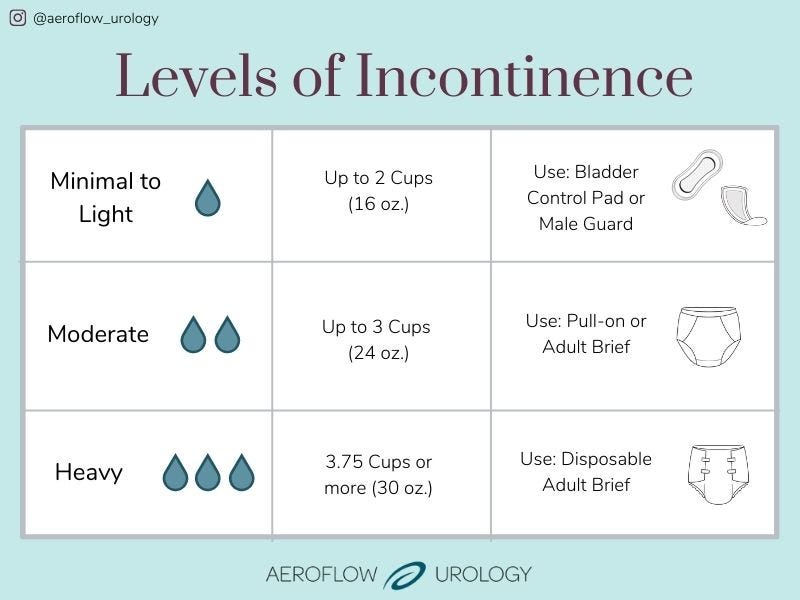 The types of incontinence associated with moderate leakage could be SI, overactive bladder (OAB), urge incontinence, overflow incontinence, or mixed incontinence. With these types of incontinence, urinary leakage is more severe.
Leakage: Up to 3 cups of urine leakage a day.
Best Products: Male guards, male pull-ups (male protective underwear), or men's adult briefs (adult diapers).
Heavy
If you have heavy incontinence, you most likely have one of the types of urinary incontinence previously mentioned or bowel incontinence. This is because bowel leakage tends to be heavier and requires more absorption than light incontinence products offer.
Leakage: 3.75 cups of urine or bowel leakage a day.
Best Products: Disposable adult briefs (adult diapers) or overnight briefs (diapers).
Your Level of Activity
If you are mobile and very active with light incontinence, a male guard may be the right product for you. They are easy to change throughout the day and form to fit your anatomy.
However, you may want to consider how long you are away from a bathroom or your home and if you have a bag that you can take with you to carry incontinence products in. Adult pull-ups may be your best bet if you aren't near a restroom for a long time.
If you are a person who has less mobility with light incontinence, you may want to opt for an adult brief or adult diaper, so you don't have to worry about changing your incontinence product as often.
How to Wear Male Incontinence Pads
Once you've decided if a male incontinence pad is right for you, you can follow these steps on how to apply and wear both the male incontinence shield and male guard:
While your undergarments are by your knees, remove the paper backing from your male incontinence pad. Dispose of backing.
Then, hold the adhesive back toward your underwear or undergarments with the broad side of the pad in the front.
Pull up your undergarments. The pad should fit your body. If not, readjust the pad while sitting down.
After your male incontinence pad feels full (usually within 3-4 hours), peel the pad off your underwear and dispose of it in a receptacle.
Put a new pad on to stay dry!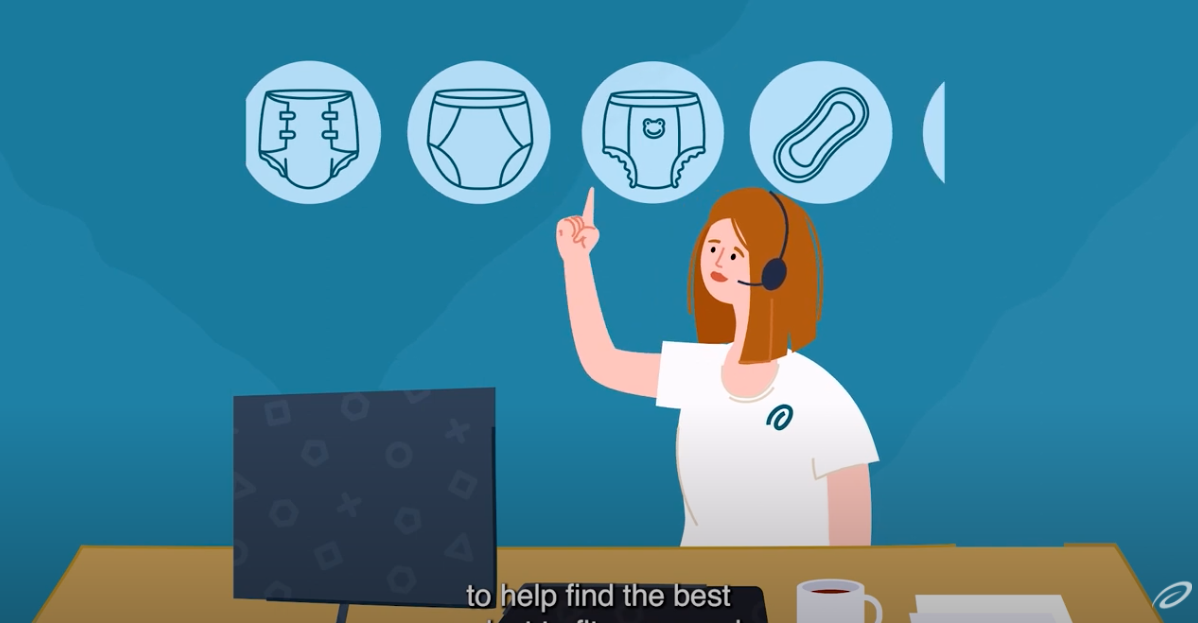 How to Get Free Male Incontinence Pads
If you're looking for an incontinence product that will help you take back your quality of life and lessen your anxiety about leakage, Aeroflow Urology may be able to help.
We offer free or low-cost incontinence products through Medicaid and some private insurance plans. If you are deemed eligible, one of our Continence Care Specialists will contact you. They'll answer questions you may have, help you fill out necessary paperwork from your healthcare provider, and send you free incontinence product samples. From there, your male guards or other incontinence products will be shipped directly to your doorstep in discreet packaging every month. We'll also send you text or email reminders when it's time to restock your supplies.
All you need to do to see if you qualify is follow our three steps:
Fill out our eligibility form.
Once you've completed, speak with our Continence Care Specialists about which products are right for you.
After choosing your products, watch for an unmarked, discreet box at your door!
Information provided on the Aeroflow Urology website is not intended as a substitute for medical advice or care from a healthcare professional. Aeroflow recommends consulting your healthcare provider if you are experiencing medical issues relating to incontinence.