A Guide to Adult Protective Underwear
Incontinence is a common condition that affects many adults, and it can be an embarrassing and uncomfortable experience. However, solutions like adult protective underwear can help control leakage and keep you dry throughout your day.
With so many different types and styles of protective underwear available, it can be overwhelming to choose the right one, which is why we've created this guide.
We'll help you understand which factors to consider when selecting protective underwear. Whether you're choosing products for yourself or a loved one, this guide will give you the information you need to make an informed and confident decision.
What Are Adult Protective Underwear?
Adult protective underwear, also known as incontinence underwear, are products designed for adults with moderate to heavy bladder leaks. These discreet pull-ups are made to look and feel like regular underwear and come in a variety of styles, sizes, and absorbencies.
Incontinence underwear typically feature a leakproof layer that wicks moisture away from the skin. Some of these products are also designed to fit male and female bodies.
Types of Adult Protective Underwear
There are a few different types of protective underwear for adults. When selecting your products, consider these types and which one will suit your incontinence needs.
Protective Underwear for Women
Adult incontinence underwear for women are often used by women who experience urinary incontinence due to menopause or aging, as well as women who are recovering from childbirth or surgery. These discreet protective underwear are designed to look and feel like traditional women's underwear.
Protective Underwear for Men
Protective underwear for men are commonly used by men who have urinary incontinence due to aging, prostate problems, or prostate surgery. Incontinence underwear for men are discreet, pull-up style products that feature designs made to resemble regular underwear.
Unisex Protective Underwear
These absorbent underwear can fit both men and women. They pull-on like regular underwear and are made with an elastic waistband for ultimate comfort.
Overnight Protective Underwear
Overnight underwear are similar to regular adult protective underwear but are designed with maximum absorbency for protection against overnight leaks.
Adult Protective Underwear Features
Overnight underwear are similar to regular adult protective underwear but are designed with maximum absorbency for protection against overnight leaks.
Women's protective underwear: Designed to look like women's underwear

Men's protective underwear: Made to look like men's underwear

Unisex protective underwear: Made for both men and women

Overnight protective underwear: Designed for both women and men for overnight leakage

Adult protective underwear are designed to be highly absorbent. They are capable of handling moderate to heavy levels of incontinence. The absorbent core of the underwear is made from super-absorbent polymers that can quickly absorb and lock away liquid.

It's important that you choose the correct absorbency level for your unique incontinence needs. Choose the adult protective underwear that correlates with your level of leakage.

Moderate absorbency: Moderate to heavy leakage
Super absorbency: Heavy to severe leakage
Maximum absorbency: Heavy to severe leakage
Overnight absorbency: Severe/overnight leakage

Sizing is critical when choosing protective underwear. Your product should fit comfortably around your body and not be too tight around your legs or waist. If the sizing isn't right, you may experience leakage or skin irritation.

Our sizes include:

Small

Medium

Large

Extra Large

2XL

Adult protective underwear are designed to look and feel like regular underwear, with a discreet fit. This allows individuals with incontinence to maintain dignity and confidence while managing leakage.

The leg openings of adult protective underwear are frequently lined with leak guards or cuffs that help prevent leaks from occurring, protecting clothing and other surfacese from wetness.

The waistband of adult protective underwear is elasticized to ensure a comfortable and snug fit. This stretchy waistband also helps to prevent the underwear from slipping or shifting throughout the day, keeping the wearer comfortable and confident.

Made with ultra-breathable materials, adult protective underwear allow air to circulate to skin. This helps to prevent irritation and allows for a more comfortable wearing experience.

Odor control features help neutralize unpleasant odors caused by incontinence. Odor control features may include special fabrics, antimicrobial treatments, or other technologies that help to eliminate odors.
Adult Protective Underwear Brands
TENA
TENA is the number 1 adult incontinence brand. The company has over 60 years of experience designing incontinence products and they offer a variety of bladder and bowel care products, including adult diapers, bladder control pads, and adult protective underwear.
TENA ProSkin Briefs
Tena ProSkin Protective Underwear for Men are made for the male anatomy. These discreet and absorbent underwear come in a light grey color to resemble traditional undergarments. They offer leakage and odor protection with the super-absorbent polymers that also lock away moisture to leave men feeling confident during their days.
Features:
Designed for the male body

100% breathable technology to maintain skin health

Super-absorbent polymers to keep the wearer dry for extended periods

Ergonomic and secure fit with soft, elastic leg holes

ProSkin Triple Protection for preventing leaks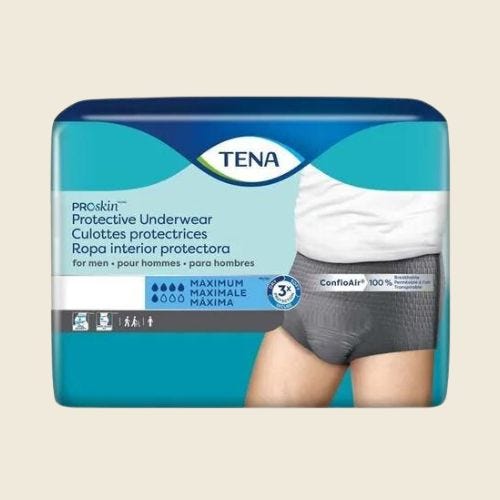 ---
Prevail
Prevail incontinence products are made for those with bladder and bowel incontinence. Their products are designed with comfort, skin health, absorbency, and discretion in mind. Prevail has a wide variety of incontinence care products, such as bladder control pads, adult protective underwear, and adult briefs.
Prevail Per-fit Daily Underwear for Women
Prevail Per-fit Daily Underwear for Women are designed for the female body. They feature a form-fitting shape that's comfortable for all-day wear. These female underwear are made with breathable fabric that locks away wetness to promote skin health.
Features:
Made for females

Breathable material to trap wetness in and away from skin

Omni-Odor Guard to neutralize odors

MaxSorb Gel Technology to soak up leaks




Latex-free for sensitive skin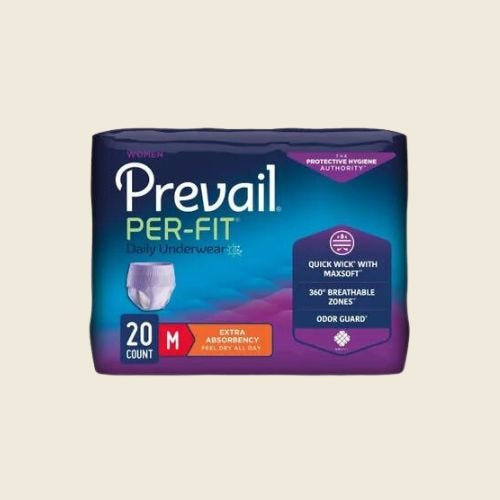 ---
Attends
Attends makes incontinence products that are built to provide wearers with comfort, care, and confidence. Their products range from adult diapers to booster pads to protective underwear.
Attends Premier Underwear with Overnight Absorbency
Attends Premier Underwear are made for males and females who need overnight leakage protection. They are highly absorbent and breathable so wearers can stay comfortable throughout the night.
Features:
Unisex design for both women and men

100% breathability to promote healthy skin

Highly absorbent to lock in overnight leakage

High rise design for full-fit protection

Ultra-plush design for maximum absorbency and comfort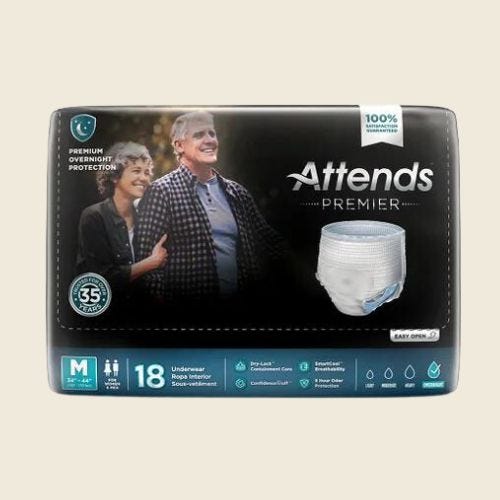 Adult Protective Underwear Free* Through Medicaid
We know that incontinence products like adult pull-ons are a medical necessity for those with incontinence. That's why we're here to help you easily determine if you qualify to get protective underwear and other supplies 100% covered through your Medicaid plan.
In order to qualify for free adult protective underwear, you'll need to fill out our secure Eligibility Form.
After submitting your information, you'll receive a call or email from our team of Continence Care Specialists to let you know if you've covered.
While most state Medicaid plans cover incontinence products, your eligibility will be determined by the state you live in, your specific insurance coverage, and your incontinence diagnosis.
If you qualify with us, we will...
Send you free protective underwear samples so you know you're getting the correct size and absorbency for your needs

Help you easily navigate and understand your insurance policy and coverage

Ship your protective underwear in unmarked boxes for free every single month

Send you a text message or email when it's time to restock your supplies
Other Products Free* Through Medicaid
We offer other incontinence products that may be free* through Medicaid, including:
Adult diapers

Pediatric diapers

Pediatric pull-ups

Incontinence pads

Booster pads

Underpads (chux)

Gloves

Wipes
*Medicaid coverage varies by state. Submitting your info is not a guarantee of benefit.