Reordering Continence Care Products
We make it easy to restock your incontinence supplies- all you have to do is log in to our reordering portal and review and confirm the products you want delivered to you or your loved one next.
How It Works
Every month, you'll receive an email from your Continence Care Specialist with a unique link to your insurance-covered products and order history. The link will be sent to the email you used when signing up for Aeroflow Urology's services.
Follow our step-by-step guide to reordering supplies.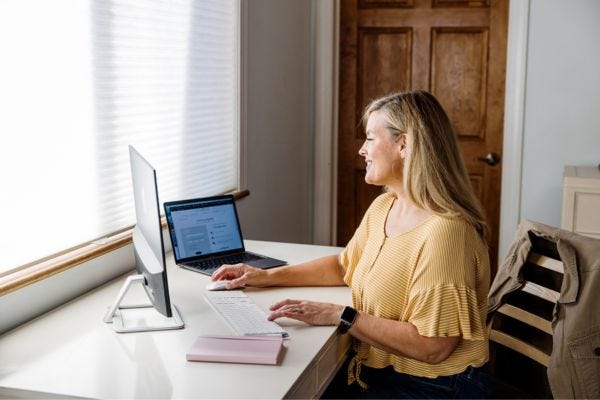 ---
Check Your Email
We'll send you an email with a link to sign in and reorder your continence care essentials. Check your email for the link.
---
Log In to Your Account
Once you're on the Aeroflow Urology website, log in using your date of birth and the email address or the phone number you entered when signing up for our services. It's important to note that if you're a caregiver or ordering products for someone else, you should enter the birth date of that person. After entering the correct information, click "Log In."
---
Adjust Your Order
If needed, you can make adjustments to your order on the page you see after logging in. Click the checkmarks next to each product to deselect them. If you need to change the product type or size, contact your dedicated Continence Care Specialist via our online chat or by calling 1-(844)-276-5588. You can also adjust the quantities of products you need on this page. Do this by clicking on the dropdown menu under "Quantity." Click "Next" after adjusting your order to be taken to the confirmation page.
---
Review & Confirm Your Order
04
Review your order to ensure your products, shipping address, and personal information are correct. If you need to update your personal information, click the "Edit" button to make changes. After reviewing your order, click the checkbox to accept the terms and conditions. Then, click "Place Order" to complete the reordering process. After that, all you need to do is wait for your shipment to arrive at your doorstep!
---
Not Sure If You Qualify for Free Incontinence Products?
If you haven't yet signed up to see if you qualify for free incontinence products with Aeroflow Urology, you still can! Fill out our secure Eligibility Form and we'll reach out to you within 1-2 business days to let you know if you're covered through your insurance plan. If you are covered, you will…
Be able to choose from a variety of incontinence products that fit you or your loved one's unique body type and needs.
Receive monthly shipments of incontinence products right at your door- all for free.
Receive friendly reminders when it's time to reorder your supplies.
Have any other questions? Feel free to check out our FAQ page. If you need additional assistance, contact your Specialist directly or give us a call today at 844-276-5588.
1. What if the product I order doesn't work for me or my loved one?
If you are unsatisfied with an incontinence product, we have many different brand, fit, and absorbency options that can work for your needs. Call, chat, or email us and a Continence Care Specialist will walk you through the options available with your insurance plan.
2. What if the product I order is not absorbent enough?
If you get your shipment and your product isn't absorbent enough, reach out to your Continence Care Specialists and we'll walk you through some different options available under your insurance plan. We can also send you samples of different brands or absorbencies to try.
3. How often am I eligible for an order?
Each person's insurance plan has specific and different rules as to when you're eligible for an order. Usually, you can reorder products every motnh based on your usage of the items.
4. How will I know I'm eligible for more produucts?
We will email, text, and call you up to 2 weeks before you are eligible for an order to ensure timely delivery of your necessary supplies.
5. Can I change my product size when I reorder?
We have many different sizes of incontinence products for adults and children. Simply call, chat, or email us and a Continence Care Specialist will help you in finding the correct size for yourself or your child.
6. How quickly will my new order ship?
You should receive your order within 2-5 days of your eligible ship date as per your insurance plan. You will receive an email and a text with your tracking information. Do remember that your order can come in multiple boxes that are sometimes delivered on separate days.
7. How do I reorder my supplies?
We will send you an email and a text reminder when it is time to confirm you are ready for more supplies. You can simply login to our easy to use portal or reply back to the text to confirm your next shipment.
8. How do I track my order?
We will send your tracking information via text and email. Shipping will normally take 2-3 days.
9. Can I schedule my shipments?
Insurance rules require us to confirm that you need more supplies each month. We will contact you via email, text, and phone to confirm you are ready. If your supplies are ever running low, reach out and we can confirm when you are next eligible for an order.
10. What other products can I receive when I reorder?
The products that you are eligible for depend on what your doctor has authorized and what your insurance plan will cover. If you have any questions about a specific item one of our continence care representatives can help walk you through those options.