A Guide to Booster Pads
Incontinence products like protective underwear and diapers are made to be ultra-absorbent, but sometimes you may need a booster pad to help soak up extra leakage.
In this guide, we'll explain how to choose a booster pad to improve the performance of your other incontinence products and show you how to easily get your products free* through Medicaid.
Booster pads are absorbent inserts designed to improve the performance of other incontinence products, such as disposable diapers or protective briefs. Their porous back sheets allow leakage to be soaked up before passing into another incontinence product. These unisex pads also provide extra protection from leakage when using products like overnight diapers.
Absorbency

Booster pads are designed as a first line of defense for incontinence. They are made with maximum absorbency to soak up leaks for ultimate protection. Booster pads can usually hold between 5-27 ounces of liquid.

Adhesive Backing

Booster pads come with an adhesive backing to help keep them in place when inside other incontinence products. The backing provides a secure fit while allowing absorbed liquids to flow into other absorbent products after it is at capacity.

Odor Control

Odor control helps block unwanted scents during longer periods of wear. Booster pads' odor control gives users confidence and a feeling of freshness all day or night.
Attends
Attends makes incontinence products that provide individuals with comfort, care, and confidence. Their products range from adult briefs to protective underwear to booster pads.
Attends Booster Pad
Attends Booster Pad is designed to boost the performance of other incontinence products, such as protective briefs and bladder control pads. This pad provides an extra layer of absorbency for overnight use or extended periods of wear.
Features:
Unisex design for men, women, and kids

Odor-blocking technology for freshness

Adhesive backing for a secure and confident fit

Soft, breathable material to keep skin healthy

Porous back sheet for optimal absorbency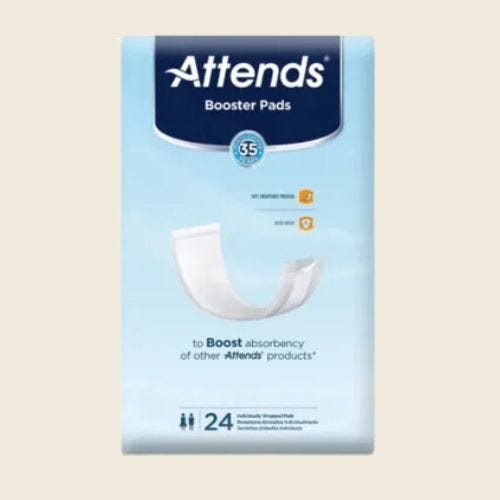 Booster Pads Free* Through Medicaid
Booster pads are a helpful incontinence product for those who need extra leakage protection, but they can be costly. That's why Aeroflow Urology makes it easy to get free* booster pads through insurance.
To find out if you qualify with us, fill out our Eligibility Form. It takes under 5 minutes and all you need is your insurance card.
While most state Medicaid plans cover incontinence products, your eligibility for booster pads will be determined by the state you live in, your insurance coverage, and your diagnosis.
If you do qualify with us, we'll...
Send you free product samples so you know you're getting the right supplies for your unique incontinence needs.

Help you navigate and understand your insurance policy and coverage.

Ship your booster pads for free in unmarked boxes.

Send you a text message or email when it's time to refill your products.
Other Products Free* Through Medicaid
We offer other incontinence products that may be free* through Medicaid, including:
Bed pads

Bladder control pads

Adult diapers

Adult pull-ons

Pediatric diapers

Pediatric pull-ups

Underpads (chux)

Gloves

Wipes
*Medicaid coverage varies by state. Submitting your info is not a guarantee of benefit.