A Guide to Bladder Control Pads
Bladder control pads are incontinence products that are designed to manage urinary incontinence. These discreet, absorbent pads help individuals who experience bladder leaks feel more secure and protected.
In this guide, we'll explain how to choose the right bladder pad so you can feel confident in every day life. We'll also show you how to easily get your products free* through Medicaid.
Types of Bladder Control Pads
There are a few different types of bladder control pads that fit different incontinence needs.
Bladder Control Pads for Women
Many women experience urinary leakage due to things like aging, pregnancy, childbirth, menopause, or other medical conditions. These factors may weaken pelvic floor muscles and cause urinary incontinence.
Bladder control pads are the perfect solution for women managing these issues who are looking for a discreet alternative to adult protective underwear or adult diapers. These pads are designed to fit the female body. Incontinence pads for women come in a variety of absorbency levels and are worn inside the underwear.
Male Guards for Men
Some men may experience incontinence due to aging, prostate surgeries, and other medical conditions. Certain male incontinence products are perfect for controlling any level of leakage a man might experience.
Male guards are designed to manage urinary incontinence in men. Male guards are specifically designed to fit the male anatomy, providing comfortable and discreet protection against bladder leaks or urinary dribbling.
These incontinence liners are small and contoured so wearing them inside underwear is comfortable. They are designed to fit snugly against the penis and are held in place by an adhesive strip. This helps to prevent leaks and keeps the pad securely in place while wearing. Male guards are available in a range of absorbencies, from light to heavy.
Unisex Bladder Control Pads
Unisex incontinence pads are made for both men and women with incontinence. They are contoured to fit every body type, shape and size comfortably. Unisex pads ensure anyone who wears them feels confident about their bladder protection.
Bladder Control Pad Features
Absorbency

Men's adult diaper sizes are important to get right to ensure you're getting the right fit and a diaper that's comfortable for you. With the right size, you can be confident that your adult diaper will stay in place and provide the protection you need. It is important to understand the different sizes available and how to choose the best one for your needs.

Bladder control pad absorbency levels:

Minimal to Light Absorbency: Up to 2 cups of leakage
Moderate Absorbency: Up to 3 cups of leakage
Heavy Absorbency: 3 or more cups of leakage
Overnight Absorbency: More than 3 cups of leakage for overnight incontinence

Size & Shape

Bladder control pads come in a variety of sizes, so it's important to choose one that fits comfortably and securely. Our bladder pad sizes vary based on the level of absorbency you need, but they vary from regular pads to long pads. These sizes can fall anywhere from 7.5" to 16".

Regular Length: Typical-length pads starting at 7.5"

Long Length: Longer pads that cover from front to back starting at 8.35"

Breathable Material

Bladder control pads are made with soft, breathable materials that are gentle on the skin and prevent irritation. They may also contain absorbent polymers in their core that wick away moisture.

Odor Control

Unlike menstruation pads, bladder control pads are equipped with odor-controlling technology that traps in scents before they start, giving you a fresh feeling all day long.

Adhesive Backing

Bladder control pads have adhesive backings that keep the pad in place by sticking to your undergarments. This provides a secure fit and ultimate leak protection that lasts until you change the pad.
Bladder Control Pad Brands
We carry a variety of bladder control pads. Each has its own unique features and benefits. It is important to choose a pad that fits well, is comfortable, and provides adequate protection for your level of incontinence.
Prevail
Prevail is a leading brand in the incontinence industry, known for producing high-quality bladder control pads that help people with incontinence manage their symptoms and live more comfortably. Their bladder pads are designed to provide reliable protection against leaks and accidents, offering peace of mind and enhanced confidence to those who use them. These pads are made from soft, absorbent materials that quickly wick away moisture, keeping the skin dry and comfortable.
Prevail also offers a range of other incontinence products, including adult diapers, protective underwear, and underpads, as well as skincare and hygiene products to help keep the skin healthy and prevent irritation.
Prevail Daily Pant Liners
Prevail Daily Pant Liners offer heavy absorbency for both women and men to protect against bladder incontinence. The adhesive strip keeps the liner in place to prevent unwanted leaks. The light, breathable materials keep these pads comfortable for daily wear.
Features:
Omni-Odor Guard to manage odors before they start

MaxSorb Gel Technology turns leaks into a gel for maximum leak protection

Soft material that's gentle on sensitive skin

Adhesive strip for a secure fit

Breathable, cloth-like outer fabric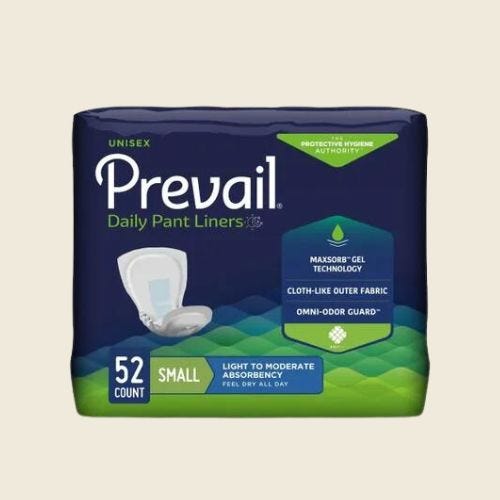 ---
TENA
TENA is a brand that specializes in personal care products for those living with incontinence issues. Their bladder control pads are designed for discreet protection and absorbency for individuals experiencing light to moderate urinary leakage.
Their bladder control pads are available in various sizes, shapes, and absorbency levels to cater to different needs and preferences.
TENA Intimates Bladder Control Pads
TENA Intimates Bladder Control Pads come in a variety of lengths and absorbencies to protect against multiple degrees of bladder leakage. These pads feature a full-length adhesive strip to keep them securely in place throughout the day or night.
Features:
Designed to fit the female anatomy

Can be used as postpartum pads for new moms with leakage

Odor control technology to stop odors before they start

100% breathable for ultimate skin comfort




ProSkin Technology to wick away fluids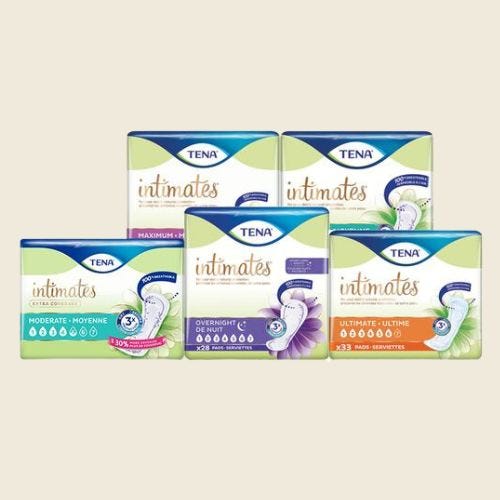 ---
Covidien
Covidien specializes in providing healthcare products to meet the needs of people with various medical conditions. Covidien manufactures incontinence products such as adult briefs, protective underwear, and bladder pads. Their bladder control pads are designed to help those who experience bladder leakage or incontinence.
Covidien Sure Care Male Guards
SureCare Male Guards provide ultra-absorbency for men that need extra leakage protection. These pads can be added directly to undergarments. They keep moisture away from skin and protect clothing from becoming wet.
Features:
Super-absorbent polymers for maximum liquid retention

Moisture wicking soft pad to keep skin dry

Soft top-cloth for sensitive skin

Comfortable contouring designed for the male anatomy

Blue barrier cuff to prevent leaks from the inside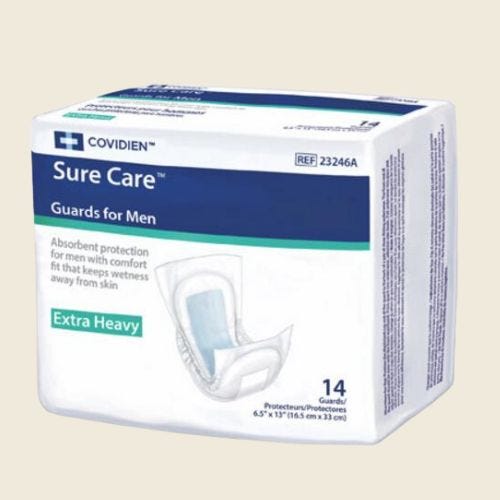 Bladder Control Pads Free* Through Insurance
We know that you want a bladder control pad that fits your unique incontinence needs but is also discreet. We also know you don't want to pay out of pocket for these necessary supplies. With Aeroflow Urology, you won't have to!
If you qualify with us through your Medicaid or other Medicaid managed care plan, you'll receive your bladder control pads or male guards every month for free.
While most state Medicaid plans cover incontinence products, your eligibility will be determined by the state you live in, your insurance coverage, and your diagnosis.
To find out if you qualify, fill out our Eligibility Form. It takes under 5 minutes and we'll reach out to you with your eligibility results within just a few days.
If you qualify, we will...
Send you free bladder control pad samples so you know you're getting the right length and absorbency for your unique needs

Help you easily navigate and understand your insurance policy and coverage

Ship your bladder pads for free in discreet, unmarked boxes

Send you a text message or email when it's time to refill your supplies
Other Products Free* Through Medicaid
We offer other incontinence products that may be free* through Medicaid, including:
Bed pads

Booster pads

Adult diapers

Adult protective underwear

Pediatric diapers

Pediatric pull-ups

Underpads (chux)

Gloves and wipes
*Medicaid coverage varies by state. Submitting your info is not a guarantee of benefit.