A Guide to Adult Diapers
Dealing with incontinence can be a challenging experience for adults of all ages. Whether it's due to a medical condition, aging, or an injury, the loss of control over bodily functions can be frustrating.
Fortunately, there are solutions available to help manage bladder and bowel leaks and maintain a sense of independence and dignity. One of the most effective and popular options is the use of adult diapers.
In this guide, we'll explore everything you need to know about adult diapers, including features, sizes, brands, and absorbency levels. With this knowledge, you can make an informed decision and find the right product to meet you or a loved one's specific needs and lifestyle.
Unlike incontinence pads or pull-on incontinence underwear, incontinence briefs are unisex, tab-style briefs fit for those with more severe urinary incontinence or fecal incontinence.
These discreet, disposable diapers are equipped with odor control and maximum absorbency for excellent incontinence protection while still being breathable to keep the wearer comfortable and protect against skin irritation, such as diaper rash.
It's important to find the perfect adult brief for you or your loved one to avoid issues like leakage or irritation. When choosing your product, consider the absorbency level and size needed to fit your unique incontinence needs.
Adult diapers are made with a number of features that make them an ideal choice for people who need maximum leakage protection.
Size Choice

The right-sized adult diaper for you will feel comfortable while staying in place and prevent any leaks. It's important to understand the different sizes available and how to choose the best one for your needs.

Our Adult Diaper Sizes:

Small

Medium

Large

XL

2XL


3XL

Each size of adult diaper comes with the absorbency level you choose; the absorbency level does not increase when you go up a size, and it does not decrease when you drop down a size.

To measure for your adult diaper size, use our sizing guide.

How to Know If Your Adult Diaper Fits

The absorbent core (the area of the diaper that catches leaks) will rest comfortably against your body.

The entire diaper should fit comfortably around your legs and waist and not feel too tight.

The tabs will sit facing forward directly on your hips.

Adjustable Fit

Adult diapers come with an adjustable fit that gives ultimate comfort and leakage security. The tab fasteners allow you to adjust the diaper to your body size.

Breathable Material

Adult diapers' material is highly absorbent yet breathable. For individuals with sensitive skin, breathable material can be helpful as they prevent skin issues like diaper rash.

Odor Control

Adult briefs are equipped with maximum odor control that seals in odors before they start, giving the wearer a feeling of freshness throughout all-day wear.

Leak Protection

The highly-absorbent cores in adult diapers lock in moisture and keep you dry. Each diaper is designed with maximum absorbency so individuals with heavy to severe incontinence can wear their product knowing it will protect them against leaks.

Our Adult Diaper Absorbency Levels

Moderate absorbency: Moderate leakage (about 3 cups of leakage)
Heavy absorbency: Heavy to leakage (3.75 cups of leakage)
Overnight absorbency: Severe fecal leakage or overnight leakage (3.75+ cups of leakage)
TENA
TENA is made by Essity. TENA has had over 60 years of experience designing incontinence products and is rated the number 1 adult incontinence brand around the globe. TENA offers a variety of incontinence products and adult diapers.
TENA ProSkin Briefs
Equipped with super absorbency, TENA ProSkin Briefs have tab closures and full-length hook fasteners. These briefs are designed for those with heavy to overnight leakage.
Features:
Unisex for both women and men

Insta-Dry Skin Caring system for dryness protection

Moisture-proof lining to protect clothing

Wetness indicator to alert users and caregivers of changes

Hook fasteners for refastening purposes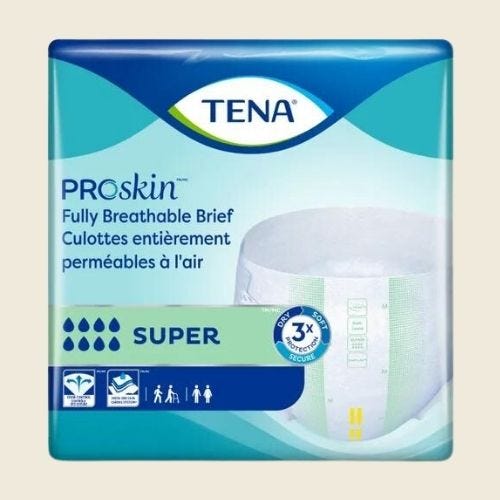 ---
Prevail
Prevail is a brand made by First Quality. Their incontinence products are made for users' comfort, skin health, absorbency, and discretion. They make a range of continence care products such as bladder control pads, adult protective underwear, and adult briefs.
Prevail Per-Fit 360 Daily Briefs
Features:
Fast-absorbing dual core for overnight protection

Cloth-like outer fabric

Advanced Zoning System to absorb leaks

Breathable fabric for skin comfort

Skin Smart Fabric for skin health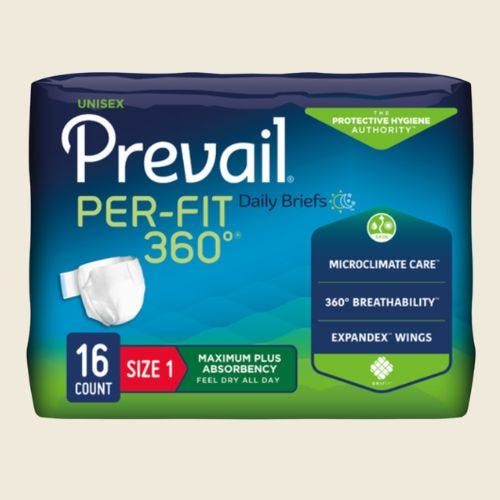 ---
Attends
Attends creates incontinence products that are built to provide users with comfort, care, and confidence. Their products range from adult diapers to booster pads to protective underwear.
Prevail Air Overnight Briefs
Attends Bariatric Briefs are designed with ultra absorbency and leakage protection for those who require a bariatric diaper size. These adult diapers are best for individuals with heavy to severe leakage.
Features:
Unisex for both men and women

Bariatric sizes 2XL-3XL (70-100" waist)

Super absorbent core to protect against maximum leakage

Extra-wide tabs for a secure fit on larger waists

ConfidenceCuff Protection around legs for comfort and leakage support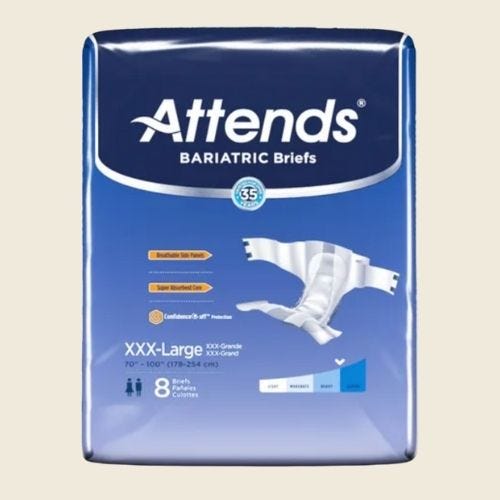 Adult Diapers Free* Through Medicaid
At Aeroflow Urology, we know that adult briefs are a medical necessity for those living with heavy to severe bladder or bowel leakage. We also know that these products shouldn't cost money out of pocket.
That's why we help you quickly and easily determine if you can get you or your loved one's adult diapers or other incontinence products 100% covered by Medicaid.
Getting free* adult diapers couldn't be easier and it all happens in 4 simple steps!
You Fill Out the Eligibility Form. Our form is secure and we never share your information with any third parties. After submitting your insurance and personal criteria, we'll reach out to you in 1-2 business days and inform you of your coverage. Your eligibility will be determined by the state you live in, your specific insurance plan, and your incontinence diagnosis.
You Choose Your Adult Diapers. Once you qualify, you'll be given a curated shopping list that only includes products that are 100% covered by your specific insurance plan. You'll be able to choose from our wide array of medical-grade briefs that fit you best. If you have any questions along the way, one of our expert Continence Care Specialists will be there to answer them. We also send totally free adult diaper samples at your request so you can ensure the sizing and absorbency is right before ordering.
We Get Your Prescription. In order for us to prove that your adult briefs are "medically necessary," we need to show your Medicaid insurer that you have a prescription for incontinence. We'll ask your healthcare provider for the prescription on your behalf, but you can get your products to your door even faster if you let them know we'll be reaching out.
Your Free Products Arrive! After placing your order, we'll ship it to your home for free in discreet, unmarked packaging!
After your first order, you'll be sent an email or text message when it's time to refill your supplies.
Other Products Free* Through Medicaid
We offer other incontinence products that may be free* through Medicaid, including:
Underpads (chux)

Booster pads

Incontinence pads

Adult protective underwear

Pediatric diapers

Pediatric pull-ups

Youth training pants

Gloves

Wipes
*Medicaid coverage varies by state. Submitting your info is not a guarantee of benefit.