Experiencing bladder leaks due to incontinence can be bothersome, especially if you're using items like toilet paper to keep you dry throughout the day. Thankfully, high-quality incontinence products, like men's adult diapers, may be free* through insurance with Aeroflow Urology.
Whether you're on the job or enjoying a relaxing night out with friends, you should be confident that your adult briefs will keep you comfortable while remaining discreet. Most importantly, your adult male brief should keep your urinary system healthy.
Not sure which type of incontinence product you need? Use our men's diaper guide to learn which type of brief will suit you best.
What Are Men's Adult Diapers?
Men's diapers are also referred to as adult briefs. These incontinence products meet the needs of adults with bladder or bowel leakage. They provide comfort, absorbency, and convenience for men who manage incontinence themselves and for caregivers who help with management.
Adult diapers protect against heavy to severe leakage in individuals with fecal or urinary incontinence.
Men's Adult Diaper Features
Size Choice

Men's adult diaper sizes are important to get right to ensure you're getting the right fit and a diaper that's comfortable for you. With the right size, you can be confident that your adult diaper will stay in place and provide the protection you need. It is important to understand the different sizes available and how to choose the best one for your needs.

Our Adult Diaper Sizes:

Small

Medium

Large

XL

2XL


3XL

Every size of adult diaper comes with the absorbency level you choose; the absorbency level does not decrease when you drop a size, and it does not increase when you go up a size.

To measure your adult diaper size, use our sizing chart.

How to Know If Your Adult Diaper Fits

The absorbent core (the area of the diaper that catches leaks) will rest comfortably against your body.

The diaper as a whole should fit comfortably around your legs and waist and not feel too tight on those areas.

The tabs will sit facing forward directly on your hips— not in the middle of your stomach.

Adjustable Fit

Adult diapers come with an adjustable fit that's designed to provide maximum comfort and security. The tab-style closures allow for an adjustable waistband size that is suitable for your body type.

Breathable Material

Adult diaper material is highly absorbent to control leaks and odors while allowing your skin to breathe at the same time. This can be especially helpful for those with sensitive skin as the materials help to prevent against irritation like diaper rash.

Odor Control

Each adult brief comes with odor control that absorbs odors before they start, giving you lasting confidence no matter where you are.

Leak Protection

The highly-absorbent cores in adult diapers wick moisture away from the body to keep you dry during wear. Every diaper is designed with maximum absorbency so individuals with heavy to severe incontinence can be confident it'll soak up leaks.

Our Adult Diaper Absorbency Levels

Moderate absorbency: Moderate leakage (about 3 cups of leakage)
Heavy absorbency: Heavy to leakage (3.75 cups of leakage)
Overnight absorbency: Severe fecal leakage or overnight leakage (3.75+ cups of leakage)
Men's Adult Diaper Brands
TENA
TENA adult diaper products have been rated number 1 globally. With over 60 years of experience designing incontinence products, they're able to offer a variety of supplies for both adults and children.
TENA ProSkin Briefs
TENA ProSkin Briefs are made for individuals who need protection against heavy to severe incontinence.
Features:
Unisex

Insta-Dry Skin Caring system to keep skin dry

Moisture-proof lining for clothing protection

Wetness indicator for users and caregivers

Hook fasteners for refastening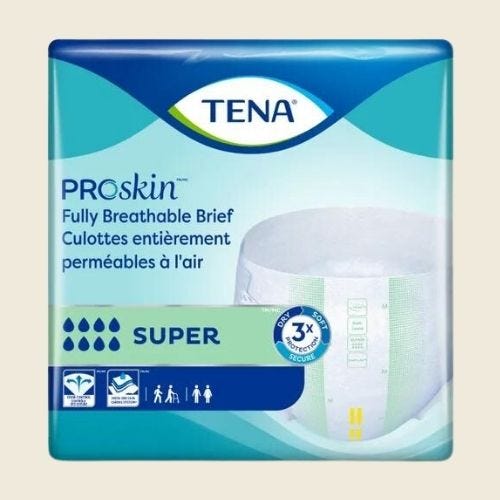 ---
Prevail
Prevail products are made for users' comfort, skin health, absorbency, and discretion. They make a variety of continence care products like bladder pads, adult protective underwear, and adult diapers.
Prevail Air Overnight Briefs
Features:
Fast-absorbing dual core for overnight protection

Cloth-like outer fabric

Advanced Zoning System to absorb leaks

Breathable fabric for skin comfort

Skin Smart Fabric for skin health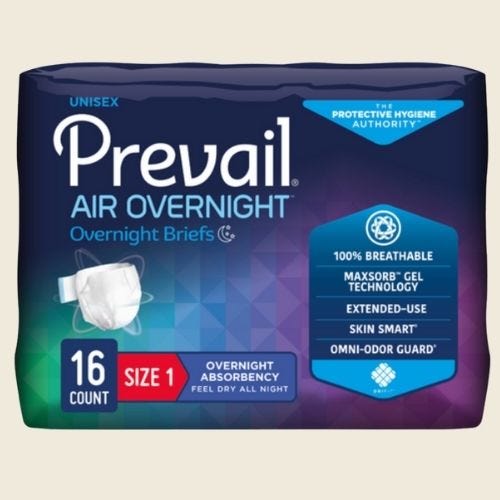 ---
Attends
Attends products are made with wearers' care, comfort, and confidence in mind. Attends carries a variety of products like adult briefs, bladder control pads, and kids' diapers.
Prevail Air Overnight Briefs
Attends Bariatric Briefs are made with ultra-absorbent material and flexibility for individuals who need bariatric sizes. These adult diapers are best for individuals with heavy to severe leakage.
Features:
Unisex

Sizes 2XL-3XL (70-100" waist)

Absorbent core for maximum absorbency

Wider tabs for a secure fit

ConfidenceCuff Protection for leak protection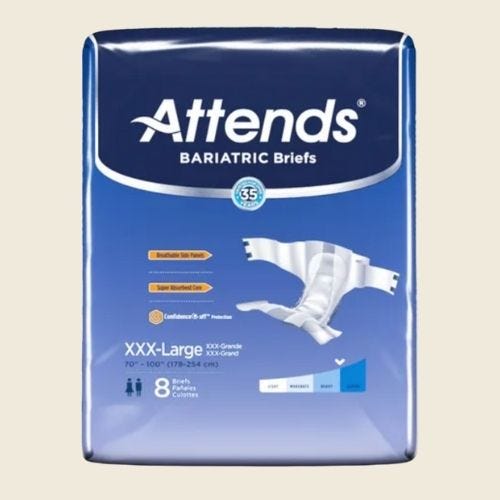 Men's Adult Diapers Free* Through Medicaid
If you are a man living with incontinence, you know adult diapers are necessary. We're here to help you quickly and easily figure out if you can get incontinence products 100% covered by insurance.
All you need to do is fill out our secure Eligibility Form. From there, we'll reach out to you to let you know if you qualify!
If you use our services, we guarantee that 5 things will happen that will make living with incontinence much easier.
You won't have to read through pages of insurance paperwork just to find out if your plan offers incontinence product coverage. We do all of that for you. The only thing you need to fill out is our 2-step Eligibility Form.
You'll be able to speak with real humans. Our staff of highly-trained Continence Care Specialists are available for you to chat, email, or call.
You'll save money. Adult diapers shouldn't cost you money— especially not low-quality brands that leak and don't fit right. Our customers report saving anywhere from $50-$200+ every month when they use Aeroflow.
You won't have to buy diapers at the store. With our services, you won't have to stress anymore because we deliver your products directly to your doorstep in discreet boxes every single month.
You'll get free diaper samples before confirming your order. We can ensure you choose the perfect diaper for your body size and absorbency level by sending you free diaper samples. Once you try them on you can confirm your order and they'll be quickly delivered to your home.
Other Products Free* Through Medicaid
We offer other incontinence products that may be free* through Medicaid, including:
Bed pads

Underpads (chux)

Booster pads

Incontinence pads

Adult protective underwear

Pediatric diapers

Pediatric pull-ups

Gloves

Wipes
*Medicaid coverage varies by state. Submitting your info is not a guarantee of benefit.