A Guide to Underpads
If you or your loved one manages heavy incontinence, you know that sometimes leaks soak through incontinence products. When this happens, a second line of defense is needed to protect against stains and spills, and underpads, also called chux, are an excellent option.
In this guide, we'll explain how to choose the underpad to successfully manage leakage and show you how to easily get your products free* through Medicaid.
What Are Underpads (Chux)?
Underpads, also called chux pads or bed pads, are heavy-duty absorbent products that help protect furniture, mattresses, wheelchairs, and other surfaces against daytime or overnight incontinence (bedwetting). These disposable underpads are quilted with high-absorbency materials that soak up leaks and odors.
Types of Underpads (Chux)
There are two types of chux that may be helpful for those with heavy incontinence.
Reusable Underpads
Reusable underpads are washable pads that can be used multiple times. These pads have absorbent cores and are made with cotton or polyester materials for comfort. Because they can be washed and reused many times, reusable underpads are more environmentally friendly than disposable bed pads.
Disposable Underpads
Disposable underpads are single-use pads that may be more sanitary than reusable underpads. Disposable pads offer users easy changes and clean-ups because they can be thrown away after being soiled. The top sheet of disposable chux also provides skin comfort and breathability while soaking up leaks.
Underpads (Chux) Features
Consider the following when choosing your booster pad.
Absorbency

Disposable underpads come in a variety of absorbency levels that suit different incontinence needs. When choosing your underpad, consider which level of absorbency you need.

Moderate Absorbency: Best for moderate leaks.
Heavy Absorbency: Best for those with heavy leaks.
Overnight Absorbency: Best for those who need overnight absorbency.

Size

Sizes for chux vary, with the most common sizes being 23"x36" to 30"x30."

Consider which type of materials you're trying to protect from leakage and how large the area is and choose a size that will cover the area. Selecting the wrong size of chux could result in stains or spillage.

Waterproof Backing

Absorbent underpads are made with waterproof backing that protects surfaces like car seats, chairs, bedding, mattresses, and other household furniture. The backing prevents leaks while keeping the user dry.

Material

Breathable underpads are made with a soft, cotton-like material that keeps skin healthy and protects it by allowing airflow to the skin. Most chux are also hypoallergenic, bringing ultra comfort to users.
Covidien
Covidien offers healthcare products for a number of needs. Their products are designed to improve individuals' quality of life by using top-quality materials and designs.
Covidien Wings Underpad
The Covidien Wings Underpad is designed with extra heavy absorbency which is ideal for overnight use. The pad is soft, absorbent, and strong, so it won't leak or tear during use.
Features:
Disposable

Heavy absorbency for bladder and bowel incontinence

XL size for maximum coverage, absorption, and protection

Super-absorbent polymers for maximum fluid retention

Polypropylene backsheet to protect against leakage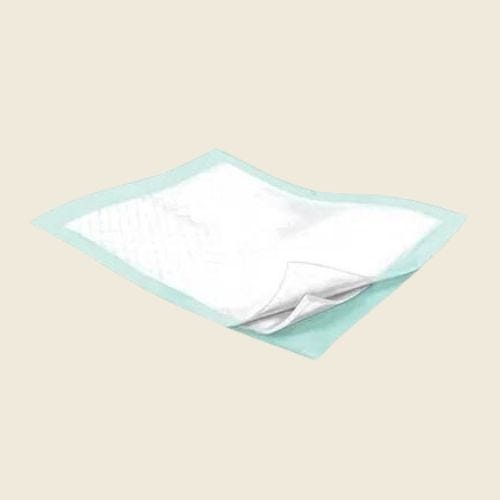 ---
TENA
TENA specializes in personal care products for those living with incontinence. Their products range from bladder control pads to underpads. TENA underpads are designed with ultimate absorbency for individuals who need extra protection.
TENA Underpad
TENA Underpads are designed with extra absorbency for overnight or heavy incontinence. These disposable pads have a soft lining and moisture-proof backing to protect furniture and other materials.
Features:
Disposable

Soft interior lining for skin health

Quilted mat for comfort

Super absorbent microbeads for superior dryness

Moisture-proof polyethylene backing prevents leaks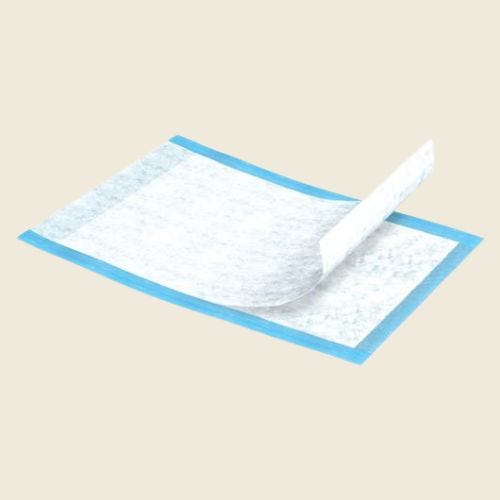 ---
Cardinal Health
Cardinal Health is a global distributor of continence care products and pharmaceuticals. They have had over 50 years of experience manufacturing incontinence products and serve almost 90% of hospitals in the United States.
Cardinal Health Premium Disposable Underpad
Features:
Reusable

PVC-coated backsheet to protect surfaces from stains

Skid-resistant to prevent slipping

Absorbent top sheet to wick moisture away from skin

Poly/rayon core to eliminate odors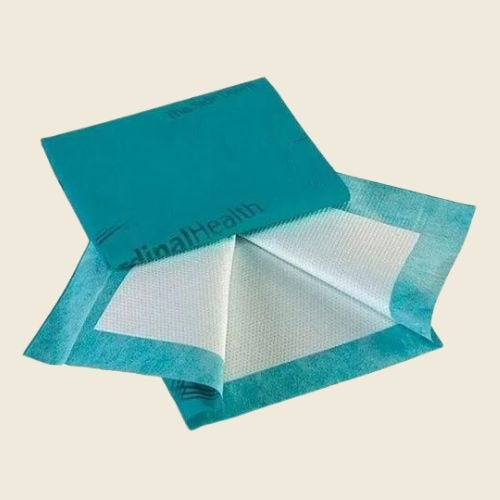 Underpads (Chux) Free* Through Insurance
Did you know you or your loved one may qualify for free* underpads through insurance? Medicaid considers underpads to be "medically necessary" for those who are eligible, so the cost is covered every month.
To find out if you qualify for free* chux through Medicaid, fill out our Eligibility Form. It takes under 5 minutes!
If you do qualify with us, we'll...
Send you free product samples so you know you're getting the right supplies for your unique incontinence needs.

Help you navigate and understand your insurance policy and coverage.

Ship your underpads for free in unmarked boxes.

Send you a text message or email when it's time to refill your products.
Other Products Free* Through Medicaid
We offer other incontinence products that may be free* through Medicaid, including:
Bladder control pads

Booster pads

Adult diapers

Adult pull-ups

Pediatric diapers

Pediatric pull-ups

Gloves

Wipes
*Medicaid coverage varies by state. Submitting your info is not a guarantee of benefit.