Managing incontinence after prostate surgery can be challenging, but it doesn't have to change your quality of life.
This article will tell you how to manage incontinence symptoms, how to keep your prostate healthy, and how to get free bladder control products with Aeroflow Urology.
What Is Urinary Incontinence (UI)?
Urinary incontinence, or the loss of bladder control, is common in men. About 1 in 4 men experience urinary incontinence, and about 1 to 8.4% of men experience urinary dysfunction after prostate surgery.
Prostate Surgery & UI
After undergoing surgical treatment, you may experience urinary control, voiding, and leakage issues. This is referred to as incontinence after prostate treatment (IPT).
The types of prostate surgeries that cause IPT are:
Radical prostatectomy (open prostatectomy). This surgery involves the removal of the prostate gland, which can sometimes cause injury to the nerves and muscles of the bladder or urinary sphincters. The nerves that supply the erectile tissue and are responsible for erectile function can also be injured.
Radiation therapy. Radiation therapy uses high-energy rays to kill cancer cells. It may help eradicate prostate cancer. However, radiation treatment can further irritate the nerves and muscles of the bladder and surrounding tissue structures.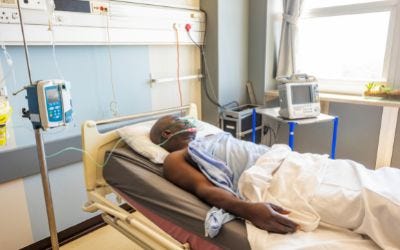 Most men recover from prostate surgery after about 4 to 6 weeks.
Why Do You Experience UI After Prostate Surgery?
The urine in your bladder remains there until you void. When you pee, urine leaves the body through the urethra, forcing your bladder muscles to contract (detrusor muscles). The muscles of your internal urethral sphincter relax as the bladder muscles contract and allow the urine to flow. Your prostate gland surrounds your urethra, so it's more challenging for your body to hold the urine following prostate surgery.
Types of UI You Can Experience Post-Prostatectomy
There are several types of UI you can experience after surgery, and each has its own symptoms. Stress urinary incontinence and post-void dribbling are the most common types of incontinence experienced in men post-prostate cancer treatment, such as a radical prostatectomy or radiation therapy, although some men may also experience urinary urge incontinence or a mix of both. Some men may also experience erectile dysfunction (ED) following surgery.
Your symptoms may range from severe incontinence to less intense. For some men, symptoms are short-term; for others, they can last for weeks, months, or years. Speak with your healthcare provider or urologist to determine which type of UI you're experiencing.
Urge Incontinence: Also known as overactive bladder (OAB), people with urge incontinence will feel a strong impulse to urinate that occurs suddenly, sometimes resulting in urine dribble.
Stress Incontinence: You may have stress urinary incontinence if you experience urine leaks when sneezing, laughing, lifting heavy objects, or exercising.
Mixed Incontinence: Mixed incontinence occurs in people who have more than one type of incontinence.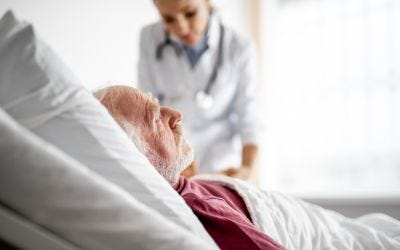 Post-Void Dribbling: Experiencing dribbling after emptying your bladder.
ED: The inability to maintain an erection during sexual intercourse.
7 Ways to Manage Symptoms
Manage your UI symptoms after prostate surgery with these tips.
1. Use Bladder Control Products
Use bladder control products to manage your UI symptoms following surgery. These supplies can help ease the stress of urine leaks and keep you comfortable all day. You may be able to get these products through Aeroflow Urology if you have Medicaid or another private insurance plan, so check if you qualify with our Eligibility Form! The best products for managing incontinence symptoms after prostate surgery include:
If you do qualify to receive products through Aeroflow Urology, we'll send you free samples, connect you with a Continence Care Expert, and ship your products on a monthly basis directly to your door in unmarked boxes for free!
2. Inquire About Additional Surgeries
Follow up with your provider about other surgeries that may help with IPT. Some options are:
Male sling: This is a minimally invasive treatment wherein a mesh-like tape is placed around the urethral bulb. This moves the urethra into a different position and helps with incontinence.
Artificial sphincter. AUS can help you if you have a weak sphincter muscle. First, an inflatable cuff is placed around your upper urethra and closes to prevent leakage. Next, a pump in the scrotum helps open and close the cuff. A small pressure-regulating balloon is also placed under the abdomen that holds urine back.
3. Do Pelvic Floor Exercises
Pelvic floor muscle training before prostatectomy surgery reduces post-prostatectomy incontinence, improves your quality of life, and improves pelvic floor muscle function. Engaging your pelvic floor muscles after surgery strengthens them and improves bladder control. Kegel exercises can also speed up your recovery time. You can also see a pelvic floor therapist for extra guidance.
4. Ask About Medications
Certain anticholinergic medications can help with incontinence by blocking nerve receptors in your bladder. Talk with your healthcare provider about which may work for you. These include:
Enablex
Vesicare
Ditropan XL.
Detrol LA.
An Oxytrol patch.
Oxybutynin 3% gel.
Imipramine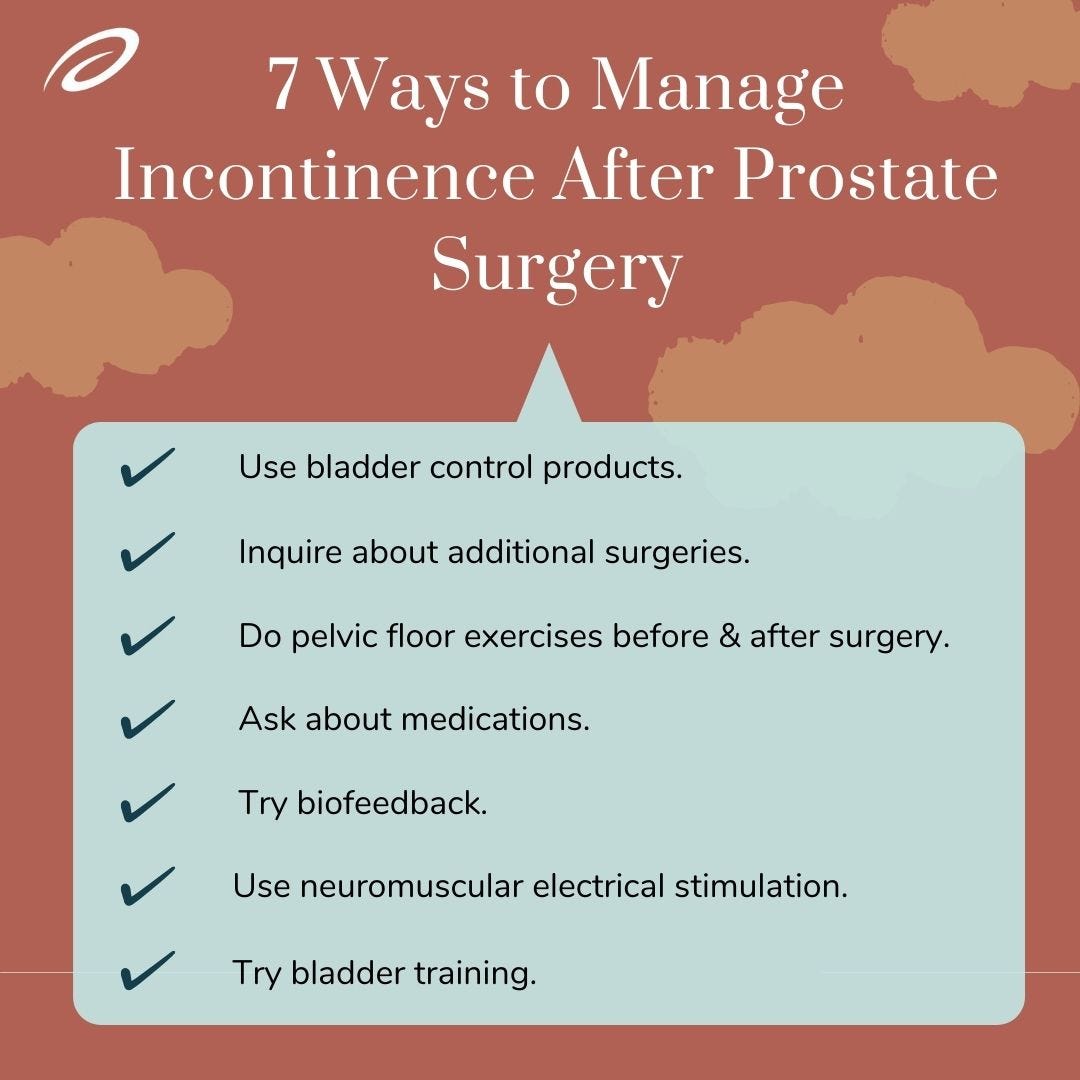 5. Try Biofeedback
Weekly biofeedback sessions can lessen UI symptoms. During a session, a healthcare professional will insert a sensor into your rectum to send information to the biofeedback computer. Then, you will learn to contract your pelvic muscles based on the computer's output.
6. Use Neuromuscular Electrical Stimulation
Neuromuscular electrical stimulation may help with regaining control of your bladder muscles. A probe is inserted into your anus during the treatment, and a current is passed through it to stimulate and contract your bladder muscles.
7. Try Bladder Training
Bladder training helps your bladder regain control by increasing the time between voiding. Start bladder training by speaking with your healthcare provider. They may recommend holding your urine for around 5 minutes when you feel the urge to go and increasing that hold time by 5 minutes. Continue until you're able to hold your urine for an average period.
Keeping Your Prostate Healthy
Follow these guidelines to stack the deck in your favor of keeping your prostate healthy.
1. Engage In Regular Physical Activity
Engage in regular physical activity that includes both aerobic and resistance training. The Physical Activity Guidelines for Americans recommends:
Aerobic: 30 minutes a day for a minimum of 150 minutes per week of the aerobic challenge is needed (70-80% HR max).
Strength: 2 to 3 times weekly for all the major muscle groups.
2. Go Plant-Based
A more plant-focused diet improves overall health and can lower your risk of prostate cancer.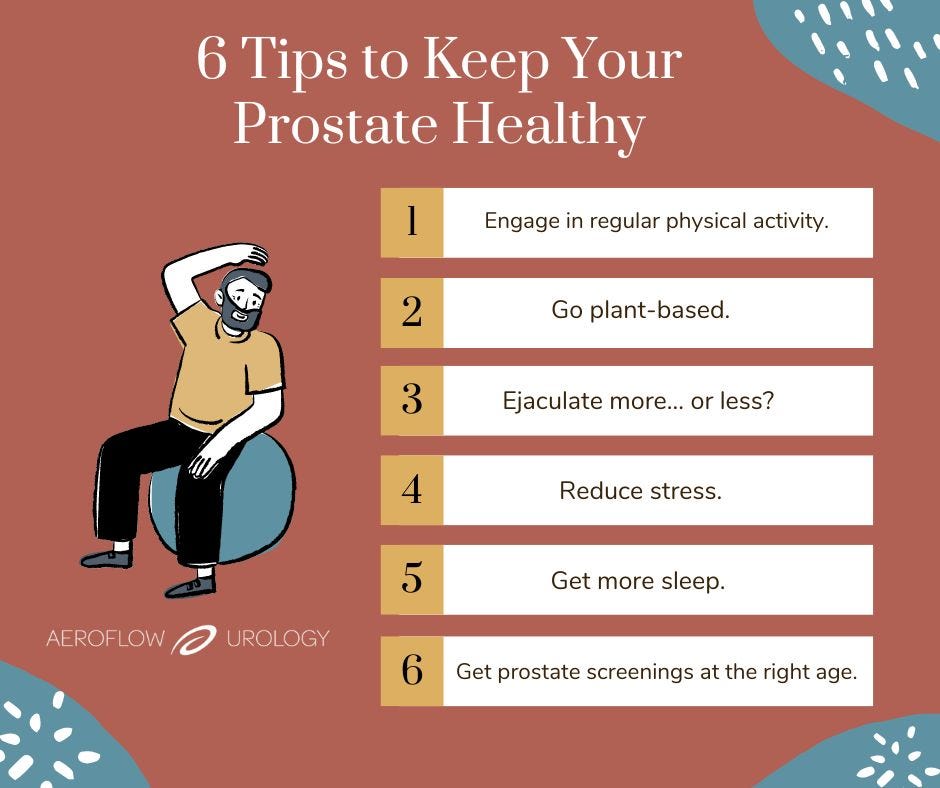 3. Ejaculate More... or Less?
One research study suggests that men who reported a high ejaculation frequency (reported as ≥ 21 ejaculations per month) may have a lower risk of prostate cancer. It is important to note that those who reported low ejaculation frequency (0-3 times per month) also had decreased risk for prostate cancer. This data is inconclusive and not predictive of ejaculation frequency associated with the level of prostate cancer risk. Many other variables may be associated with this lower risk (lifestyle factors, age, family history of prostate cancer, prostate screening, etc.).
4. Reduce Stress
Reduce physiological burden and consequences of unrelenting, unmanaged stress (proinflammatory cellular response, oxidative stress). You can do this by practicing mindfulness techniques, such as meditating, journaling, or exercising.
5. Get More Sleep
Preliminary research shows that poor sleep may be associated with an increased risk of prostate cancer, so aim to get the recommended amount of sleep for your age range.
6. Get Prostate Screenings at the Right Time
Although this is controversial, screenings may help prevent or detect early prostate cancer. The American Urological Association's guidelines state:
PSA screening is not recommended for men under 40 years old.
Routine screening is not recommended in men between the ages of 40 to 54 years old.
The most significant benefit of screening appears to be in men ages 55 to 69 years old at average risk.
PSA screening in men 70+ years old or any man with less than a 10 to 15-year life expectancy is not recommended.
A screen may benefit those 70+ if they are in excellent health.
Get Free Bladder Control Products
Managing incontinence can be overwhelming at times. However, Aeroflow Urology can assist in supplying incontinence supplies through your Medicaid (and some private insurance) plan. This service is financially beneficial and alleviates stressful store trips, especially if you're facing some bathroom challenges!
How It Works: Instead of running out to the store for bladder control supplies at the last minute, you can get them delivered to your doorstep in discreet packaging on a monthly basis... for FREE if you qualify!
To see if you can receive our services, fill out our Eligibility Form today. It's quick and easy to do. Then, if approved, one of our Continence Care Experts will reach out to your healthcare provider for a required prescription on your behalf. After receiving your prescription, we'll contact you within 1 to 2 business days with the next steps. You'll be able to ask for free product samples before confirming your shipment and refill your supplies every month with the help of our friendly text or email reminders.
UpToDate. (n.d.). Www.uptodate.com. Retrieved March 15, 2022, from https://www.uptodate.com/contents/urinary-incontinence-after-prostate-treatment#:~:text=Incontinence%20after%20simple%20open%20prostatectomy
Nam, R. K., Herschorn, S., Loblaw, D. A., Liu, Y., Klotz, L. H., Carr, L. K., Kodama, R. T., Stanimirovic, A., Venkateswaran, V., Saskin, R., Law, C. H. L., Urbach, D. R., & Narod, S. A. (2012). Population Based Study of Long-Term Rates of Surgery for Urinary Incontinence After Radical Prostatectomy for Prostate Cancer. Journal of Urology, 188(2), 502–506. https://doi.org/10.1016/j.juro.2012.04.005
‌Park, J. J., Kwon, A., Park, J. Y., Shim, S. R., & Kim, J. H. (2022). Efficacy of pelvic floor exercise for post-prostatectomy incontinence: Systematic review and meta-analysis. Urology. https://doi.org/10.1016/j.urology.2022.04.023
‌Milios, J. E., Ackland, T. R., & Green, D. J. (2019). Pelvic floor muscle training in radical prostatectomy: a randomized controlled trial of the impacts on pelvic floor muscle function and urinary incontinence. BMC Urology, 19(1). https://doi.org/10.1186/s12894-019-0546-5
‌Eastham, J. A., Kattan, M. W., Rogers, E., Goad, J. R., Ohori, M., Boone, T. B., & Scardino, P. T. (1996). Risk Factors for Urinary Incontinence after Radical Prostatectomy. Journal of Urology, 156(5), 1707–1713. https://doi.org/10.1016/s0022-5347(01)65488-0
‌Koch, M. O., Nayee, A. H., Sloan, J., Gardner, T., Wahle, G. R., Bihrle, R., & Foster, R. S. (2003). Early catheter removal after radical retropubic prostatectomy: long-term followup. The Journal of Urology, 169(6), 2170–2172. https://doi.org/10.1097/01.ju.0000065860.16392.19
‌OUP accepted manuscript. (2021). The American Journal of Clinical Nutrition. https://doi.org/10.1093/ajcn/nqab365
‌Leitzmann, M. F. (2004). Ejaculation Frequency and Subsequent Risk of Prostate Cancer. JAMA, 291(13), 1578. https://doi.org/10.1001/jama.291.13.1578
Information provided on the Aeroflow Urology website is not intended as a substitute for medical advice or care from a healthcare professional. Aeroflow recommends consulting your healthcare provider if you are experiencing medical issues relating to incontinence.