If you or your loved one experiences incontinence, you know it has the potential to negatively affect you mentally and physically. From possibly causing shame to determining how often you need to use the restroom, this prevalent condition has side effects that may hinder your quality of life.
Among such effects is one that often goes unspoken: incontinence odors. Dealing with malodorous smells can cause embarrassment and be a hassle to get rid of. These smells aren't just unwanted–they could be indicators of health issues.
But you don't have to let the fear of odor compromise you or your loved one's lifestyle or mental health! In this guide, we'll address incontinence odors and provide you with strategies to mitigate or stop them and prevent them from returning.
Why Does Incontinence Smell?
Urinary incontinence (UI) is the loss of bladder control, or the leakage of urine (accidents). Fecal or bowel incontinence is the loss of bowel control, or stool accidents. Both forms of incontinence can create strong-smelling odors from urine or feces. These odors can be exacerbated if urine or feces leaks are left unattended inside incontinence products, like pull-ons, briefs, diapers, or pull-ups.
Causes of Strong Urine Odors
Level of ammonia in your urine.

Toxins and waste in urine.
Certain foods, like asparagus.

Specific vitamins, like Vitamin C.

Certain medications.

Dehydration
Bladder inflammation.

Diabetic ketoacidosis.

Metabolic disorders.
These unpleasant odors can smell worse if you:
Practice inadequate personal hygiene. Neglecting to shower or bathe frequently enough can lead to a build-up of scents on your skin. The build-up of bacteria on your skin could also increase your risk of infections of the skin or urinary tract–which can intensifying the smell of your urine.
Fail to change incontinence products regularly or when soiled. While the right incontinence supplies, like adult pull-ons, briefs, incontinence pads, and bed pads, are equipped with odor-control materials and are highly absorbent, smells (and rashes) can occur if you aren't changing them as needed contingent on your volume and contents of incontinence.
Don't change soiled clothing. Continuing to wear clothes or undergarments soiled with feces or urine stains due to accidents can strengthen incontinence odors.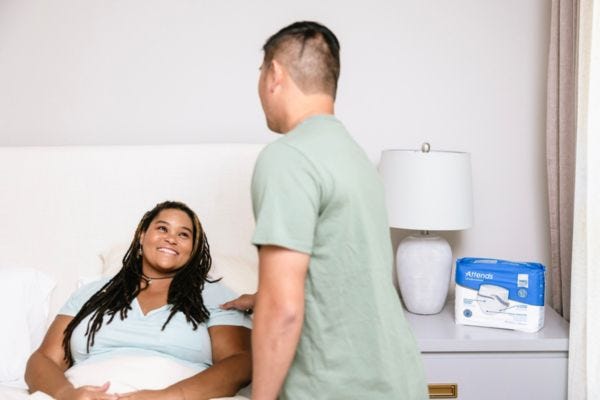 Wear the wrong size incontinence product. Many protective products are made with odor-reducing technologies, but you can't take full advantage of them if you aren't wearing the right products for your body size. Urine and feces can escape from products that are too large and cause a build-up of moisture and bacteria in products that are too small.
How Do You Prevent Incontinence Odors?
A small amount of effort can go a long way in controlling incontinence odors! Use these tips to feel fresh - and confident! - throughout the day and night.
Stop Leakage
The first step to eliminating odors is to prevent leakage onto clothing and surfaces like linens and beds. Protect yourself or your loved one from leaks by wearing high-quality incontinence products that fit your lifestyle and body. Adult diapers and kids' diapers are an excellent option for those with heavier incontinence and caregivers helping a loved one manage incontinence. Individuals with light to moderate incontinence may benefit from kids' pull-ups, adult pull-ons, or bladder control pads. Remember to ensure you or your loved one's incontinence products fit correctly to prevent leaks from escaping easily.
You may be able to get FREE incontinence products for you or your loved one with Aeroflow Urology if you have Medicaid or a Medicaid-managed care plan. Fill out our secure and easy Eligibility Form to save hundreds of dollars on your supplies each month!
Hydrate
While drinking more water may seem counterintuitive when trying to reduce leaks and the odors accompanying them, this tactic is actually helpful! Urine is 95% water, meaning it's pretty diluted. Therefore, dehydration makes your urine more concentrated, causing it to smell stronger (and often malodorous).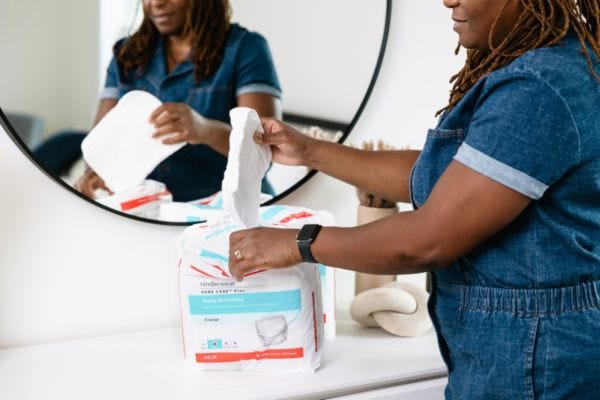 Bladder leaks are often driven more by the underlying causative medical condition and less by your fluid status; however, dehydration can worsen leakage – and accompanying smells. Drink as much water as you need throughout the day to stay hydrated. If you're a caregiver, make sure your loved one is drinking the proper amount of fluids recommended by their healthcare provider.
Use Odor-Reducing Products
Choose incontinence products that come equipped with odor-blocking technology to stay odor-free. Odor protection is standard in many protective products, like adult briefs, pull-ons, bladder control pads, pediatric diapers, and pull-ups. However, some brands offer scented supplies that may irritate sensitive skin, so watch out if you or your loved one falls under this category.
Practice Good Hygiene
Good hygiene starts when accidents occur. Immediately after an accident, clean up any leaks by changing bed sheets or clothes. Properly dispose of soiled products, wash the skin around the incontinence area, and change into a fresh product.
Showering or bathing frequently enough is also crucial to good hygiene. If you or your loved one emits incontinence odors, it may be time to wash up. Wash with a cleanser that suits your body; if you are dealing with sensitive skin, use a fragrance-free cleanser.
Change Products Regularly
To prevent odors from starting, change you or your loved one's incontinence products on a regular basis. Typically, this means changing into a dry product after leaks or every 2 hours. If you're a caregiver, check your loved one's product often to ensure they aren't sitting in soiled materials.
How Do You Get Rid of Incontinence Odors?
After an accident, removing any leakage or stains is essential to prevent lingering odors.
Clean you or your loved one's body with a gentle cleanser and water after accidents, and replace incontinence products right away.

Apply baking soda to any incontinence stains on clothes or linens. Soak in 1 cup of white vinegar and 3 cups of water, then wash thoroughly.

Clean up leaks on furniture or carpet by dabbing dry with paper towel, then using 1 cup of white vinegar and 3 cups of water solution to dab away stains and smells.
With the proper knowledge and a few practical tips, you can regain control over your life and enjoy every moment without fearing unwanted odors looming over you.
Disclaimer
Information provided on the Aeroflow Urology website is not intended as a substitute to medical advice or care from a healthcare professional. Aeroflow recommends consulting your healthcare provider if you are experiencing medical issues relating to incontinence.