A Guide to Kids' Pull-Ups
For children who experience incontinence, finding the right pull-up is essential for maintaining their comfort, dignity, and confidence. Whether your child experiences daytime accidents, bedwetting, or other forms of incontinence, selecting the right product can make a significant difference in their daily life.
But with so many options out there, it can be overwhelming to determine which pull-ups will provide the necessary protection for your child.
We've created this guide to provide you with all the information you need to choose the right pull-up for your child's specific needs, from size and absorbency to comfort and discretion. With this guide, you can feel confident that you're making the right choice for your child's incontinence management.
Incontinence pull-ups are disposable pull-ons for children ages 3 or 4 and up (depending on your state's Medicaid coverage) that are made for kids with bladder and bowel leakage. They are designed to look and feel like real underwear and can be used as potty-training pants. Kids' pull-ups are commonly used for children who have incontinence due to special needs or certain medical conditions.
There are several types of pull-ups to consider when choosing a product for your loved one.
Younger Kids' Pull-Ups
Pull-ups for younger kids are designed for smaller body sizes and range from sizes 2T- Youth Large. These pull-ups come in unisex, and boys' and girls' designs. While they're similar in appearance to real underwear, they have an absorbent pad in their core that captures urinary and fecal leakage. Kids' pull-ups are designed with an elastic waist that can be easily pulled up or down, making changing convenient for younger children who are learning to use the toilet.
Older Kids' Pull-Ups
Pull-ups for older kids are also called youth pull-ups or youth training pants. These training pants use an elastic waistband for easy changes and look like real boys' and girls' underwear. Sizes range from Youth Small- Youth Extra Large. Older kids' pull-ups are an excellent choice for older children who are potty training or who have incontinence due to a disability or medical condition.
Pull-ups offer several features that make them convenient and easy to use for both caregivers and children.
Elastic Waistband

Pull-up diapers are made with a stretchy elastic waistband that keeps the product in place. The flexible waistband also assists in the potty-training process by making it easier for children to pull the diaper up and down on their own.

Absorbency

Equipped with a highly absorbent core, kids' pull-ups can hold substantial amounts of leakage, keeping your loved one dry and comfortable for extended periods of time. Each pull-up is made for children with heavy incontinence.

Size

Sizing is critical for the efficacy of your child's pull-up. Using the wrong sized pull-up could result in bulkiness, leakage, or skin irritation.

Kids' Pull-Up Sizes: 2T-5T

2T-3T = Up to 34lbs.

3T-4T = 32-40lbs.

4T-5T = 35-38+ lbs.

Youth Training Pant Sizes: Youth S/M - Youth L/XL

Youth S/M = 38-65lbs.

Youth M/L = 65-85lbs.

Youth L/XL = 60-125lbs.

Style

There are two main styles of kids' pull-ups to consider:

Daytime pull-ups: Made to protect against daytime incontinence.
Overnight pull-ups: Designed to protect against nighttime incontinence (bedwetting).

Soft Materials

Pull-ups are made with soft, flexible materials that keep kids' sensitive skin in mind. The material is breathable and helps prevent diaper rash. The materials also allow for maximum movement, making it easier for children to go about their daily activities unbothered.

Odor Control

All kids' pull-ups come with odor control that absorbs odors before they start, leaving your loved one smelling and feeling fresh.

Tear-Away Sides

Many pull-ups feature tear-away, easy-open sides that are simple to remove, making changes quick and clean. Tear-away sides are especially helpful for caregivers assisting children or teens outside the home.

Fun Designs

Girls' and boys' pull-ups and training pants come in a variety of designs and colors that make children feel like they're wearing real underwear. These designs can help children and older children feel confident and give them the level of discretion they desire while managing their incontinence.
Kids' Pull-Ups Brands
We carry a variety of different pull-ups that may suit your child's needs. Our pull-ups are made by name-brand companies and level up to the most popular pull-ups.
Cuties
Cuties' pull-ups are made for older children. Cuties use SkinSmart systems to ensure top-quality products that absorb leaks while being soft and comfortable on kids' sensitive skin. The Cuties brand is also environmentally conscious, recycling and reusing about 98% of all waste materials produced.
Cuties Training Pants
Cuties Training Pants are for children transitioning out of diapers and for those with incontinence. These pull-ups are made with hypoallergenic materials, vitamin E and Aloe. These ingredients prevent rashes and keep children comfortable throughout the day.
Features:
Refastenable sides for easy changes

Hypoallergenic liner for delicate skin

Finger Lift Tab to assist in kids' changes

Soft materials for ultimate comfort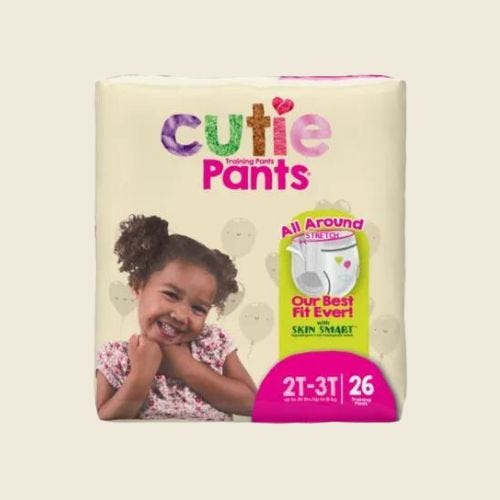 ---
Cuties Sleepovers Youth Pants
Features:
Unisex for girls and boys

Hypoallergenic liner for sensitive skin

Fragrance, latex, and chlorine-free

Absorbent core to keep wetness away from skin

Soft, stretchy sides for a comfortable fit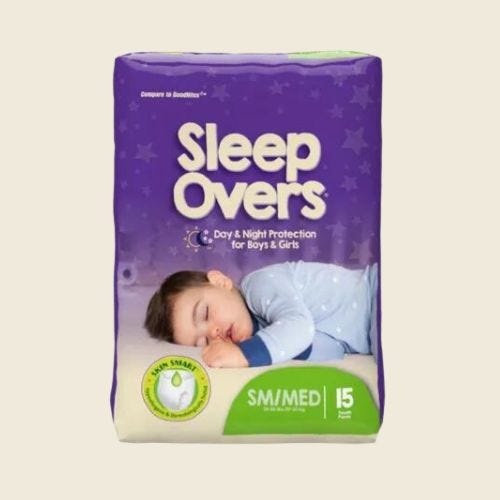 ---
Curity
Curity pull-ups are manufactured by Cardinal Health who provides more than 3.4 million people in the nation with more than 46,000 home healthcare products. Cardinal Health makes incontinence products for people with different medical and incontinence needs.
Curity Youth Pants
Curity Youth Pants have a unisex design for both boys and girls. These pull-ups' absorbent core and soft material keep children comfortable and dry.
Features:
Unisex design

Stretchy, tear-away sides for ultimate comfort and easy changes

Leak barriers for extra incontinence protection

Super-dry core to protect from leaks for extended periods of time

Plain white design to look like regular underwear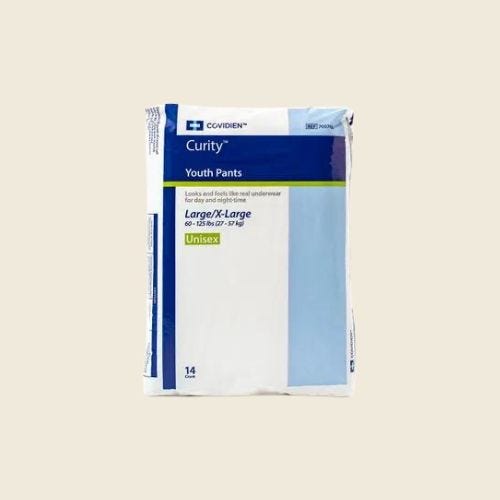 ---
Comfees
Comfees are made by Attends. Attends has met a variety of incontinence needs for over 40 years. Their bladder and bowel control supplies are suitable for adults, seniors, and children. Attends youth pull-ups are made with soft, flexible materials for a comfortable fit.
Comfees DriNites Youth Pants
Comfees DriNites Youth Pants are designed for girls and boys who manage nighttime leakage. They pull on like regular underwear and have side-leak barriers and a stretch-fit waist for overnight security and comfort.
Features:
Unisex design for boys and girls

Tear-away sides for quick and easy removal

Side-leak barriers for extra leakage protection

Super-dry core to keep skin comfortable and dry

Colored thread makes it easy to tell back from front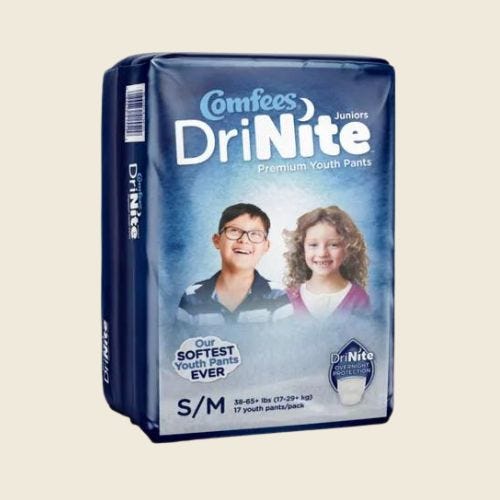 Kids' Pull-Ups Free* Through Insurance
If you're a caregiver of a child who experiences incontinence, you might face significant financial burdens associated with purchasing necessary products like pull-ups. These costs can quickly add up, particularly for families on a tight budget.
However, with Aeroflow Urology, your child with special needs or a certain medical condition may qualify to get their pull-ups free* through Medicaid or other Medicaid managed care plans.
To find out if your child qualifies, fill out our Eligibility Form! It takes 5 minutes, and we'll reach out to you within 1-2 business days to tell you about your loved one's coverage. While most state Medicaid plans cover pediatric incontinence products, your child's eligibility will be determined by the state they live in, their diagnosis, and their insurance plan.
If your child qualifies, we will...
Send your child free pull-up samples so you know you're getting the correct product for your child's unique needs.

Help you easily navigate and understand your loved one's insurance coverage.

Ship your child's supplies for free in unmarked boxes.

Send you a text or email when it's time to refill your child's supplies.
Other Products Free* Through Medicaid
We offer other incontinence products that may be free* through Medicaid, including:
Booster pads

Adult diapers

Incontinence pads

Adult protective underwear

Underpads (chux)

Gloves

Wipes
*Medicaid coverage varies by state. Submitting your info is not a guarantee of benefit.