Diapers play a crucial role in ensuring comfort, cleanliness, and overall well-being for both children and adults who require assistance managing their incontinence symptoms. But one common question lingers in the minds of caregivers and adults: How do we know when it's time to change a diaper?
Whether you're caring for a little one or an adult in need, understanding the signs that indicate a diaper change is essential. It promotes hygiene and health and ensures the highest level of comfort for those under your care.
In this article, we'll delve into the intricacies of diaper changes, exploring the key factors to consider for both children and adults.
The Importance of Diaper Changes
Changing diapers and briefs is imperative to the health of children and adults. Neglecting to get your loved one into a fresh diaper can cause foul-smelling odors, discomfort, and various other health issues.
Diaper rash: Diaper rashes develop from yeast that forms on areas of the skin that are warm and moist, like the folds of skin that sit inside diapers.
Skin breakdown & bedsores: Exposure to feces or urine for extended periods can lead to tissue or skin breakdown, eventually leading to bedsores.
Infections: Urinary tract infections (UTIs), Staph, and impetigo can occur from bacteria in the diaper area.
Worsened incontinence symptoms: Infections like UTIs can lead to worsened incontinence symptoms, such as an increased urge to urinate and increased frequency of urination.
What You'll Need to Change a Diaper
Gathering the supplies required for diaper changes makes the process much easier. Have the following products on hand before changing an adult or child's diaper.
1. Clean Kids' Diaper or Adult Brief
It's crucial to your loved one's skin health and incontinence management that you choose the diaper or adult brief for their unique needs. Consider these 4 factors when selecting a product.
Style: Disposable kids' diapers and adult briefs have tab-style closures that can be torn away during changes. Pull-ups and adult protective underwear pull on like regular underwear. If you're changing a diaper for a loved one with disabilities or less mobility, a diaper-style product can be more efficient.
Size: The sizing of your loved one's diaper or brief is essential; it ensures they'll stay dry and keep skin healthy.
Absorbency: You'll need to select a product that's absorbent enough for your loved one's level of leakage. Your loved one could experience leakage or other complications if a product isn't absorbent enough.
Cost: Caregivers spend thousands of dollars out of pocket every year on bladder and bowel care products for their loved ones because they don't realize they may be able to get them for free through insurance! If your loved one has incontinence, diapers and other protective products might be covered by their Medicaid plan. Stop paying high over-the-counter prices for your loved one's essential items by signing up for free diapers with Aeroflow Urology. We ship products straight to your door every month and take the confusion out of insurance requirements and paperwork by doing it for you. To be eligible, your loved one must be enrolled in a Medicaid plan. Fill out our secure Eligibility Form today to get started— just be sure you're using your loved one's insurance and personal information, not your own. We'll contact you with your eligibility status within 1-2 business days.
2. Gloves
Gloves can keep you safe from bacteria from dirty diapers or fecal matter.
Pre-moistened wipes are gentle on skin and make cleanup easier. Using wipes also helps prevent infection by wiping away any bacteria left over on the skin.
Diaper ointment and barrier creams can help repair and protect skin damaged by diaper rash.
How Do You Know When to Change a Diaper?
First, let's debunk the myth that diaper changing is solely a task for parents of young children. Adult diaper changing is a reality for many caregivers, whether it's for seniors, individuals with disabilities, or patients recovering from surgery or illness. Recognizing the similarities and differences in the diaper-changing process for children and adults is crucial to ensure proper care, maintaining dignity, and enhance the quality of life for those under your watchful eye.
When to Change Kids' Diapers
You should change baby's diapers and children's diapers when soiled (especially with feces) and typically every 2-3 hours.
Signs of a Soiled Diaper
Swelling

Strong odor of feces or urine.

Child pulling at or reaching into diaper.

Leakage of urine or feces out the leg holes or up the back of the diaper.

Damp clothes.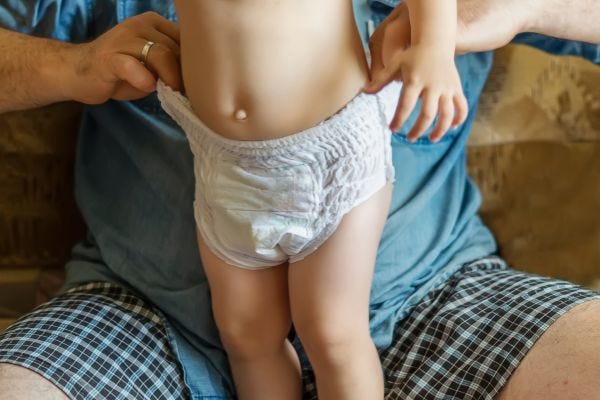 Tips for Changing Kids' Diapers
Watch for patterns in your child's behavior. Wet diapers may cause your child to pull at their diaper. This may indicate a change is needed.
Check your child's diaper frequently. It's better to over-check your child's diaper than to miss a soiled diaper since it can result in health consequences.
Check your child's skin. Keep an eye out for signs of skin irritation, like redness, bumps, or rashes, since these could be signs they need a new diaper.
Use diapers that are easy to change. Pull-ups can make changing your child's diaper more difficult if they can't assist in the process or if you're away from home and require a quick and clean process. Use diapers that have tab-style closures to ensure you'll be able to change your little one quickly.
Have your supplies ready. Changes and cleanup are more manageable when you're prepared with a dry diaper, baby wipes, gloves, changing pad (if laying down), and diaper bag or receptacle, such as a plastic bag, nearby, so gather your supplies beforehand.
Stay on a schedule. Scheduled changes can make the diaper-changing process easier for younger and older children because they'll anticipate the change.
When to Change an Adult Brief
If you're a mobile adult and can recognize a soiled brief and change products on your own, you can change your brief based on your level and frequency of leakage. You should follow the general rule of changing into a fresh brief when you leak urine or feces or as often as you need to maintain comfort.
If you're caring for an adult or senior with less mobility who needs assistance checking and changing products, aim to check the wetness indicator most adult briefs come with every 2 hours. Change their briefs 4-6 times daily and whenever their product is soiled.
Signs of a Soiled Brief
Wetness or swelling.

Wetness indicator color changes.

Leakage of urine or feces out of leg holes or up the back of the brief.

Wet clothing.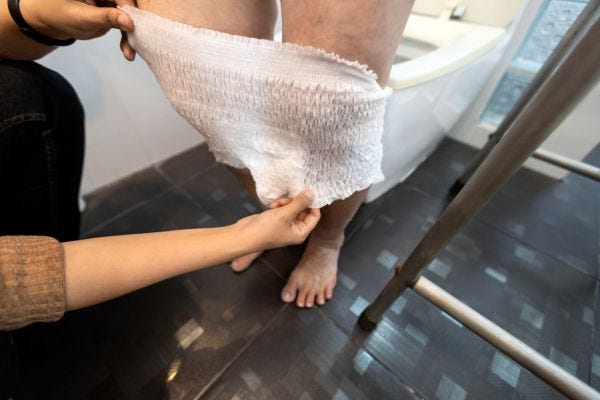 Tips for Changing an Adult Diaper
Ask for help. Changing a bedridden adult or senior's brief might be challenging to do alone, especially if the individual is larger than you. In these cases, the assistance of a second person may be helpful.
Pay attention to skin health. It's imperative that you watch for signs of skin irritation in bedridden adults and seniors to prevent bedsores and other infections. Redness, itching, bumps, and oozing sores may indicate infection.
Have your supplies ready. Keeping fresh briefs, wipes, gloves, underpads, or a trash receptacle nearby can make the changing process easier and cleaner.
Use the right adult incontinence product. Adults with more mobility may prefer to wear pull-up style protective underwear that look and feel like regular underwear. Typically, adults or older adults with less mobility or independence use adult briefs equipped with tab-style closures because they make for easier changes.
Stay positive. You don't want your loved one to feel like a burden or cause them embarrassment, so try to stay positive and supportive through the changes.
Be gentle. Older adults may have fragile and sensitive skin, so clean the genital and diaper areas gently to avoid tearing.
Disclaimer
Information provided on the Aeroflow Urology blog is not intended as a substitute for medical advice or care from a healthcare professional. Aeroflow recommends consulting your healthcare provider if you are experiencing medical issues relating to incontinence.