A Guide to Kids' Diapers
If your child experiences incontinence due to certain medical conditions or special needs, they may require kids' diapers or older kids' diapers to manage leaks.
Use this guide to learn which type of diaper will work best for your loved one and find out if they qualify to get their diapers free* through insurance.
Younger Kids' Diapers
Pediatric diapers are disposable diapers for children (ages 3 or 4 and up). These unisex kids' diapers are commonly used for younger children who have special needs or certain medical conditions that may delay the potty training process.
Kids' diapers are designed with:
Tab-style closures for quick and easy changes

Breathable fabric with skincare in mind

Maximum absorbency for ultimate leak protection
Older Kids' Diapers
Older kids' diapers are designed for older boys and girls. These unisex youth briefs are excellent options for managing bladder and bowel leaks in individuals who may have medical conditions or disabilities that cause incontinence.
Older kids' diapers have:
Tab fasteners for assisted changes

Odor control for discreteness

S

uper absorbent materials for heavy leakage
It's important to find the perfect diaper for your child or older child to avoid issues associated with using the wrong product, such as leakage or diaper rash. Consider the following features when choosing your loved one's diaper.
Size Choice

The sizing of your loved one's diaper is very important; it ensures that your child will stay dry, be protected from skin damage, and have the level of discreteness they require.

Kids' Diaper Sizes: 1-6

Size 1 = 8-14 lbs.

Size 2 = 12-18 lbs.

Size 3 = 16-28 lbs.

Size 4 = 22-37 lbs.

Size 5 = 27+ lbs.

Size 6 = 35+ lbs.

Older Kids' Diaper Sizes: 7-XS

Size 7 = 41+ lbs.

Youth/XS = 15"-31"

Every size of diaper comes with the absorbency level you choose; the absorbency level does not decrease when you drop a size, and it does not increase when you go up a size.

To measure your child's diaper size, use our sizing chart.

How to Know If Your Child's Diaper Fits

The absorbent core (the area of the diaper that catches leaks) will rest comfortably against their body.

The diaper will fit comfortably around their legs and waist and not feel too tight on those areas.

The tabs will sit facing forward directly on their hips— not in the middle of their stomach.

A Guide to Kids' Diapers

Adjustable Fit

Kids' diapers come with an adjustable fit that's designed to provide maximum comfort and security for your little one. The tab-style closures allow for an adjustable waistband size that is suitable for their body size.

Breathable Material

The material our kids' diapers are made with is highly absorbent. It controls leaks and odors while allowing your child's skin to breathe. This can be especially helpful for kids with sensitive skin as the materials help to prevent diaper rash.

Odor Control

Each child's diaper comes with odor control that absorbs odors before they start, leaving your loved one smelling fresh.

Leak Protection

The absorbent core in kids' diapers soaks up moisture, keeping it away from their body for lasting dryness. There are different levels of protection for each level of incontinence that you can choose from.

Absorbency levels of our kids diapers:

Moderate absorbency: Moderate leakage (about 3 cups of leakage).
Heavy absorbency: Heavy to leakage (3.75 cups of leakage).
Overnight absorbency: Severe fecal leakage or overnight leakage (3.75+ cups of leakage).

Style

There are two main styles of kids' diapers to consider:

Daytime diapers: Made to protect against daytime incontinence.
Overnight diapers: Designed to protect against nighttime incontinence (bedwetting).
Attends
For over 40 years, Attends products have met a wide range of incontinence needs. Their bladder and bowel control supplies are suitable for adults, seniors, and children. Attends products are recommended by healthcare providers and caregivers.
Attends Youth Briefs
Attends Youth Briefs are designed for adolescents and petite adults who require protection against heavy to severe leakage.
Features:
Unisex for boys and girls and petite men and women

Breathable side panels for extra airflow

Discreet, cloth-like outer cover

Odor Shield Technology to control odors before they start

Single Core Plus layer for the most absorbent protection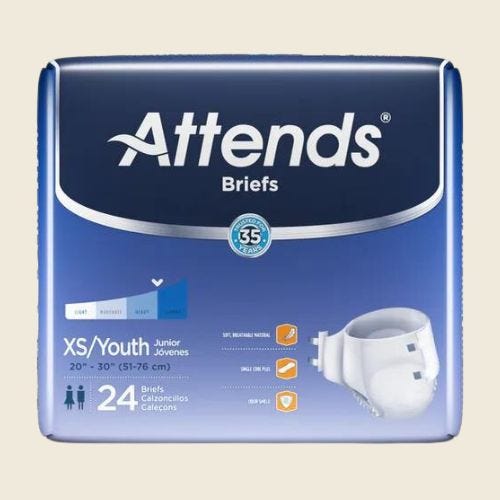 ---
Cuties
Cuties diapers for kids are made by First Quality for younger children. Cuties uses SkinSmart systems to ensure top-quality products that absorb leaks while being soft and comfortable on kids' sensitive skin. Cuties is also environmentally conscious, recycling and reusing about 98% of all waste materials produced.
Cuties Complete Care Baby Diapers
Cuties Complete Care Diapers are designed for younger girls and boys. These highly absorbent, high-performing kids' diapers are great for children who are potty training or who have heavy to severe bladder or bowel leaks.
Features:
Unisex for boys and girls

Up to 12 hours of leak protection

Breathable, soft cloth top sheet for baby's skin

Tab-style closures for easy changes

Liquid-resistant leg cuffs for catching leakage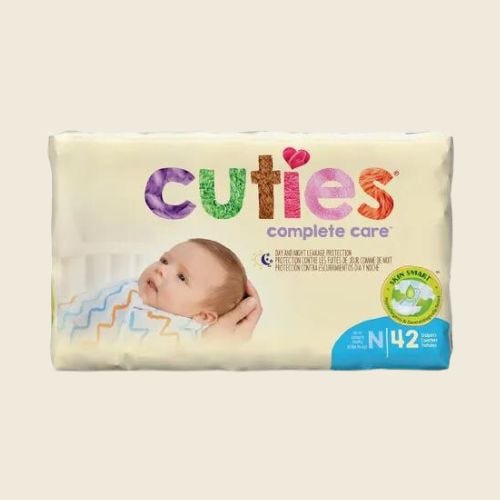 ---
Prevail (Attends)
Prevail is a brand made by Attends. Prevail carries incontinence products that are manufactured with the wearers' skin health, comfort, discretion, and absorbency in mind. They make a range of continence care products such as bladder control pads, adult protective underwear, and pediatric briefs.
Prevail Daily Youth Briefs
Features:
Unisex for both older girls and boys

DryMax Technology to wick away moisture and odors

Target Acquisition Zones for ultimate absorbency

MaxSoft Technology to pull moisture away from skin

Easy-Lock Fasteners for refastening tabs multiple times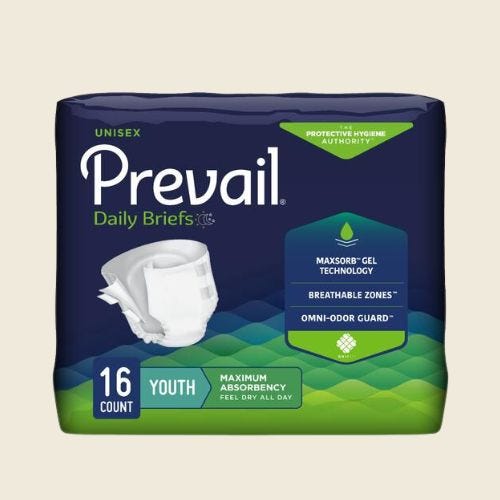 Kids' Diapers Free* Through Medicaid
We know that kids' diapers are a medical necessity for children and older children with disabilities and medical conditions that cause incontinence. That's why we help you easily and quickly determine if your loved one qualifies to have their diapers 100% covered by Medicaid.
While most state Medicaid plans cover incontinence products, your child's eligibility will be determined by the state they live in, their insurance coverage, and diagnosis.
To find out if your child qualifies, fill out our Eligibility Form. It takes under 5 minutes and all you need is your child's insurance card.
If your loved one does qualify, we will...
Send them free diaper samples so you know you're getting the correct size and absorbency for their needs

Help you easily navigate and understand your loved one's insurance policy and coverage

Ship your kids' diapers for free in unmarked boxes

Send you a text message or email when it's time to refill your child's supplies
Other Products Free* Through Medicaid
We offer other incontinence products that may be free* through Medicaid, including:
Booster pads

Adult diapers

Incontinence pads

Adult protective underwear

Underpads (chux)

Gloves

Wipes
*Medicaid coverage varies by state. Submitting your info is not a guarantee of benefit.