So, you or your loved one has started wearing incontinence products and you've mastered the basics at home. The next challenge you may be faced with is a tricky one: Changing soiled products and throwing them away in public.
If you're asking yourself how this can be done without anyone noticing, we've got you covered! We'll share our expert tips for changing and getting rid of products in the most discreet ways possible.
Whether you're changing your loved one's or your own incontinence product in public, it'll come in handy to pack some basic supplies. Use this incontinence kit as a guide for what you'll need if it's your first time changing out of the home.
Your Public Diaper Changes Survival Kit
Disposable gloves (plus extra pairs).
Sanitary wipes.
Disposable pad.
Trash bag, odor-blocking bag, wet bag, or plastic bag.
Incontinence products (plus extra).
Extra pair of pants.
How to Change Products In Public
Gather your incontinence kit supplies.
If your child is small enough to be placed on the changing table, you can use this to your advantage by placing a disposable pad on the table and laying your child down.
While your child is lying down, take off their shoes and socks and remove their pants and lift up their shirt so it stays clean.
Put on your sanitary gloves.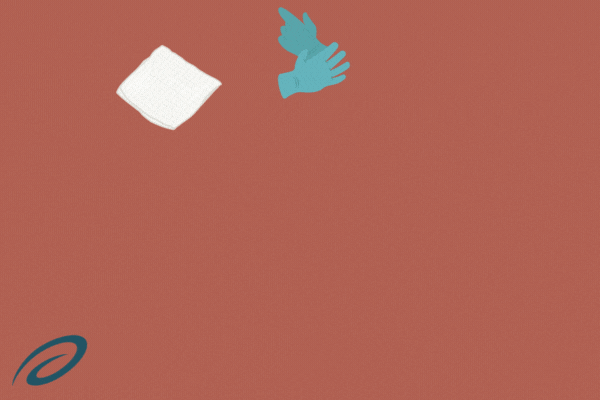 5. Unhook the side panels of the diaper. If it is a pull-up, you can use the easy-tear sides to tear it away from the body.
6. Lift your child's legs into the air by gently but firmly grasping their ankles. While lifting them, slowly pull the diaper or pull-up out from underneath them and set aside.
7. With your child still slightly lifted, use a sanitary wipe to clean off any remaining fecal matter or urine from the skin, then set them back down onto the pad.
8. Wearing your gloves, take the diaper over to the toilet and dump any poop into the toilet, and flush.
9. Slowly fold or roll the soiled diaper or pull-up as tightly as you can.
10. Throw the soiled product in the trash along with your gloves and the disposable pad.
Ensure your child's body is free from waste.
Apply barrier cream on any visible rashes.
Lifting up your child the same way as mentioned before, slide the new diaper or pull-up under them or onto their body through the leg holes.
Re-dress your child.
Gather your things and wash your hands with your child.
For older children and adults who use incontinence products, the way to change a product in public will depend on the level of mobility.
Keep in mind that if you're unable to stand due to a medical condition or disability, you may need to use a disposable pad to lay on the bathroom floor.
Gather your incontinence kit.
Lay a disposable pad on the floor of the bathroom for your child to either stand or lie on.
Put on disposable gloves.
1. While you or your loved one is standing, pull pants down to ankles.
2. Release the side panels of the diaper or tear the panels of the pull-up while holding one hand underneath to catch it from falling. Pull the product away from the body and clothing and set it on the disposable pad.
3. Wipe from back to front, assuring all waste is off the body.
4. Empty the contents of the soiled diaper or pull-up into the toilet and flush.
5. Fold or roll the diaper/pull-up tightly.
6. Throw the soiled product in the trash along with your gloves and the disposable pad.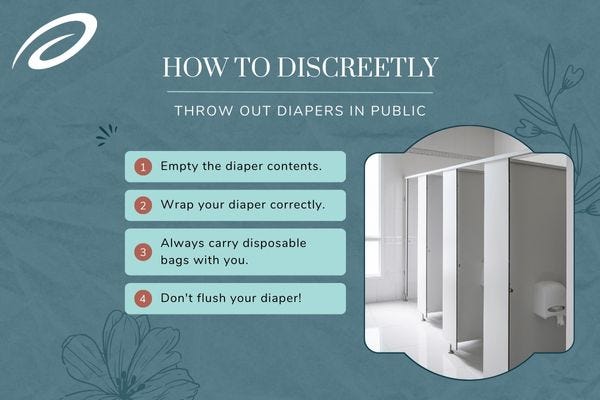 Seated Changes (Wheelchair)
While you or your loved one is sitting in the wheelchair, lift up slightly if possible to place a disposable pad under the body.
Pull down pants to the ankles.
Unhook the diaper tabs or tear the side panels of the pull-up, and while slightly lifted, pull the diaper or pull-up out and set it on the pad.
Still lifted, use sanitary wipes to clean off any waste from the skin from back to front.
Roll or fold the diaper or pull-up tightly.
Throw the soiled product in the trash along with your gloves and the disposable pad.
While sitting on the toilet, lay a disposable pad on the floor.
Pull pants down to the ankles.
Tear the siding from the product and move it away from your body.
Gently empty contents into the toilet and flush.
Roll up or fold the soiled product tightly.
Throw the soiled product in the trash along with your gloves and the disposable pad.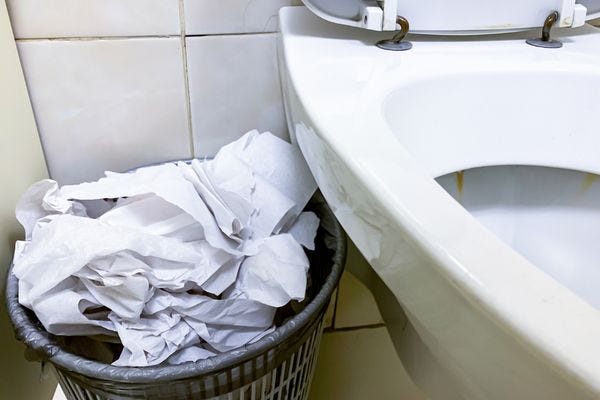 With pants still removed, attach sides of diaper comfortably and correctly around the body. If using a pull-up, step one foot through the correlating leg hole and then the other. Pull up onto body.
Pull pants up and ensure the product is discreet and comfortable.
If using diapers, simply lift slightly while sliding the diaper underneath the body and fasten the sides.
Pull up pants and ensure the product is discreet and comfortable.
Pro Tip for Extra Discreetness!
If you're using protective underwear or pull-ups that don't have tab closures, you can try this easy trick to get your incontinence product on and off in a flash!
With pants at ankles, thread 1 leg hole of the protective underwear over the shoe.
Then, bring the pull-up through the pant hole on the same side. The protective underwear should now be through one leg under the pants.
Thread the opposite leg hole of the protective underwear through the opposite leg and shoe by going through the pant hole. At this point, the protective underwear should be facing forward with both legs through the product.
Pull the product up the body and do the same with the pants.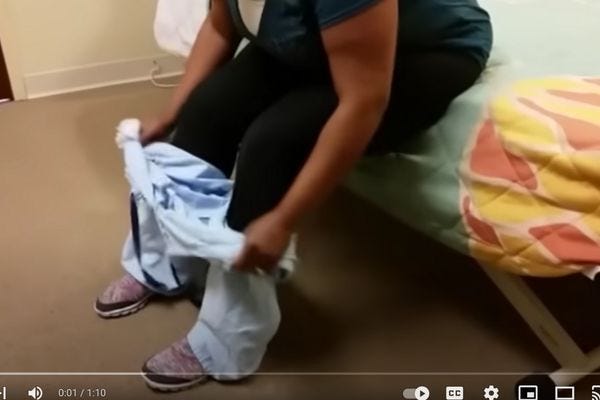 How to Throw Out Products Discreetly In Public
It can be challenging to find a comfortable place to change your products in public when you have urinary incontinence or bowel incontinence. Here are some tips for throwing out products discreetly outside of the home.
1. Empty the Contents Before Wrapping It Up
Soiled incontinence products are far more odorous when they contain leftover waste like fecal matter.
Imagine a diaper full of waste sitting in a trash can all day long where other people have to use the bathroom- yuck! To avoid this and practice proper changing etiquette in public areas, empty the product's contents into the toilet as best you can before wrapping it.
2. Wrap the Product Correctly
Adult briefs and pediatric diapers have tab closures that can be used to help roll the product up to ensure leakage and waste don't spill out. Adult protective underwear and pediatric pull-ups can be folded or rolled and some come equipped with a tab on the back to secure the product shut. Do this to keep the odors and waste locked in the product while it sits in the trash.
There are different techniques for wrapping and rolling diapers and pull-ups, but here's one we use for larger, adult briefs.
Lay the brief out flat on your disposable pad.
Roll the bottom of the brief up so it meets the waist band. It should be folded in half with wings out at the sides.
Fold the right wing over to the center.
Fold the left wing over to the center.
Starting at the bottom of the brief, tightly roll until it forms a bundle.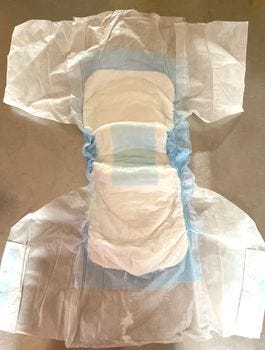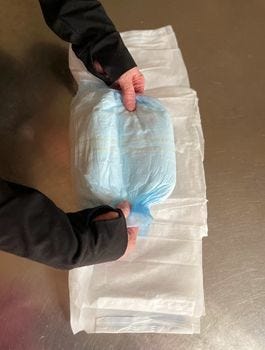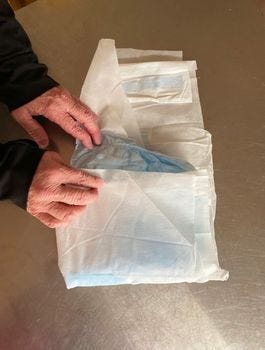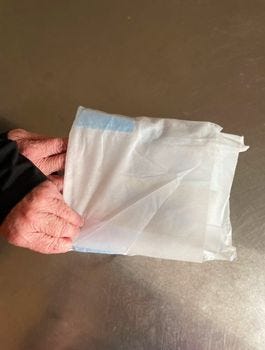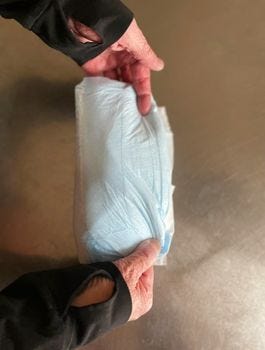 3. Bring Extra Disposable Bags
You may find yourself in a situation where a change is necessary but there isn't a trash receptacle in sight. But that doesn't mean you shouldn't change your product; Sitting in soiled products may lead to infections and skin rashes!
To avoid this problem, carry some type of disposable bag with you so you have somewhere to put your soiled product. Examples of portable receptacles include:
Odor-blocking, single-use, disposable diaper bags.

A simple trash bag.

Plastic grocery store bags.

A wet bag.
4. Don't Flush Your Incontinence Product!
Flushing your incontinence product is a bad- and not very discreet- idea for a few reasons.
Most incontinence products are not biodegradable. This means they will not break down in the sewer system (if they manage to get down the toilet), causing major issues in pipes and sewer systems.
Incontinence products WILL clog the toilet! Even incontinence pads have the ability to clog a toilet, and no one wants to deal with an overflowing toilet in a public restroom.
Q: How often should you change your or your loved one's product when going out?
A: You should change your product as soon as you feel that it is wet or soiled. This immediacy will help protect against things like urinary tract infections (UTIs) and skin irritations, such as diaper rash. Each product's absorbency is different and each person's leakage level differs, so be aware of when you need to change into a new product. It is important to change the product frequently because they trap moisture which can lead to infections and rashes.
Q: Should I throw my soiled products away in a public trash can?
Large, public trash cans are usually only emptied once a day which means your soiled product (that may be odorous) will be sitting in the trash all day. As a courtesy to other users of the public restroom, you could take your soiled products with you and dispose of them at your own home if you have an odor-blocking wet bag. If not, you can throw your product away in the restroom trash can.
Q: What types of public bathrooms should I look for when changing?
A: It's best to look for a larger bathroom, preferably with a sink and trash can inside of the stall.
Q: What types of clothes are easiest to wear during changes?
A: Clothes that are flexible, loose, and use fasteners like velcro rather than zippers or buttons are best for changing discreetly in public.
Q: Where should I put my dirty incontinence product after changing it on a plane?
A: A few tips here. It's best to wear an ultra-absorbent product, such as an brief (diaper) or an overnight brief (diaper) if you're going to be on a long flight. That way, you may not have to change your product as often. The second tip is to bring odor-blocking disposable bags with you on the flight. You can wrap your soiled product up and then place it inside the bag. After tying the bag correctly, put it in the lavatory trash where the bag will help to eliminate lingering odors.
How to Get Incontinence Supplies for Free
Tired of using your own money to pay for incontinence products at the store? You may not have to!
Depending on your insurance plan, the state you live in, and your underlying medical conditions, you may qualify to receive your favorite bladder control products absolutely FREE.
How is this possible?
At Aeroflow Urology, we know that incontinence supplies are a medical necessity, the same way clean water is medically necessary. Resources like these keep us sanitary, healthy, safe, and happy. Without them, we could develop illnesses and experience a decreased quality of life.
Because we believe this so deeply, we strive to put those in need of incontinence supplies first by clearing the path for them to get products 100% covered by insurance.
Insurance regulations, especially Medicaid's (which differ from state to state), are complex. We take the confusion and frustration out of insurance paperwork for you by doing it ourselves.
Our insurance experts determine your coverage within days after you fill out our 2-step Eligibility Form. Once submitted, we keep your information safe and reach out to you with the next steps by your preferred form of contact.
We'll send you free product samples before your order ships so you know what fits best. After placing your order, your supplies will be promptly delivered straight to your doorstep for free each month.
The best part is you don't even need to leave your home for the entire process to happen from start to finish. Everything is done on your mobile device, tablet, or computer.
If you need incontinence products for yourself, your child, or another loved one, use our Eligibility Form to see if you qualify today!
Information provided on the Aeroflow Urology blog is not intended as a substitute for medical advice or care from a healthcare professional. Aeroflow recommends consulting your healthcare provider if you are experiencing medical issues relating to incontinence.