Incontinence is common among children with autism, and while some may learn to potty train, other children may never use the toilet.
Use this article to understand why incontinence continues in older children with autism and read the personal story of Nicole Gottesmann, mother of an 11-and-a-half-year-old with autism named Gabe, and how they manage incontinence. Plus, get tips from our pediatric Medical Advisor on how to help your child manage their symptoms.
Understanding Incontinence
Incontinence is the loss of bladder (urinary incontinence [UI]) or bowel control (fecal incontinence). Incontinence can occur for a multitude of reasons and it can affect people of all ages.
There are a few different types of incontinence people can experience, including stress incontinence, urge incontinence, and mixed incontinence.
How Does Autism Cause Incontinence In Older Children?
It's unclear exactly how many older children with autism spectrum disorder (ASD) also have incontinence. However, in the clinical setting, bladder and bowel dysfunction and delay in both urinary and fecal incontinence is quite common in children with ASD.
In a small study of 13 teenagers with ASD, 85% experienced incontinence. In another study, incontinence was more common (25% v 4.7%) in the children with ASD compared to control children without ASD. This trend was also observed for nocturnal enuresis and for a delay in daytime bladder control and bowel control. Other studies have demonstrated that UI occurred in 37% of children with autism.
These types of incontinence can be intermittent, short term, or long-term.
Children with ASD may experience:
Urinary or fecal accidents during the day.

Toilet training regression.

Bedwetting (nocturnal enuresis).
The cause of incontinence in children with autism is due to many factors, including:
Sensory issues that deter children from using the bathroom or toilet.

Certain medications that cause bladder spasms and urinary issues.

Developmental disorders or learning delays which can lead to slower toilet training.

Gastrointestinal problems that can cause constipation and urinary urgency (feeling the sudden and intense urge to urinate).

Attention deficit hyperactivity disorders (ADHD) related to ASD or bodily awareness issues which can cause children to ignore bodily signals of needing to empty their bladder or bowels.

Anxiety issues that can deter children from toileting.
Many children with autism learn to use the toilet at a slower rate than children without ASD. But, some children with autism may never complete potty training due to the previously mentioned causes of incontinence. A child's level of continence (control of bladder and bowels) depends on their unique condition and symptoms.
When our 11 and a half- year-old son, Gabe, was diagnosed with autism at the age of 2, I had no idea what to expect his future to look like. Would he ever talk? Learn to communicate in other ways? Would he ever become independent?
I'll be honest, one of my biggest concerns was potty training. It was a long time before Gabe was out of diapers. Managing his urinary incontience involved intensive ABA (applied behavioral analysis) therapy and continued into his early school years. I had to provide the school with diapers and wipes for years until he was able to stay dry during the day.
At the time, I was a single mother, and if that wasn't enough to be overwhelmed by, I had very little income. The amount of time and money I could have saved by utilizing Aeroflow Urology's products and services is immense. Luckily, I did learn about Aeroflow Urology and their services recently, and it has already been life changing. Even after Gabe no longer needed diapers, he continued to have a need for nighttime pull-ups up until very recently.
The reality is, many people with autism have difficulty with transitions, as well as identifying what their bodies are telling them. I believe that much of the time Gabe cannot feel when he needs to urinate. We are on a strict schedule, but occasionally he will have an accident. This is just part of what autism looks like for him.
We are currently in a transitional stage with Gabe now that he is becoming a tween. He previously slept in a portable, special needs safety bed that prevented him from getting hurt at night due to his difficulty sleeping. He additionally has to take medication to help him sleep. Both of these factors contributed to the need for nighttime pull-ups.
As of just a few weeks ago, Gabe made it known that he was ready to stop sleeping in his safety bed, and indicated that he is ready for a regular bed. We got rid of his safety bed that kept him safe and secure for years. It has taken some time, but now he is used to his new bed and sense of freedom. He is able to fall asleep and stay asleep! We are now trying something new. We have been trying to have him sleep without a pull-up!
Aeroflow Urology provided us with high quality pull-ups that we have less of a need for right now. We are now using their bed pads as well as wipes and gloves.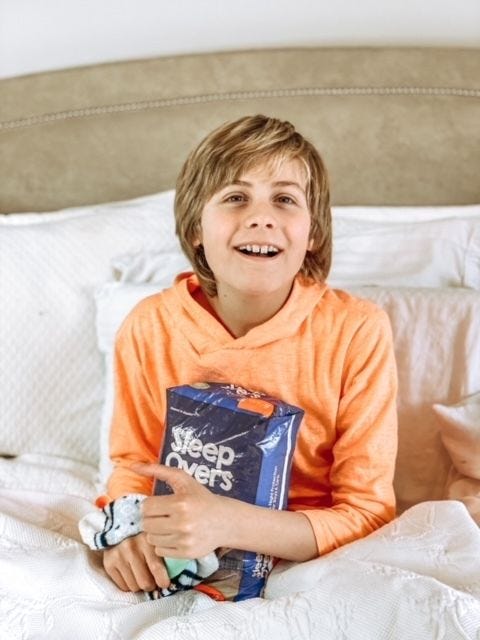 It's a great feeling to know that we have the necessary items to ensure that his new mattress is protected. I cannot believe how easy the process is to get these high-quality products at no cost through our Medicaid plan. I went to their website and filled out a form in under one minute. They did the rest!
I am so grateful to have found out about Aeroflow Urology and know that whatever the future holds, they will be able to provide us with whatever we may need on Gabe's journey.
Helping Your Older Child With Incontinence
Use tips from our expert Medical Advisor to help your older child manage their incontinence.
Keep open communication with your child about incontinence—regardless of their age. It's imperative that your loved one feels safe talking to you about their incontinence symptoms and that they're transparent. This is the best way to help your child manage incontinence.
You must stay positive, supportive, and open-minded with your child when broaching and discussing the subject of incontinence. It's important for your child to hear that they are not alone and the incontinence is not their fault.
3. Address Any Bullying (If Your Child Is Experiencing It)
If your child is being bullied at school about their incontinence, it should be addressed with administration or supervising authorities. If your child is being bullied outside of school, this should be addressed with the bully and their guardian(s). It is important the bully understands incontinence is not purposeful and is a medical condition with which your child is struggling. Tolerance should be taught to the bully.
If you can, encourage your child to ignore the bully and their taunts. Again, parents should be very clear with their children–if they can comprehend–that the incontinence is not their fault, that they are not in trouble, and that they are not alone in dealing with such.
4. Use Incontinence Products
Any potty watches, youth pull-ups, or youth diapers that encourage independence, convenience, and confidence are a great option to manage leaks. You can try the WobL Watch that can be set to vibrate to be more discreet if your child attends school or visits with friends.
M Gubbiotti, G Balboni, V Bini, S Elisei, C Bedetti, M Marchiafava, A Giannantoni. (2019). Bladder and Bowel Dysfunction in Adults With Autism Spectrum Disorders. Neurourol Urodyn.
Gontard, A. von, Pirrung, M., Niemczyk, J., & Equit, M. (2015). Incontinence in children with autism spectrum disorder. Journal of Pediatric Urology. https://doi.org/10.1016/j.jpurol.2015.04.015. https://www.jpurol.com/article/S1477-5131(15)00158-8/pdf
Marilena Gubbiotti1,2, Sandro Elisei2 , Chiara Bedetti2 , Moreno Marchiafava2 & Antonella Giannantoni3. (2019). URINARY AND BOWEL DISFUNCTION IN AUTISM SPECTRUM DISORDER: A PROSPECTIVE, OBSERVATIONAL STUDY. Psychiatria Danubina,https://www.psychiatria-danubina.com/UserDocsImages/pdf/dnb_vol31_noSuppl%203/dnb_vol31_noSuppl%203_475.pdf
Jul 03;, A. S. D. N. U. 2019, Gubbiotti, M., Balboni, G., Bini, V., Elisei, S., Bedetti, C., Marchiafava, M., MEDLINE®/PubMed®, A. G. F., & Medicine, a database of the U. S. N. L. of. (n.d.). Bladder and Bowel Dysfunction in Adults With Autism Spectrum Disorders. PracticeUpdate. https://www.practiceupdate.com/content/bladder-and-bowel-dysfunction-in-adults-with-autism-spectrum-disorders/86263#:~:text=Urinary%20incontinence%20was%20present%20in
Information provided on the Aeroflow Urology website is not intended as a substitute to medical advice or care from a healthcare professional. Aeroflow recommends consulting your healthcare provider if you are experiencing medical issues relating to incontinence.