This blog was guest-written by Nicole Gottesmann. She is the mother of an 11 and a half-year-old son with ASD (Autism Spectrum Disorder) named Gabe.
Do you have a heartwarming story about a loved one with autism that you'd like to share with Aeroflow Urology? Submit your story at our Kindness Matters page!
Children with autism spectrum disorder (ASD) commonly experience incontinence, and while some children with autism gain control of their bladder and bowels over time, some still experience incontinence as they get older.
Aeroflow Urology asked Nicole Gottesmann, mother of Gabe, an 11-year-old with autism, to tell us their story of managing Gabe's incontinence. Read their inspiring story below and see how Aeroflow Urology can help your child with their incontinence at no cost!
The Gottesmann's Story
When our 11 and a half-year-old son, Gabe, was diagnosed with autism at the age of two, I had no idea what to expect his future to look like. Would he ever talk? Learn to communicate in other ways? Would he ever become independent?
I'll be honest, one of my biggest concerns was potty training. It was a long time before Gabe was out of diapers. Managing his urinary incontinence involved intensive ABA (applied behavioral analysis) therapy and continued into his early school years. I had to provide the school with diapers and wipes for years until he was able to stay dry during the day.
At the time, I was a single mother, and if that wasn't enough to be overwhelmed by, I had very little income. The amount of time and money I could have saved by utilizing Aeroflow Urology's products and services is immense.
Luckily, I did learn about Aeroflow Urology and its services recently, and it has already been life-changing. Even after Gabe no longer needed diapers, he continued to have a need for nighttime pull-ups up until very recently.
The reality is, many people with autism have difficulty with transitions, as well as identifying what their bodies are telling them. I believe that much of the time Gabe cannot feel when he needs to urinate. We are on a strict schedule, but occasionally he will have an accident. This is just part of what autism looks like for him.
We are currently in a transitional stage with Gabe now that he is becoming a tween. He previously slept in a portable, special needs safety bed that prevented him from getting hurt at night due to his difficulty sleeping. He additionally has to take medication to help him sleep. Both of these factors contributed to the need for nighttime pull-ups.
As of just a few weeks ago, Gabe made it known that he was ready to stop sleeping in his safety bed, and indicated that he is ready for a regular bed. We got rid of his safety bed which kept him safe and secure for years.
It has taken some time, but now he is used to his new bed and sense of freedom. He is able to fall asleep and stay asleep! We are now trying something new. We have been trying to have him sleep without a pull-up!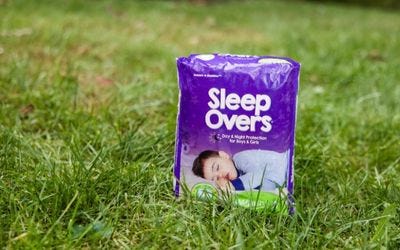 Aeroflow Urology provided us with high-quality pull-ups that we have less of a need for right now. We are now using their bed pads as well as wipes and gloves. It's a great feeling to know that we have the necessary items to ensure that his new mattress is protected. I cannot believe how easy the process is to get these high-quality products at no cost through our Medicaid plan. I went to their website and filled out a form in under one minute. They did the rest!
I am so grateful to have found out about Aeroflow Urology and know that whatever the future holds, they will be able to provide us with whatever we may need on Gabe's journey.
How Aeroflow Urology Can Help
To find out if your child qualifies to receive incontinence products at no cost through your Medicaid plan, fill out our quick, easy form. An Aeroflow Urology Continence Care Specialist will contact your healthcare provider, and will then contact you via phone or email in one to two business days with an update on your coverage. If you do qualify, your child's incontinence products will be sent directly to your home in discreet packaging every month.
Information provided on the Aeroflow Urology blog is not intended as a substitute for medical advice or care from a healthcare professional. Aeroflow recommends consulting your healthcare provider if you are experiencing medical issues relating to incontinence.