This piece has been medically reviewed by Samantha Eaker DNP, CPNP-PC, Medical Advisor to Aeroflow Urology.
Potty training is a long process of trial-and-error, and this can be especially true if your loved one has attention-deficit hyperactivity disorder (ADHD).
Things like central nervous system delays and being prone to distraction and hyperactivity can make toileting young children with ADHD challenging, but our experts gave us tips you can use to make this process go more smoothly for both you and your child.
How ADHD Affects Potty Training
If your child has ADHD, they may have a more difficult time potty training for a number of reasons.
Children who have ADHD often have delays in their central nervous system (CNS). This can lead to a delay in your child's ability to detect their bladder signals. For example, if their bladder is full, they may not feel they need to go to the bathroom in time or they may ignore biological signals to pee.
Your child may have difficulty paying attention to their body cues, such as the need to pee, leading to accidents.
The CNS delay can also cause sphincter overactivity and lead to poor relaxation when peeing. This can contribute to urinary problems such as incontinence, urinary frequency, and more overtime.
This can be further compounded by inattentiveness some children with ADHD experience. Your child may be more prone to distraction, therefore using (or getting to) the bathroom at the last minute—leading to urge incontinence.
Some children with ADHD have short attention spans or may be hyperactive, which can cause quick bathroom trips, incomplete bladder emptying, or possibly post-void dribbling.
Some children who have ADHD may also suffer from anxiety, which can contribute to urinary symptoms such as urinary urgency, frequency, and poor bladder emptying if using the bathroom is anxiety-inducing.
One study also shows that children with ADHD reach continence (bladder and bowel control) at a later age than children who do not have the condition. Typically, children potty train between 18-24 months and children with a special need learn to use the toilet as 3 year olds or 5 year olds.
Children with ADHD have also been shown to have delayed daytime and nighttime bladder control and may have a correlating special need, such as autism, that could present more challenges when learning to use the toilet.
Tips for Potty Training a Child With ADHD
Use tips from our experts when toilet training your loved one to ease stress and prevent accidents.
1. Consult Your Pediatrician
Because studies show a connection between ADHD and incontinence, you may want to have your loved one screened for incontinence by their pediatrician or a urologist.
2. Use a Squatty Potty
Proper voiding positioning is important to facilitate pelvic floor relaxation because it helps your child empty their bladder completely. Use a child's sized toilet or potty chair with a regular sized toilet so they can get used to both.
3. Practice Timed Toileting
Try to have your child use the bathroom every 1-2 hours and stick to the schedule to get them used to using the bathroom.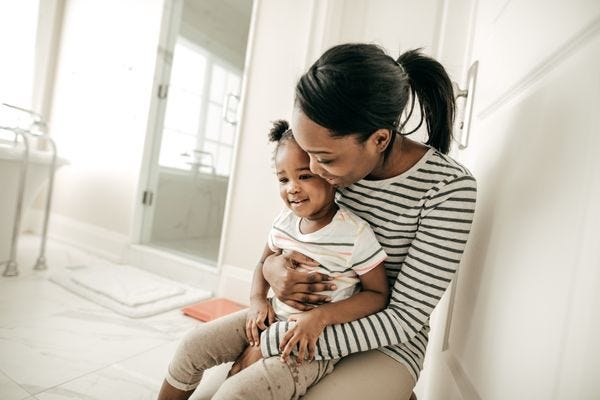 4. Go Slow
When your child does make it to the toilet, encourage them to take their time. When they think they're done voiding their bladder or bowels, count to 5 with them and ask them if they want to try to empty their bladder or bowels more. Try using things like your child's favorite toy while they're sitting on the toilet to hold their attention and encourage them to stay sitting for longer periods.
5. Recognize the Signs
Help your child and your family members recognize your child's early signs of needing to go to the bathroom. These include physical signs like:
Squatting
Squirming
Holding their genital area.
When you recognize these signs, let them know it looks like they need to use the bathroom and swiftly encourage them to go.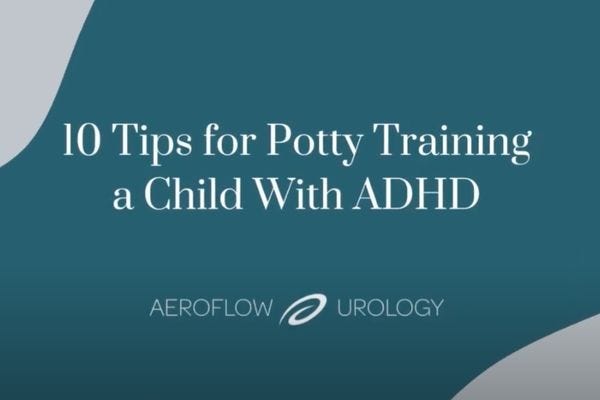 6. Get Free Diapers or Pull-Ups
If your child has ADHD, they may qualify for incontinence products, such as diapers or pull-ups, free through insurance.
These products can help prevent things like urinary tract infections (UTIs), bedwetting accidents, and keep your little one comfortable during the potty training process. While coverage is dependent on the state you and your child live in and their specific insurance coverage, they may qualify!
At Aeroflow Urology, we know that potty training can be stressful, which is why we make the process of getting free diapers and pull-ups easier.
All you need to do is fill out our Eligibility Form for your child. From there, we'll do the paperwork for you and determine your loved one's eligibility within days. If they do qualify, we'll send you free product samples and then ship their supplies right to your home on a monthly basis.
7. Try Underwear
While diapers and pull-ups can be helpful if your child attends outside care, it may be helpful to try having them wear underwear while at home. This may facilitate quicker potty training than diapers alone because they'll feel that they've had an accident.
8. Use Positive Rewards & Encourage
Use things like sticker charts, extra time with caregivers, special experiences, and more to reward your child during this process to keep their self-esteem up. Do this not only for when your child uses the toilet successfully, but for when they comply with your instructions or recognize the need to go. Also try to remember they are learning a new skill for the first time, so continue to encourage them during the process.
9. Use a Toileting Watch
These toileting watches have timers that go off to remind your loved one to use the bathroom which can be especially helpful for children with ADHD. We recommend the WobL Watch which is relatively inexpensive and can be set to just vibrate (as opposed to sound alarm only) so it's more discreet. It's also waterproof so your child doesn't have to worry about getting it wet when washing their hands after using the toilet.
10. Keep Your Child Hydrated
Hydration is important at all times and is helpful when potty training to keep your loved one's urinary system healthy and free of harmful bacteria that can cause UTIs. Hydrating can also help prevent constipation by keeping bowel movements regular which can make going to the bathroom painful for your child, discouraging them to use the toilet.
ADHD Potty Training Ideas. (n.d.). Www.adhd-Parent-Support.com. Retrieved December 15, 2022, from https://www.adhd-parent-support.com/adhd-potty-training-ideas.php#:~:text=harder%20each%20time.-
https://www.adhd-parent-support.com/adhd-potty-training-ideas.php#:~:text=harder%20each%20time.-,Most%20children%20with%20special%20needs%20are%20not%20ready%20to%20potty,time%2C%20it's%20better%20to%20wait.
Information provided on the Aeroflow Urology blog is not intended as a substitute to medical advice or care from a healthcare professional. Aeroflow recommends consulting your healthcare provider if you are experiencing medical issues relating to continence care.