This piece has been medically reviewed by Samantha Eaker DNP, CPNP-PC, Medical Advisor to Aeroflow Urology.
Halloween for kids with special needs can be challenging. While it's an incredibly popular holiday that schools and businesses participate in, children with mental or physical disabilities may feel excluded from the fun Halloween activities.
Your child may have trouble finding a costume that fits a mobility device or anxiety about approaching neighbors for candy.
But, with a bit of extra holiday planning, you can help create Halloween fun for everyone to enjoy!
How to Create an Inclusive Halloween
To create an inclusive Halloween, you'll need to consider every activity your child might be participating in during the holiday. Use the following tips to ensure they have fun and feel safe.
1. Find the Right Costume
The first step towards feeling included is participating, which means your child will need an adaptive Halloween costume. Your child may have problems finding costume ideas due to costumes:
Creating sensory issues or triggers.
Not fitting with catheters or incontinence products.
Not fitting around a wheelchair.
You can try shopping for a costume at stores, such as Target, that carry lines of adaptive Halloween costumes for kids with special needs. These Halloween costume lines fit children with different unique needs.
For example, your child's wheelchair could be turned into a royal carriage for a princess or a pirate ship on the open seas. Surrender your candy, matey!
Sometimes a heavy mask or uncomfortable fabric can trigger sensory issues, so find soft costumes that comfortably fit your child's needs. Some costumes come without tags to avoid scratching your child's skin. There are also high-rise leggings that fit over incontinence supplies if needed.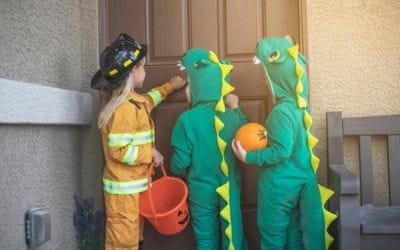 Most of the costumes available at these stores are also easy to get in and out of for quick changes.
2. Watch for Allergens in Candy
Because 1 in 13 kids have food allergies, trick-or-treating can quickly become a warzone as you try to avoid candy containing tree nuts, wheat, soy, peanuts, and whatever else your child may be allergic to. Some candies may also make incontinence worse in your child.
To solve this problem, you can try using a teal pumpkin. The Teal Pumpkin Project helps kids with allergies, diabetes, or swallowing disorders participate in trick-or-treating by signaling that certain houses are giving out non-food treats, like glow sticks or small toys.
All you have to do to participate is buy a teal pumpkin or paint one to let families know you're offering items besides candy to help all children safely participate in trick-or-treating.
A few popular non-food items include:
Pencils
Glow sticks
Notebooks
Spider rings.
Stickers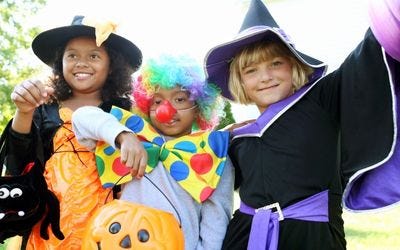 3. Prepare Your Child for Sensory Disruptions
While Halloween is supposed to be spooky and fun, sensory triggers, such as loud noises, fog machines, strobe lights, or a scary costume, could turn innocent laughter into crying due to sensory overload.
Special needs children with Autism and other conditions may be uncomfortable with unpredicted changes to their environment and changes to their routine, so take the days leading up to Halloween to prepare them. Use these tips to help them adjust to what the celebrations will be like:
Give your child the control they need by showing them how to turn off mechanical devices that light up, make noise, or move. Let them see that taking out the batteries or unplugging them renders these items motionless and quiet. It can also be helpful to allow your child to pull or bend plastic decorations or even to build their own monsters such as ghosts or witches.
Get your child accustomed to scary images by allowing them to color on photos of ghosts or monsters. Then, discuss scary characters such as vampires and create your own funny monsters together, like a bat cat or witch bunny.
It also helps to get your child used to different situations. Set your house up like a haunted house and let them pop out at you. Tell them you've hidden something in their drawer or the fridge to find, with everyday objects such as a sock or potato.
If your child wants to be a specific character but finds parts of the costume too scary, there are many alternatives. For example, paint their face instead of wearing a mask or allow them to carry a hat or helmet. They can also wear a T-shirt with the character on it or carry accessories.
5. Communicate With Your Child
Reach out to your child to discuss Halloween celebrations and encourage them to use words related to the holiday, such as "spooky," or "scary," so they know how to tell you how they feel. Tell them they can confide in you if something is too frightening or they've had an incontinence episode.
Ask them what they want to do. If they're too nervous about tricking-or-treating, you can have a candy scavenger hunt in your own home.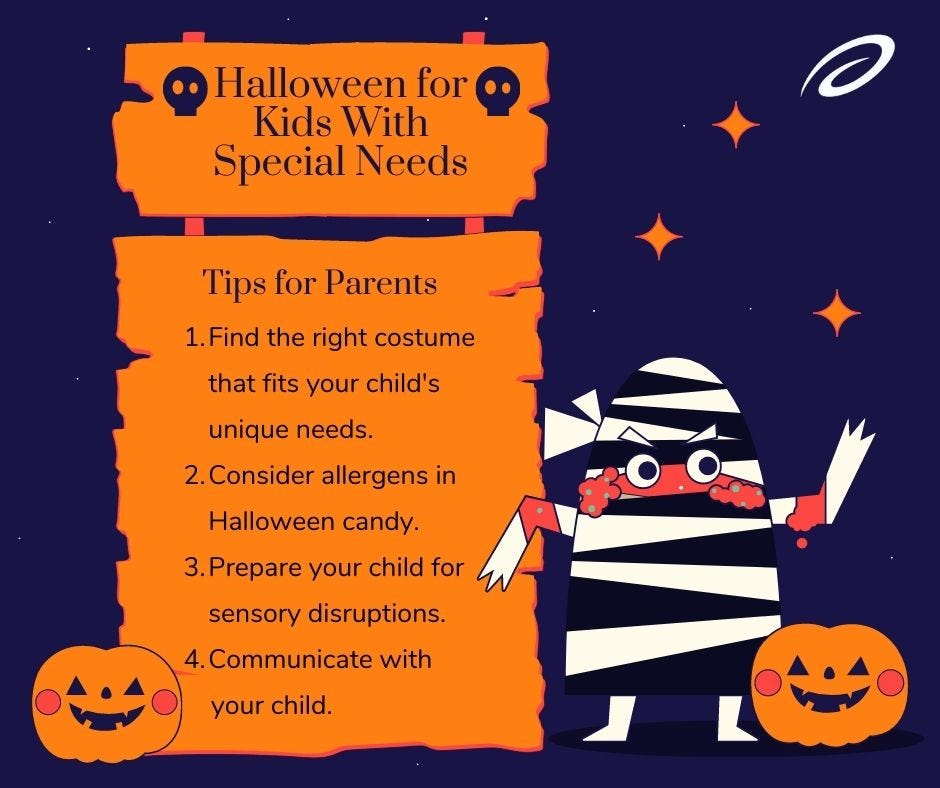 Every child is different. Only you can prepare for the unique symptoms and challenges your child faces. Don't force the holiday on them or be frustrated when an activity becomes overwhelming or they need to go home. Encourage them to participate as much as they want to and adapt to their sensory issues to allow them to feel treated, not tricked, by Halloween.
It's also important to set ground rules with your child before embarking on celebrations, like parties or events. And remember to check in regularly!
How to Trick-or-Treat With Special Needs
Anxiety can make going trick-or-treating difficult, especially when your child easily becomes overwhelmed. Keep an eye on their body language to be able to tell when they're starting to feel uncomfortable.
Also, be sure to:
Avoid homes with lots of decorations that light up or make noise.
Avoid trick or treating in dark areas.
Choose well-lit areas to approach or attend community family events like a trunk or treat.
Don't hand out candy in a scary costume.
Ensure your child with incontinence wears an extra absorbent pull-up and stays hydrated. Frequently ask if they need to use the restroom and keep candy at a minimum until they get home to avoid placing additional pressure on the bladder.
Do not force children to say "Trick-or-treat," or "Thank you". This could cause stress in children with anxiety disorders or for those children who are non-verbal.
When addressing children, make sure they can see your eyes and mouth to assist with children that struggle with speech or hearing issues.
Get Free Incontinence Products for Halloween
If your child has special needs and incontinence, they may qualify for free incontinence supplies through insurance and Aeroflow Urology!
We supply diapers, bladder control pads, pull-ups, and catheters to those who qualify. We'll send you free samples, so you know what products will work best with your child's creative costumes and what products will keep them dry throughout the night.
To have your child's incontinence products sent to your home in discreet packaging every month, fill out our Eligibility Form. Once you do, we'll reach out to your child's healthcare provider to get the required prescription on their behalf. Then, you'll be able to choose your child's products and receive your free samples before their order ships.
Information provided on the Aeroflow Urology blog is not intended as a substitute for medical advice or care. Aeroflow recommends consulting your healthcare provider if you are experiencing medical issues relating to incontinence.