If you or a loved one are seeking solutions for managing incontinence, you, like many others, might have wondered, "Does Medicaid cover Depends?"
This informative article will answer this common question and show you different brands that measure up to the well-known adult product brand.
Say goodbye to worrying about out-of-pocket costs as we explore the world of Medicaid-covered incontinence supplies that meet your needs and provide the quality and comfort you deserve!
Does Medicaid Cover Depends?
Let's get right to it: Medicaid and Medicare do not cover the well-known brand of adult incontinence products, Depend.
Depend adult incontinence products can be bought in stores, but the out-of-pocket costs can add up. That's why it's good to know that other adult protective products can stand up to Depend products in all the ways you know and love, and what's more— other adult incontinence supplies, like adult protective underwear and adult diapers— are free if you qualify through your Medicaid managed care plan!
In short, Medicaid DOES cover incontinence supplies if you meet the requirements from your insurance provider.
Medicaid-Covered Incontinence Products That Stand Up to Depends
Aeroflow Urology carries different brands of absorbent supplies, such as adult pull-ons, adult briefs, and adult bladder control pads that work just as well as Depends. Our medical-grade and highly absorbent brands come equipped with odor control, are gentle on sensitive skin, and are discreet.
TENA: TENA's adult pull-ups, like their Dry Comfort Underwear, come with soft waist elastics for a comfortable and discreet fit. They're made with ultra-absorbent polymers and a Target Acquisition Zone to soak up moisture and keep skin healthy.
Attends: Attends make disposable briefs with just as much absorbency and odor control as Depends. Their Bariatric Briefs are created for men and women with waists from 63" to 70" for 2XL and 70" to 100" for 3XL. With a RapidLock Dual Core, these protect against moderate to heavy bladder and bowel incontinence and are wonderful options for those who need home care.
Prevail: Prevail is another example of high-quality medical supplies that can be found outside of Depend. Adults with lighter urinary incontinence can trust Prevail Pant Liners to protect against leakage and odors. Their Zoned Body Fit ensures a comfortable fit and leakage protection.
What You Need to Get Medicaid-Covered Incontinence Supplies
To get you or your loved one's incontinence products that are just as good as Depends for free, you need the following:
Health Insurance. You or your loved one will need to be enrolled in a Medicaid plan, or Medicaid managed care plan. Medicaid programs deem incontinence products medical necessities if you meet the proper requirements.


Meet Age Requirements. Depending on your state, you may need to be 3 or 4 years or older.

Documentation. While the documentation you need depends on your specific insurance plan, you may need the following:

Signed Certificate of Medical Necessity (CMN): This is proof from your doctor in the last 6 months that the incontinence products you require are medically necessary.
A Prescription. You may need a prescription from your healthcare provider that shows which type of incontinence you are diagnosed with.

A Diagnosis. Your Medicaid or Medicaid managed care plan may require that you have an underlying cause for incontinence diagnosed by a healthcare professional, such as disabilities or medical conditions like Down syndrome, autism, spinal cord injury, etc.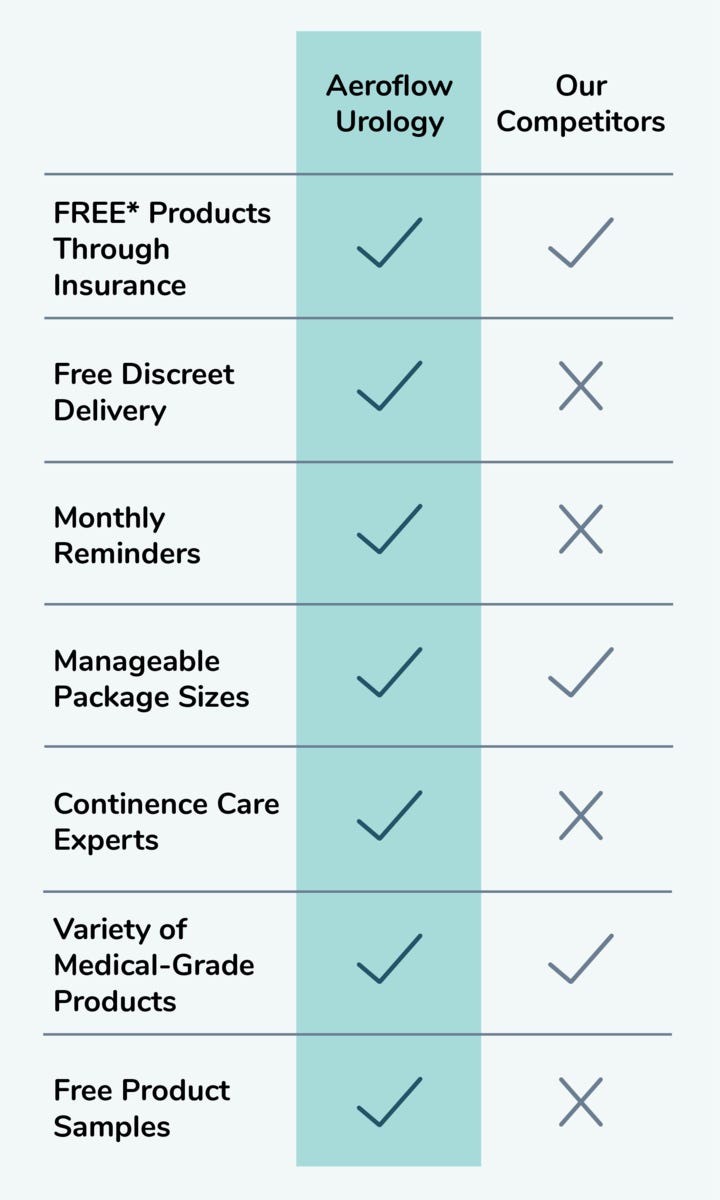 Disclaimer
Information provided on the Aeroflow Urology website is not intended as a substitute to medical advice or care from a healthcare professional. Aeroflow recommends consulting your healthcare provider if you are experiencing medical issues relating to incontinence.