When your doctor first prescribes an intermittent catheter, they will match you with the best type of catheter to suit your personal needs. Many types of catheters can help with incontinence and other bladder conditions that require you to self-cath.
While it may take trying a few different types before finding the most comfortable and practical for your specific needs, don't worry. In this article, we'll explain the difference between coudé tip and straight tip catheters and how to choose the best one for your unique needs.
What Is an Intermittent Catheter?
An intermittent catheter is a medical device that empties the bladder when you cannot do so on your own— commonly known as self-catheterization.
Intermittent catheters differ from indwelling catheters (Foley catheters) because intermittent catheters are for short-term use. At the same time, indwelling remains in the body for longer, inserted and removed by your healthcare professional in office.
Your healthcare provider, such as a urologist, may prescribe a catheter for intermittent catheterization if you have experienced or are experiencing:
Urinary retention.

Prostate conditions, such as benign prostatic hyperplasia (BPH) or enlarged prostate.

Urethral blockages or urethral strictures.
Intermittent catheters come in different styles for men and women, including:
During intermittent self-catheterization, your urinary catheter is inserted through your urethra or stoma (opening in the abdomen connected to the urinary system) periodically throughout the day as needed and is discarded after use. Intermittent catheters may also be attached to urinary drainage bags but are often used to direct the flow of urine into the proper receptacle, such as a toilet. You can also get catheter kits to simplify the catheterization process.
What Is a Straight Tip Catheter?
A straight tip catheter is reflective of its name. It is a thin, flexible tube that empties the bladder with a quick in-and-out process. This single-use catheter is straight from end to end, meaning the tip of the catheter is straight rather than bent. This type of catheter has eyelets (holes) toward its ends to simplify directing urine into a toilet.
Straight tip catheters come in various sizes and options, making them an excellent choice for many individuals. For example, pocket catheters (or compact catheters) are available to discreetly carry and use anywhere, while hydrophilic catheters refer to pre-lubricated catheters.
When Would You Choose a Straight Tip Catheter?
Straight tip catheters are excellent options for those who need to self-catheterize at home and do not have any trouble inserting the catheter. Your healthcare provider will recommend if a straight tip catheter is best for you.
What Are the Benefits of a Straight Tip Catheter?
Straight tip catheters are excellent options for those who need to self-catheterize at home and do not have any trouble inserting the catheter. Your healthcare provider will recommend if a straight tip catheter is best for you.
Simple insertion process.

Created for women, men, and children.

Many inexpensive options by different brands, such as Bard, Coloplast, Cure, and more.

Affordable, especially when received through a Medicare plan.

No healthcare professional assistance required (unless issues occur).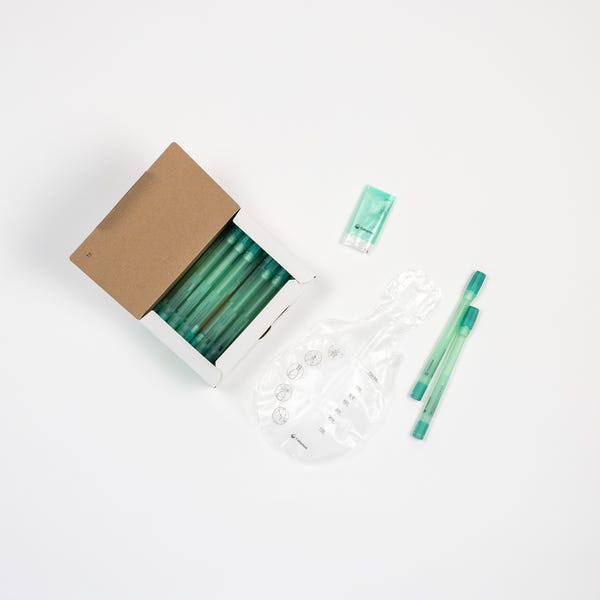 What Is a Coudé Tip Catheter?
Coudé (coo-day) is a French term for bend or elbow; this is where the catheter's name comes from. A coudé catheter is similar to a straight catheter in function, but it has a curved tip or bent tip instead of a straight end.
This unique curve on the end of coudé catheters allows users to effortlessly glide past tight spots, blockages, or enlarged prostates to empty the bladder.
Coudé tip catheters come in a variety of styles, such as:
When Would You Choose a Coudé Tip Catheter?
If you cannot use a straight tip catheter due to blockage, obstructions, or other urethral issues or experience pain using a straight tip catheter, your healthcare provider may prescribe a coudé tip catheter.
What Are the Benefits of a Coudé Tip Catheter?
More comfort for some individuals.

Reduced irritation or pain when inserting.
Designed for men, women, and children.

Created by top brands, such as Cure, SpeediCath, and more.
What Are the Risks of Using Intermittent Catheters?
Risks of using intermittent catheters include:
How to Know Which Catheter Type Is Best for You
It's essential to educate yourself on the different types of intermittent catheters. It's also critical to the decision-making process that you consult your healthcare professional so they can recommend which catheter type will suit you best.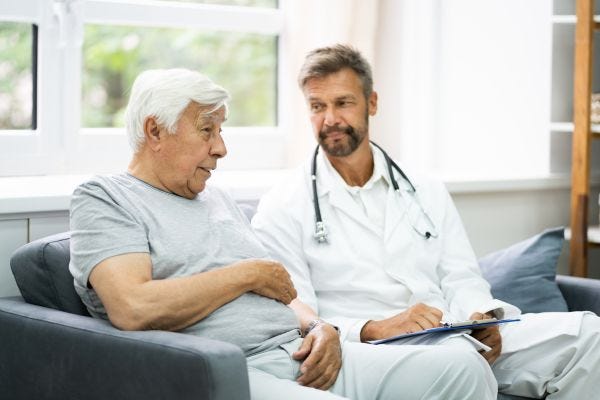 Another factor to consider is catheter cost. Catheters can be expensive out of pocket, but with Aeroflow Urology and a Medicare plan, you may get them at a lower price!
How to Get Catheters Through Insurance
Aeroflow Urology can assist you in getting high-quality catheters from leading manufacturers such as Cure, Coloplast, Bard, Hollister, and more at no cost through your insurance policy. We work with all major insurance providers, including Medicare, to help you maximize your insurance benefits and stop paying for your catheter supplies out of pocket.
Complete our quick and secure Eligibility Form and we'll take care of the rest - from working with your insurance provider to getting all the medical information from your healthcare professional. Our specially trained Continence Care Specialists can also assist you in determining which type of catheter will fit your specific needs and provide free samples to try at home!
Disclaimer
Information provided on the Aeroflow Urology blog is not intended as a substitute to medical advice or care from a healthcare professional. Aeroflow recommends consulting your healthcare provider if you are experiencing medical issues relating to incontinence.