One of the most common complications that can occur for catheter users is catheter blockage. Catheter blockages often form from a buildup of minerals, salts, and crystalline deposits which can block the eye holes of the catheter and prevent urine from draining from the bladder. These obstructions often begin as a small obstruction and can develop fully into a complete blockage. More often than not, these blockages will affect long-time catheter users.
As with other urological issues, it is important to resolve a catheter blockage immediately. Unresolved blockages can lead to pain, urinary retention, bladder, and kidney infections, and can ultimately allow urine to flow back into the kidneys which can lead to serious kidney issues or bloodstream infections such as renal failure and sepsis.
Steps to Diagnose a Catheter Blockage or Obstruction
If you suspect you may have a blockage or obstruction in your catheter, the process of removing the blockage will vary depending on the type of catheter you have.
If you have a suprapubic or indwelling (Foley) catheter, your catheter will be placed into the bladder to drain your urine into a drainage bag. If you notice that the drainage bag is empty:
Check your underwear. Snug or tight undergarments can block urine from flowing into the drainage bag. We recommend wearing loose-fitting underwear to prevent blockages from occurring.
Check for kinks. Guide your hands over the length of your catheter tubing and urinary bag to check for any kinks that could be blocking the urine from flowing successfully.
Check your straps. Assess your leg straps to ensure they are fitting correctly and aren't causing an obstruction in your tubing or drainage bag.
Check your drainage bag placement. Make sure that your urinary bag is positioned below your bladder while sitting or laying down, so the urine is able to flow easily.
If all of the above components appear to be functioning correctly, and you do not have the urge to urinate or are experiencing abdominal pain, drink two glasses of water and monitor your catheter for 30 minutes.
If no urine passes, contact your doctor or visit a medical facility for immediate assistance. You should also seek medical attention immediately if you have the urge to urinate, abdominal cramping or discomfort, or if you're unable to detect bladder fullness.
An intermittent catheter is used several times a day when you need to use the restroom. If no urine is expelled after insertion:
Check for kinks. Guide your hands over the length of your catheter tubing to check for any kinks that could be blocking the urine from flowing successfully through the tube.
Check the lubrication. If you use lubrication gel when inserting your catheter, it can potentially block the end of your tubing. Wait a minute or two to allow the lubrication gel to dissolve.
Check for correct insertion. If your urine does not begin to flow after insertion, gently remove the catheter to make sure it was properly inserted. Women can sometimes place their catheter in the vagina by mistake, and men need to insert the catheter far enough into the urethra for the bladder to empty. In male patients, 10cm of the catheter should be visible after insertion.
Try to relax your muscles. Try to take three deep breaths and check your positioning while ensuring the catheter is being inserted at the correct angle.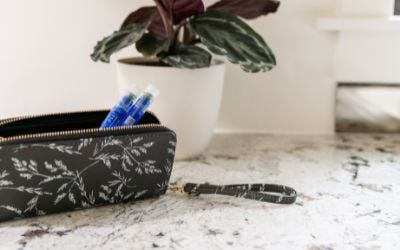 Tension and anxiety can make insertion more difficult.
Check the size of your catheter. If the catheter is not the right size for your specific needs, insertion and drainage of your bladder can be difficult.
Don't force anything. Never force your catheter in. Using force could cause pain and further complications. If you fail to insert your catheter, take a break and try again after a few minutes.
If you are unable to insert your catheter or your bladder won't drain after trying the above methods, seek medical attention immediately.
Complications That Can Lead to Blockages or Obstructions
There are various factors that can be a sign of a catheter becoming blocked or obstructed. It is important to pay attention to these warning signs to prevent your catheter from becoming fully obstructed.

Bypassing: Urine leaking around the catheter can indicate that urine is unable to drain through the catheter and will leak around the catheter instead.
Stomach Cramps: Pain and cramping can be a sign of bladder irritation or the result of too much pressure being placed on the bladder due to constipation.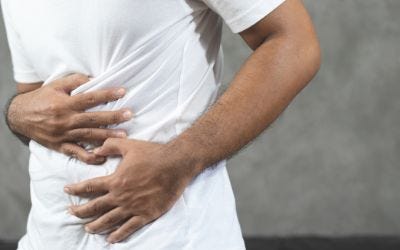 Encrustation: The build-up of salt and minerals from urine can block your catheter tube, resulting in an obstruction. Bacterial infections can also cause the urine to be more alkaline, leading to more crystals in the tubing.
Drainage Bag Location: If the drainage bag is not located below the bladder, this can cause improper drainage to occur.
Additional Factors: Blood clots, bladder stones, and kidney stones can also cause catheter obstructions.
How to Prevent Catheter Blockages & Obstructions
Stay hydrated. Drinking plenty of fluids can help prevent mineral buildup in the urine as well as prevent overall bladder irritation. We recommend avoiding alcohol, acidic juices, and caffeine which can all be dehydrating.
Maintain healthy fiber intake. We recommend consuming a healthy amount of fiber to avoid constipation. Constipation can place direct pressure on the bladder which can cause catheter obstructions.
Follow proper sanitary protocols. Wash your hands before handling all pieces of your catheter, and do not open the catheter package until it is ready to be inserted. Washing your genitals with a warm cloth before and after inserting your catheter is also recommended.
Remove indwelling catheters more often if you're prone to obstructions. Pay close attention to how often your catheter becomes blocked and any associated causes.
If you use an indwelling catheter and you find your catheter is frequently becoming blocked, try to remove the catheter more frequently.
How to Get Catheter Supplies Through Insurance
We can assist you in getting high-quality catheters from leading manufacturers such as Cure, Coloplast, Bard, Hollister, and more, at no cost through your insurance policy. We work with all major insurance providers, including Medicare and Medicaid, to help you maximize your insurance benefits and stop paying for your catheter supplies out of pocket.
Simply complete our quick qualification form and we'll take care of the rest - from working with your insurance provider to getting all needed medical information from your healthcare professional. Our Continence Care Specialists can also assist you in determining which type of catheter will fit your specific needs and can also provide you with samples to try at home.
Information provided on the Aeroflow Urology blog is not intended as a substitute for medical advice or care from a healthcare professional. Aeroflow recommends consulting your healthcare provider if you are experiencing medical issues relating to incontinence.