Adjusting to intermittent catheters can be a major lifestyle change, especially when it comes to using catheters away from home.
Though it can be a source of anxiety for some, proper preparation and education can help make catheterizing in public restrooms only marginally more difficult than doing so in the comfort of your own home.
Read this post for some tips on how to self-catheterize in public bathrooms and see if you qualify for low-cost catheter supplies.
Why Is Using Intermittent Catheters in Public Difficult?
There are two main barriers when it comes to catheterizing in public restrooms:
Having all the necessary supplies on hand. Sometimes life gets chaotic and we may not remember all of our belongings and this includes catheter supplies! If you are at a friend's house or on a day trip somewhere and realize you don't have your catheter supplies with you, you can run into some big problems.
2. Creating a sterile environment to maintain safe hygiene. Public restrooms can be gross! From dirty sink areas to clogged toilets, it can be difficult to find clean, sanitary surfaces and areas to set your catheter supplies.
How to Use Intermittent Catheters in Public Bathrooms
Follow these guidelines for sanitary and easy self-catheterization wherever you go.
1. Bring the Right Catheter Supplies in the Right Carrying Case
Catheters, particularly male catheters, can consume a good deal of space. Many are too long to easily fit in a pocket or even a normal sized purse. Coupled with any sterilization and lubrication supplies, it can be cumbersome to carry all the necessary supplies to properly catheterize in a public restroom.
This can lead to people skipping catheterization and trying to hold out until they get home, which can lead to bladder damage and other serious complications.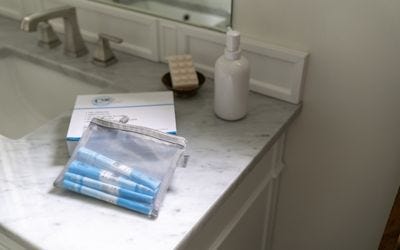 Instead, figure out which supplies you need for where you're going. Then, find what you can carry them in. For example, you can use catheter-carrying bags designed specifically for catheters, or take travel catheters with you.
Many men find that carrying catheters and supplies in a briefcase can be helpful, as well as providing a hard surface on which to place the supplies during catheterization.
For women, folding catheters into a U-shape can help them accommodate varying sizes of purses. Additionally, there are compact catheters available and intended for discretion and space, depending on your insurance and medical qualifications.
2. Stay On Schedule
You should always catheterize at the same frequency as your healthcare provider recommends.
If you skip emptying your bladder when your healthcare provider advises you to, you may be putting your urinary health at risk or possibly develop bladder damage.
To stay on schedule, plan out where the bathrooms will be located on trips or longer car rides and always take supplies that can help you stay hygienic.
3. Keep It Clean!
Obviously, public restrooms are much less hygienic than the restroom in your home. Practicing proper hygiene in public bathrooms will protect you from complications such as urinary tract infections (UTIs).
Your first line of defense? Frequent, thorough hand washing.
After washing hands, you should make your way to a stall or private area in order to catheterize. Pushing and pulling the stall open with your elbow or foot will help preserve the sanitation of your hands.
Gloves are a great second line of defense when catheterizing in public restrooms.
Another option for clean catheterization is using a catheter with a grip or guide strip that will allow you to avoid touching the catheter tube itself.
A clean cloth or paper towel can come in handy and provide a sanitary surface for your catheter supplies.
Many catheter systems can include these supplies or convenient alternatives. For example, Hollister catheters have an adhesive dot on the side of the catheter, enabling patients to stick the outer packaging of the catheter to any surface, while preserving the sanitation of the catheter itself.
Paper towels or other sanitary sheets can be helpful to lay down catheter supplies or wrap your used products in to dispose of them if there isn't a wastebasket in the stall you use.
4. Always Plan Ahead
If you know you're going to be traveling or going on a longer day trip, make sure you take a self-catheterization kit with you and any extra supplies you may need. This kit can include:
Extra catheters.
Gloves
Paper towel.
Extra clothes.
Sanitizing wipes.
Hand sanitizer.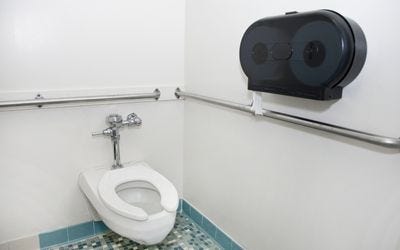 You should also locate public restrooms where you're going to make sure you can use your catheter when you need to.
How to Qualify for Low-Cost Intermittent Catheters
If you prepare properly, catheterizing in public restrooms does not need to be a source of anxiety. Plus, with an experienced supplier like Aeroflow Urology on your side, you never have to worry about dealing with insurance, learning about supplies, or picking up your intermittent catheter supplies in a store.
Our trained catheter representatives can help you obtain the best catheter and supplies to address your specific medical needs.
To find out if you qualify for low-cost intermittent catheter supplies, fill out our Qualify Form! It takes under 5 minutes to complete and one of our Care Specialists will reach out to you if you're eligible to answer any questions you may have.
Information provided on the Aeroflow Urology blog is not intended as a substitute to medical advice or care. Aeroflow recommends consulting your healthcare provider if you are experiencing medical issues relating to incontinence.