Diapers and pull-ups are essential for protecting kids and adults against leakage. However, if you're wearing the wrong size, these protective products may fail to do their job.
You need to be aware of the sometimes subtle signs that an incontinence product isn't fitting correctly so you can avoid common issues like leakage, skin irritation, infection, and general discomfort. That's where choosing the right sized product comes into play.
In this article, our Continence Care Experts will give you tips to help you determine if your incontinence product is too small or too large so you get the best protection possible.
Signs Your Child's Diaper Doesn't Fit
Paying attention to how the legs fit on your child's diaper and pull-up is key in finding the right-sized incontinence product. If the product is too large, gaps around the legs might lead to leaks. The elastic should fit snugly, but not tight, around their legs.
Your child's diaper or pull-up should be comfortable and not leave marks on their skin, which can signify that their product is too small. This can lead to skin abrasion.
The tabs on your child's diaper should ideally be close to the front of their hips. If you have to bring the tabs all the way to the center (almost touching each other) to secure the diaper, that is a sign that the diaper may be too large. For a pull-up, the elastic should be comfortable around the waist enough to keep the product up.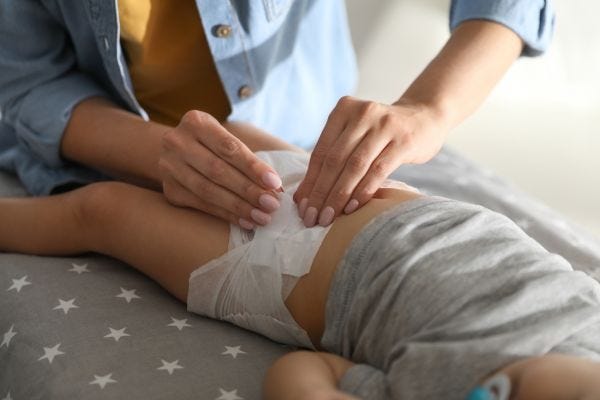 4. Sagging
If your child's incontinence product tends to sag down, especially when dry, that could be a sign your child's diaper or pull-up is too large.
Leaks.
Leaks are one of the most obvious signs that your child's product is too large or too small. If the size your child is wearing has fit comfortably before and then they begin experiencing leaks, try a larger size.
Both briefs and pull-ups should comfortably cover a child's bottom area to ensure the product stays secure throughout the day.
Signs Your Adult Brief Doesn't Fit
7. Leg Hole Gaps & Skin Marks
The most critical aspects of an adult brief fitting correctly are the leg and the waist area. For the legs, the elastic should fit snugly (but not tight) against your leg. If there are marks after wearing the product for an extended period, the size might be too small. If there are gaps at the leg opening, you might be more likely to experience leaks from your product being too large.
8. Touching Tabs
Contrary to popular belief, the tabs on an adult brief do not need to meet in the middle; the tabs should fit on your front hip area for your product to function as intended. If the tabs are straining or having trouble staying in place, you might need a larger product or one with more stretch (depending on how the legs fit). If the proper placement of the tabs means that the brief is falling, a smaller size might work better.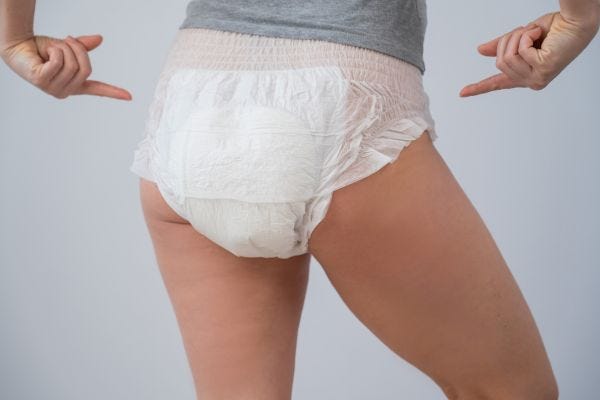 Overall, your brief should fit comfortably without much strain; strain on the product can cause the absorbent material to be displaced, leading to leaks. To avoid skin abrasion, caretakers should change a brief multiple times daily, depending on usage.
The absorbent material of your brief should keep moisture away from your skin; however, a poor fit can increase the likelihood of skin breakdown if not changed frequently enough.
Tips for Choosing the Right Diaper
Now that you know some common signs that your or your child's incontinence product doesn't fit correctly, let's talk about choosing the right-sized product.
When it comes to pediatric diapers, you should rely on your child's waist measurements to find their ideal diaper size. However, most brands have very similar sizing, so if your child already uses diapers and has a size that fits them comfortably, you can request the same size from a supplier like Aeroflow Urology.
Pediatric pull-up sizing follows pants sizing very similarly, so use both height and weight, as well as pants size, to choose an appropriate size of a pull-up for your child.
Waist measurement is the most straightforward way to choose an adult brief size, while height and weight are the best measurement options for adult pull-ons. Both products are flexible and can stretch with your body, so you may need to make some adjustments.
Another option to finding the right-sized diaper or pull-on is to use Aeroflow Urology's Continence Care Specialists! If you get your incontinence products for free through our services, you'll have access to real humans who know all there is to know about diaper and pull-up sizes!
Disclaimer
Information provided on the Aeroflow Urology blog is not intended as a substitute for medical advice or care from a healthcare professional. Aeroflow recommends consulting your healthcare provider if you are experiencing medical issues relating to incontinence.