If you've had a toddler in your life you know all about the dreaded potty training stage. But when you have a child with special needs, this can become a little more of a challenge.
When we first got Oliver's autism diagnosis, we knew we would have our own set of obstacles but no one really prepared us for potty training. We didn't know that children with autism tend to have a harder time learning to use the bathroom. This can be for a number of reasons like avoiding the toilet because it's too loud, not liking the change in routine, getting stuck on repetitive behaviors like flushing the toilet over and over, and many more. All of these things can make it more difficult to learn to use the bathroom independently.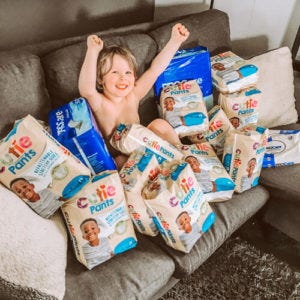 We really felt the need to get Oliver out of pull-ups not only from peer pressure, but also because he was quickly outgrowing of all the sizes available in stores. People were asking why he was still in pull-ups, while their 2-year-olds were fully potty trained. We were coming up on his fourth birthday and having already tried 3 times we began feeling pretty defeated. We accepted he just might not be ready & started looking for every option available.
We were so relieved we found Aeroflow Urology! Aeroflow is dedicated to improving people's lives by providing high-quality incontinence supplies. They do everything for you from start to finish, making it a completely stress-free & easy experience.
We filled out one simple form and Aeroflow reached out asking more details about our needs. Within days we had multiple samples in our mailbox to choose from. Aeroflow partners with different companies making it possible to sample other brands to find the absolute best fit for you & your lifestyle. Oliver also has eczema so we really needed something that was gentle enough on his skin, but also tolerable to his sensory sensitivities at the same time. He actually hadn't liked any other brand of pull-ups for almost 3 years but, to our surprise he loved them!
Once we found one he liked & was comfortable with, our first box was shipped right to our doorstep within 2 weeks! My favorite part was that we didn't have to play "phone tag" with doctors or insurance. Aeroflow takes care of everything! There's nothing more frustrating than waiting on the phone for hours just to be told you need to call someone else. (Been there!) On top of that, reordering is so easy with a simple click of a button through the automated system. You can really see the care they have for their customers by making the whole process smooth and easy!
The subject of potty training went from a stressful topic to instant relief overnight, thanks to Aeroflow! So now when people ask if he is ever going to be potty trained I tell them - whenever he is ready.
- The Ferrells