This season tis not a reason to be held captive by 
incontinence
. Whether you have some form of incontinence yourself or have a child struggling with the condition doesn't mean it has to burden the holidays. Go ahead and take that family trip and enjoy some seasonal festivities with your loved one. By taking the time to plan for incontinence during travel, you'll be prepared for an incredible trip!
Surviving Holiday Travel With Incontinence
1. Plan A Route With Potty Breaks
If you're traveling by car or plane, find bathrooms along the way for frequent breaks every couple of hours. Map out the rest stops or family restaurants that you know will have clean bathrooms to use. Look up the airport ahead of time to view bathroom locations and book an aisle seat for easy access during your flight. You can also use a bathroom app like SitorSquat to instantly find a public restroom that's wheelchair friendly in a moments notice.
Before heading out, remember that holiday traffic can suddenly spring out of nowhere. Check your GPS to see how long you could be in traffic and how busy the airport lines are for baggage claim in order to plan bathroom breaks accordingly.
At holiday gatherings be sure to find the restroom when you first arrive so you don't have to struggle to find it when the urge strikes.
2. Keep A Moderate Holiday Diet
The holiday season is a perfect time to indulge in festive treats, but doing so in moderation is key. Items with a lot of refined sugar like chocolate can irritate your bladder. You'll also want to avoid spicy dishes, caffeine, and alcohol unless you know your body's limit.
Instead of relying on fast food stops or your relative's menu be prepared with healthy lunches and beverages for yourself and child. Nutritious, fibrous items such as fruits and vegetables can help stop diarrhea and relieve pressure on the bowels.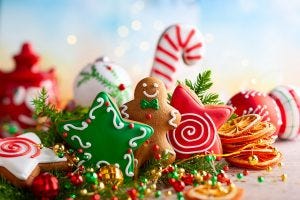 Also, stay hydrated. Restricting your own or your child's fluid intake may seem like a good way to prevent accidents, but dehydration can stress out your bladder and lead to urinary tract infections (UTI).
3. Always Be Prepared
Keep a book bag on hand with all of the items you might need to last the entire trip and events with the ability for a quick and easy clean up. Take enough disposable briefs, changing gloves, wet wipes, back up clothes, and disposal bags to discreetly change yourself or child. You can wear dark clothes to hide stains and use chux or bed pads to protect furniture and mattresses.
4. Save Money With Incontinence Supplies Through Insuranc
e
Use our
quick qualify form
to see if you're eligible to receive
incontinence products through insurance
. Then you can save be having monthly supplies shipped directly to your home. Not just any supplies, but the right ones. We will make sure to pair you with properly fitting undergarments to effectively prevent leaks and check in with you on a monthly basis to see if you need to make any changes. For example, sizes need to change with weight gain or loss and you can switch to more absorbent products for long trips if needed. Also, if you don't want to worry about traveling with
incontinence supplies
have them shipped to the hotel or house you'll be staying at ahead of time.
5. Be Discreet 
If your child is struggling with incontinence, keep their privacy in mind. They may not want friends and relatives to know since 
urinary incontinence
 can be a source of embarrassment. If an accident occurs help your child clean up quietly and don't make a big deal out of the situation. Be supportive and let them know everything is alright. The trip won't be ruined by any leaks!
6. Practice Timed Voiding
Why wait for the urge to go? Try to go every few hours to empty your bladder. Go before bed, after waking, and after meals. Remember to go before long activities such as riding around to look at Christmas lights or mingling with family members at parties.
Keep track of how often your child goes and remind them during activities to take bathroom breaks. If they don't want to stop participating in the activity they're busy with calmly remind them that it will be waiting for them after they go.
7. Relax
Stress can spread! Remember that you're on vacation. Take the time to relax by not overfilling your itinerary with too many activities. Stress will only lead to more bowel issues and may cause you to forget what really matters, making holiday memories with your family.
Information provided on the Aeroflow Urology blog is not intended as a substitute to medical advice or care. Aeroflow recommends consulting your healthcare provider if you are experiencing medical issues relating to incontinence.