Choosing the right type of catheter for urinary incontinence is critical for your health, but it can be difficult to know which catheter to choose if you don't know which type you should use.
This process can be especially intimidating for men who have possible obstructions or enlarged prostates. If you're looking for options outside of intermittent catheters, this article is for you! Learn about external catheters and find out how to get them covered by your insurance plan.
What Is an External Catheter?
An external catheter, which is sometimes called a condom catheter, is a considerably less invasive form of self-catheterization than most intermittent catheter systems. They're commonly used for males but can be used for females, too.
A condom catheter is a urine collection device that is self-adhering. External catheters use a latex or rubber shell to encase the tip of your penis. They connect directly to a drainage bag, sometimes called a collection bag, that's typically strapped to your inner thigh.
The Best Way to Get Low-Cost External Catheters
Your healthcare provider may prescribe a male external catheter for the following conditions:
The best and easiest way to get your external catheters at low cost is to get them through your Medicare plan with Aeroflow Urology.
We know your urinary health shouldn't be sacrificed or compromised because of high medical supply costs. That's why we offer every type of high-quality catheter through insurance by name brands you can trust through insurance. We also know that you might not be aware of which type of catheter you should use, which is why we offer free catheter samples before you confirm your order with us.
Here's how you can check to see if you qualify for low-cost catheters through insurance:
1. Submit your insurance information through our secure Eligibility Form. Our Eligibility Form takes under 5 minutes to complete- all you need is your Medicare card at hand. If you have any questions throughout the process, call the number on your insurance card. We never share your information with third parties, and after you submit it, we'll reach out to you within 1-2 business days with your eligibility determination. We'll send this determination through a phone call, email, or text.
2. Choose your urinary catheters. If you are eligible, you'll receive a phone call, text, or email from one of our Continence Care Specialists. From there, they'll help you find a catheter product that's covered under your insurance plan.
3. Get a prescription from your healthcare provider. Because Medicare needs a prescription from a healthcare provider to prove that your urinary catheters are "medically necessary," we'll need a prescription from your provider. We'll make this process easier by reaching out to your provider for you, but you can get your catheter supplies faster if you let your doctor know we'll be asking them for a prescription.
4. Your catheter products arrive! After we've obtained your prescription and you've confirmed your order, we'll ship your catheters discreetly in unmarked boxes directly to your front door.
5.Reorder your catheter supplies. We'll send you friendly reminders through your preferred method of communication- text, email, or phone call- when it's time to reorder your catheter products so you never run out!
External Catheter FAQs
Why Would You Use a Condom Catheter?
Your healthcare provider may prescribe a male external catheter for the following conditions:
Urinary incontinence: Unintentional leakage of urine due to the inability to control the bladder.

Urinary retention: Inability to empty the bladder completely.

Urinary tract obstruction: Obstructions in the urinary tract, such as bladder stones or enlarged prostate glands (benign prostate hyperplasia).
Urinary surgeries of the prostate or genitals.
Injury to the spinal cord (spinal cord injury) or bladder.
How Do You Use a Condom Catheter?
How Long Can a Condom Catheter Stay On?
This is a common question and the answer may vary from person to person, but typically, your external catheter should be changed between once a day to every 48 hours. You should also check the skin around the application area to make sure your catheter isn't too tight.
What Are the Benefits of Using Condom Catheters?
1. Discretion & convenience. One of the main benefits of external condom catheters is their discretion and convenience. Because they can be changed less frequently than most types of intermittent catheters, condom catheters can greatly reduce overall trips to the bathroom. Using condom catheters can also be helpful when you're traveling or attending long events, like sporting events or conferences because they require less upkeep and maintenance.
2. Less risk of CAUTI. Because no part of the catheter enters the urethra, there is also less risk of damage to this area of the body. External catheters also help to prevent catheter associated urinary tract infections (UTI) (CAUTI) which can stem from improper hygiene practices during self-catheterization.
3. Ease of use with prostate conditions. One of the most common concurrent health concerns for men with urinary incontinence is an enlarged prostate. This condition can make standard straight intermittent catheters nearly impossible to use with any degree of success. Many men may even find the coude tip catheter, which is often prescribed for just such a complication, to be difficult to successfully insert multiple times a day. If you have difficulty with the process, the convenience and ease of an external catheter is best.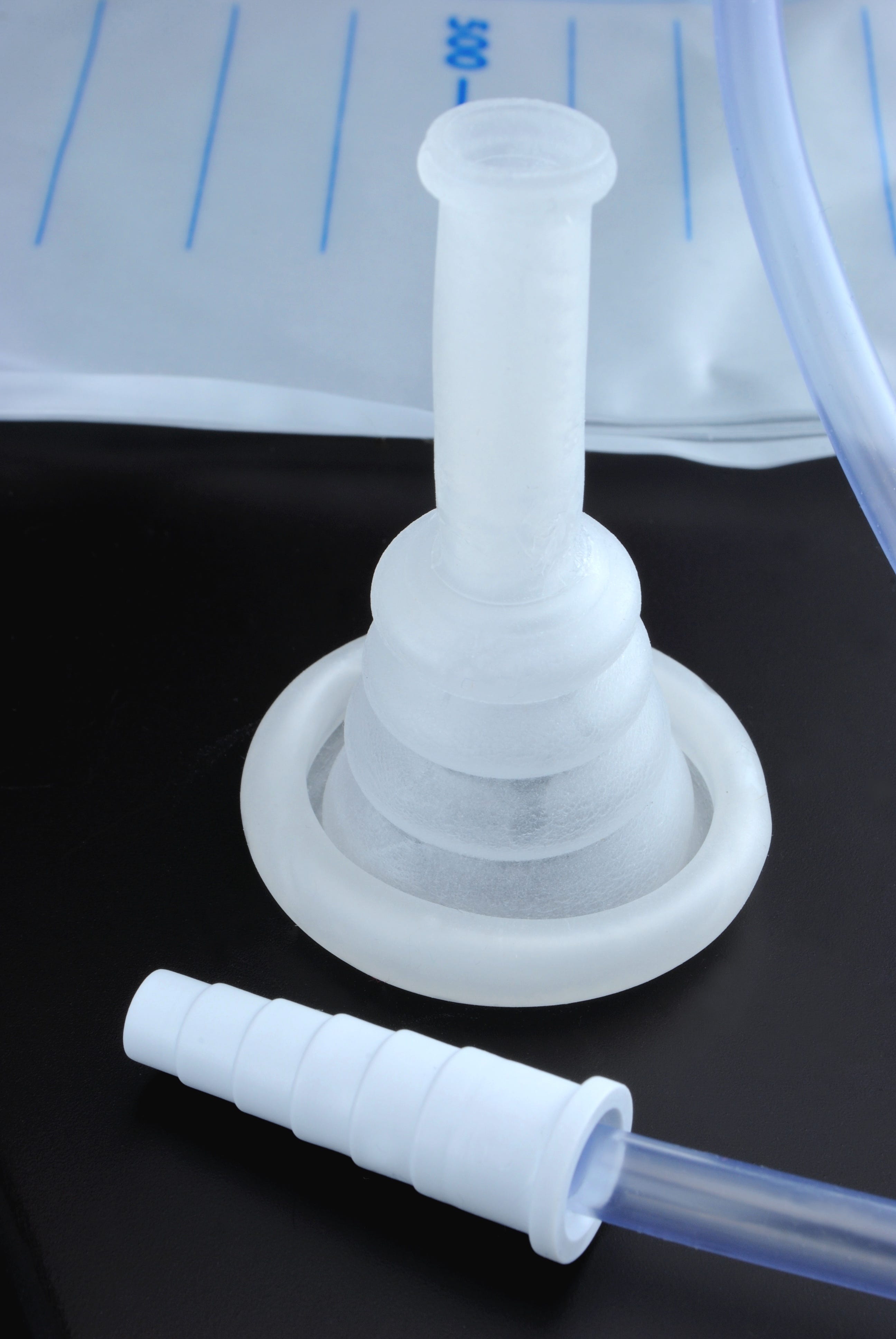 How Do You Sleep With a Condom Catheter?
External catheters are a great option if you need to wear a catheter while you sleep. Make sure your catheter is attached snugly but not too tightly. Be sure your collection bag is placed somewhere below you so your urine can flow in a downward position to prevent backflow. You can attach the collection bag to your bed or a chair next to your bed. When you wake up, drain the bag and consider changing our catheter.
Do You Need a Doctor's Order for a Condom Catheter?
Yes. You will need a prescription from your healthcare provider in order to prove to Medicare that your external catheter is medically necessary. Aeroflow Urology can help you obtain a prescription during the qualification process!
What Is the Best Way to Remove a Condom Catheter?
Follow these steps to remove your external catheter:
1. Wash your hands with soap and water.
2. Gently roll the condom catheter back- don't pull it.
3. Pull back your foreskin and clean the head of your penis, then clean the rest of your genital area and wherever the catheter was adhered to.
4. Watch for skin irritation like redness or tenderness. If irritation is occurring, contact your healthcare provider.
5. Let your skin dry completely before changing catheters.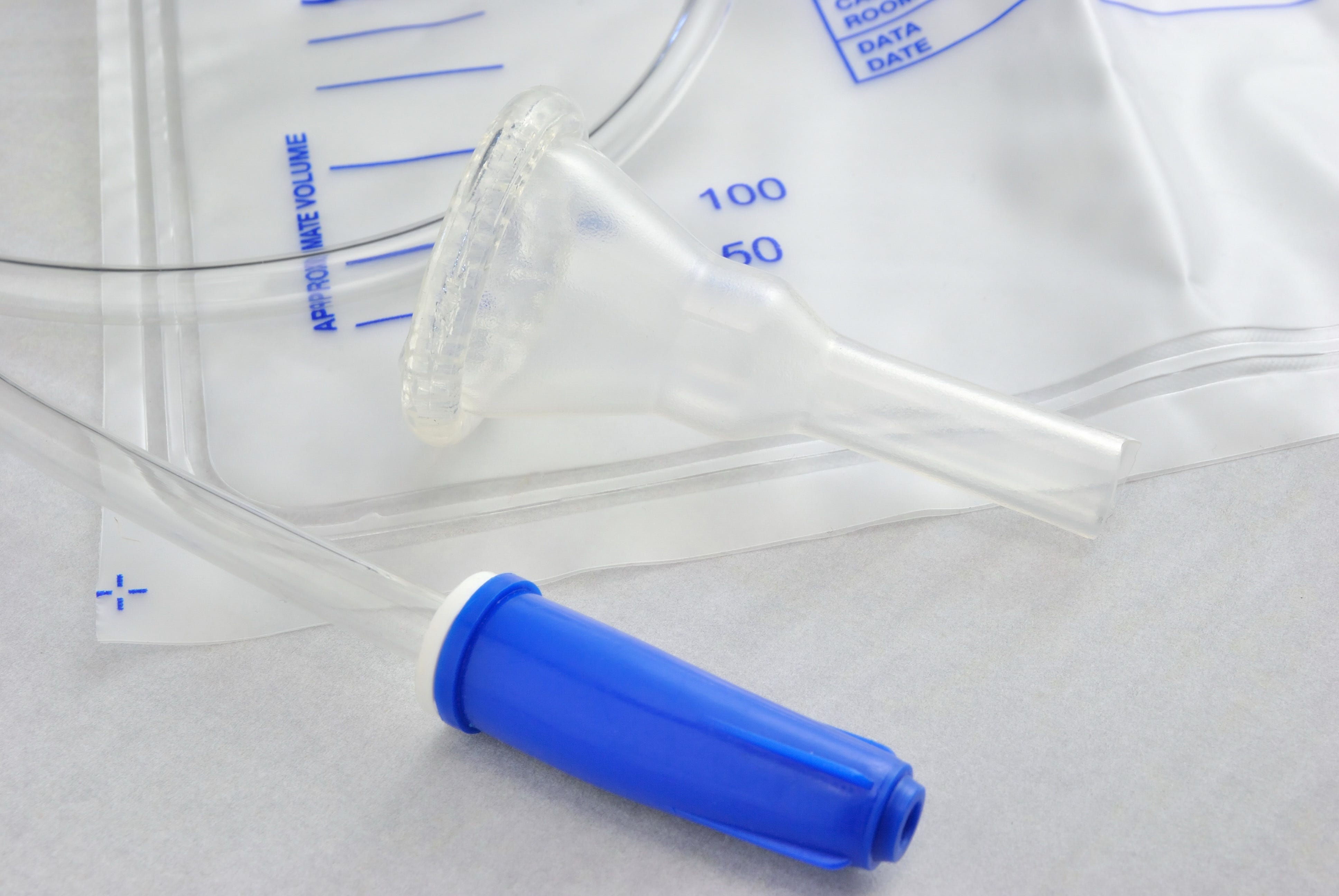 Will a Condom Catheter Hurt?
This is another frequently asked question when it comes to self-catheterization with any type of catheter. Whether you're using an indwelling urinary catheter, an intermittent catheter, or a condom catheter, it should never cause pain!
What Is the Difference Between a Condom Catheter & an Intermittent Catheter?
A condom catheter is an external device that uses a leg bag or collection bag to drain urine from your body. Intermittent catheters are urethral catheters that are used by inserting their vinyl tubes into your urethra. Intermittent catheters do not use drainage bags; instead, their tubes empty urine directly into a receptacle or toilet.
What Are Some Complications With a Condom Catheter?
If you have urinary issues but can still control when and where you empty your bladder, an external catheter is a good option. But, if you manage incontinence and can't empty your bladder on your own, you may need an intermittent or foley catheter.
Managing Urinary Incontinence With Condom Catheters
Urinary incontinence can be a major life adjustment, but it does not have to be painful, difficult, or embarrassing!
If you're supported and educated properly, you can maintain your quality of life, even when utilizing catheter products. Men with urinary incontinence should consider the possibility of external catheter use- even sporadically- when conditions such as travel or events necessitate it.
Disclaimer
Information provided on the Aeroflow Urology blog is not intended as a substitute to medical advice or care. Aeroflow recommends consulting your healthcare provider if you are experiencing medical issues relating to incontinence.