It's widely known that incontinence can cause stress, but you may not know that incontinence can actually harm women's mental health.
Studies are showing that incontinence can cause women to develop anxiety, depression, and low self-esteem.
Read this post to find out how and learn what you can do to manage mental health and incontinence.
Developing Incontinence
---
Female urinary incontinence is defined as an involuntary loss of urine. The types of incontinence a woman can experience include stress urinary incontinence, overactive bladder, and urge incontinence.
Reasons for developing incontinence include:
Aging
Pelvic floor dysfunction.
Pregnancy
Giving birth.
Nerve damage.
Being overweight.
Smoking
Certain diseases or medical conditions.
Genetics
Developing incontinence, especially as you age, is very common but not normal.
Effects of Incontinence on Mental Health
---
In a questionnaire Aeroflow Urology sent out to hundreds of women, a staggering 72% said they experience incontinence. An even more shocking 52% said they felt they had to hide their incontinence. The survey also found:
42% of women are embarrassed to discuss incontinence with their friends or family.
53% of women found loss of bladder control affected their daily lives.
56% did not visit a doctor after experiencing incontinence.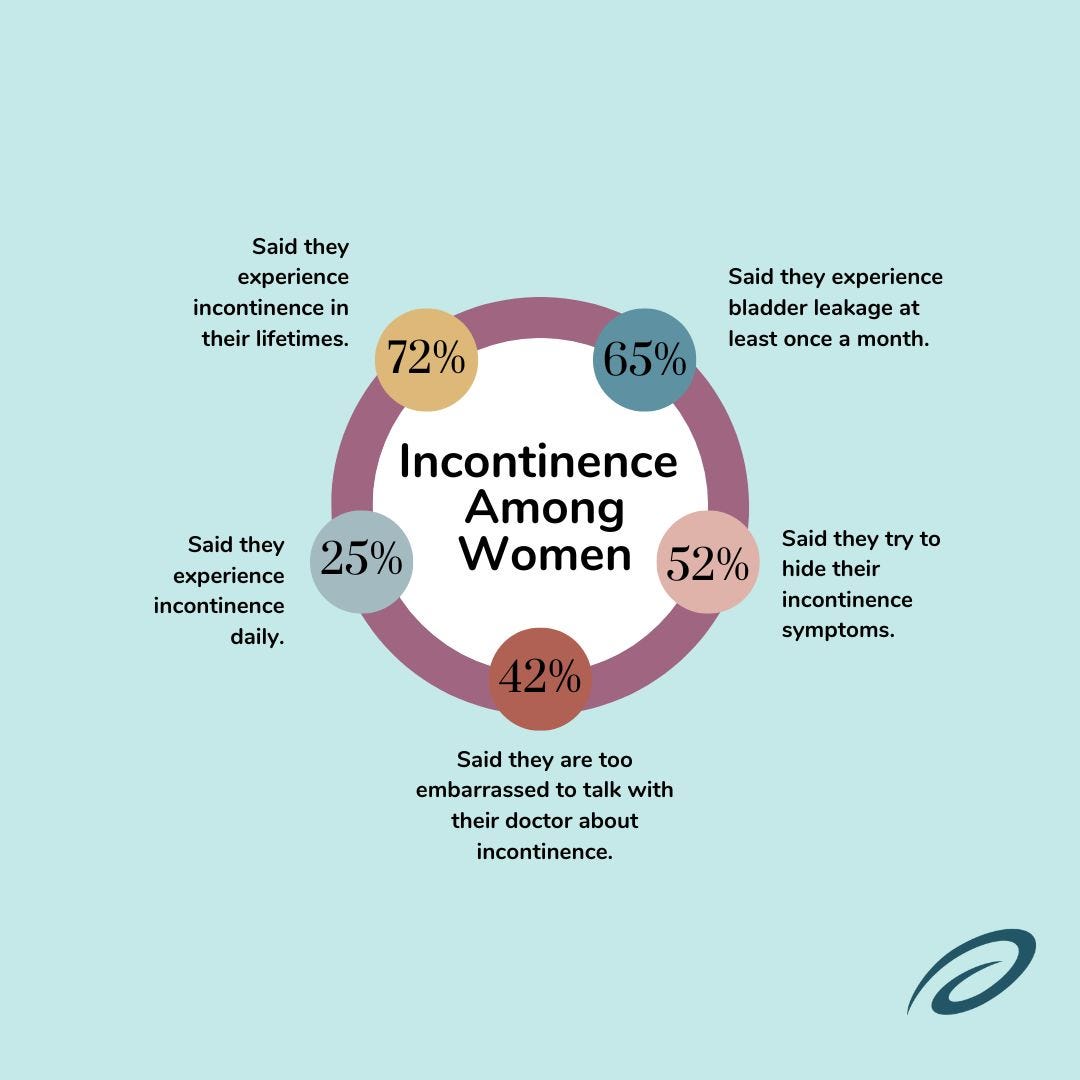 Loss of continence can affect your health-related quality of life because you may experience urine leakage at inconvenient times. This can hold you back from engaging in activities you once enjoyed or even taking certain jobs. And, as it turns out, it's been proven that incontinence correlates with mental health problems in women.
Depression
One of the most significant psychological effects of urinary incontinence among women is depression.
A recent study of 10,000 women found that the 10% who were experiencing incontinence were 66% more likely to be diagnosed with depression and experience depressive symptoms when compared to those who were not experiencing incontinence.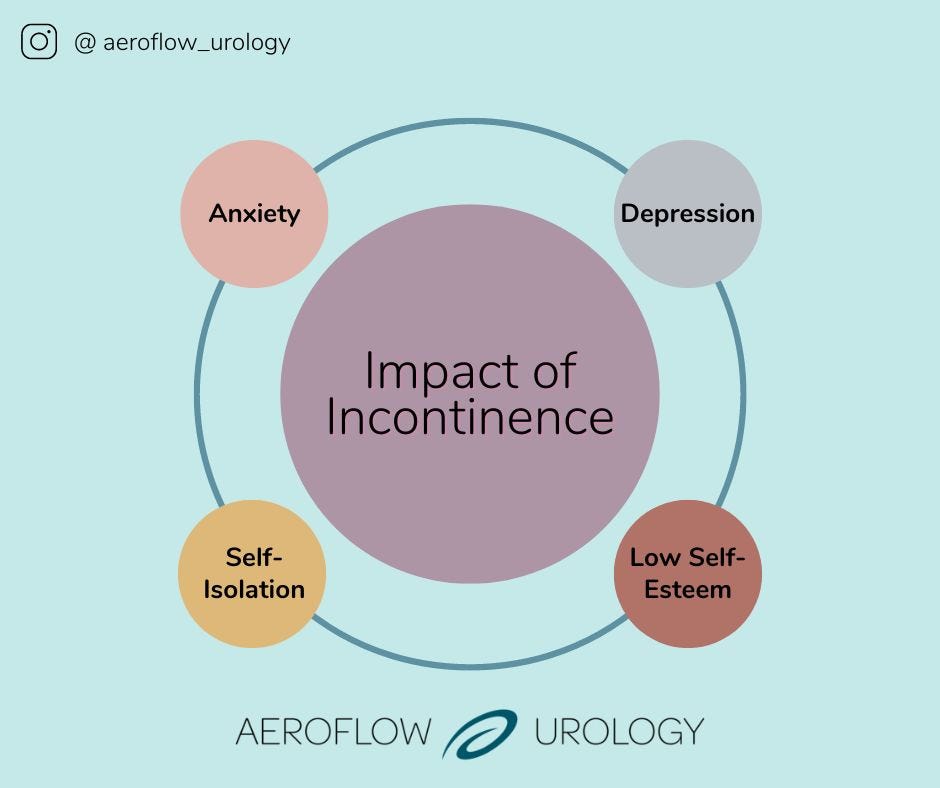 Anxiety
Women who have OAB were found to have psychological distress such as anxiety, feelings of uncertainty, and stress due to not knowing when they'd need to use the restroom or leak.
Low Self-Esteem
In the same study, women who reported incontinence were 65% more likely to report having poor mental health and low self-worth. This could be due to feeling alone in experiencing incontinence or feeling embarrassment or shame. According to experts, bladder issues can also affect a woman's sex life.
Social Isolation
Along with anxiety and depression, there are psychosocial impacts of urinary incontinence among women. One of these effects is social isolation. Women who experience leakage are less likely to go out due to anxiety about leaking or having an accident in public.
Effects of Stress on Bladder Health
---
Incontinence affects women's mental health, but stress can also be a risk factor for developing incontinence.
Stress and anxiety can cause incontinence, and incontinence causes anxiety and stress, creating a chicken-or-the-egg cycle of psychological distress and leakage.
When you experience stress, your body enters fight-or-flight mode, and your adrenaline levels increase. The surge of adrenaline creates the urge to pee, leading to bladder leakage.
The Future of Women's Health & Incontinence
---
The number of women who experience incontinence and mental health issues is an indicator that there is a lack of much-needed conversation around bladder issues, but there a few places we can start.
Changes in Healthcare
Urinary incontinence should be put at the forefront of women's healthcare moving forward. Bladder control issues should be normalized and discussed in doctors' offices to help women with incontinence.
Some say it's crucial that the conversation between women and healthcare providers changes. Women's healthcare providers or healthcare professionals in the field of urology need to address not just the symptoms and treatment of incontinence but women's mental health in regards to what they're experiencing.
We can also educate the general population on incontinence because so many people experience it at some point in their lives.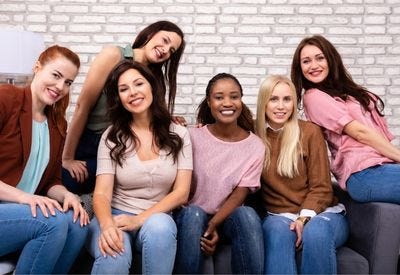 Preventetive Continence Care
The prevalence of urinary incontinence among women is undeniable, but it's not normal.
We can change this by prioritizing continence care and teaching women how to prevent incontinence from developing in the first place.
Bladder leakage may occur due to menopause, pregnancy, giving birth, and aging, but there are interventions you can do to try and prevent or improve your incontinence and, in turn, your well-being.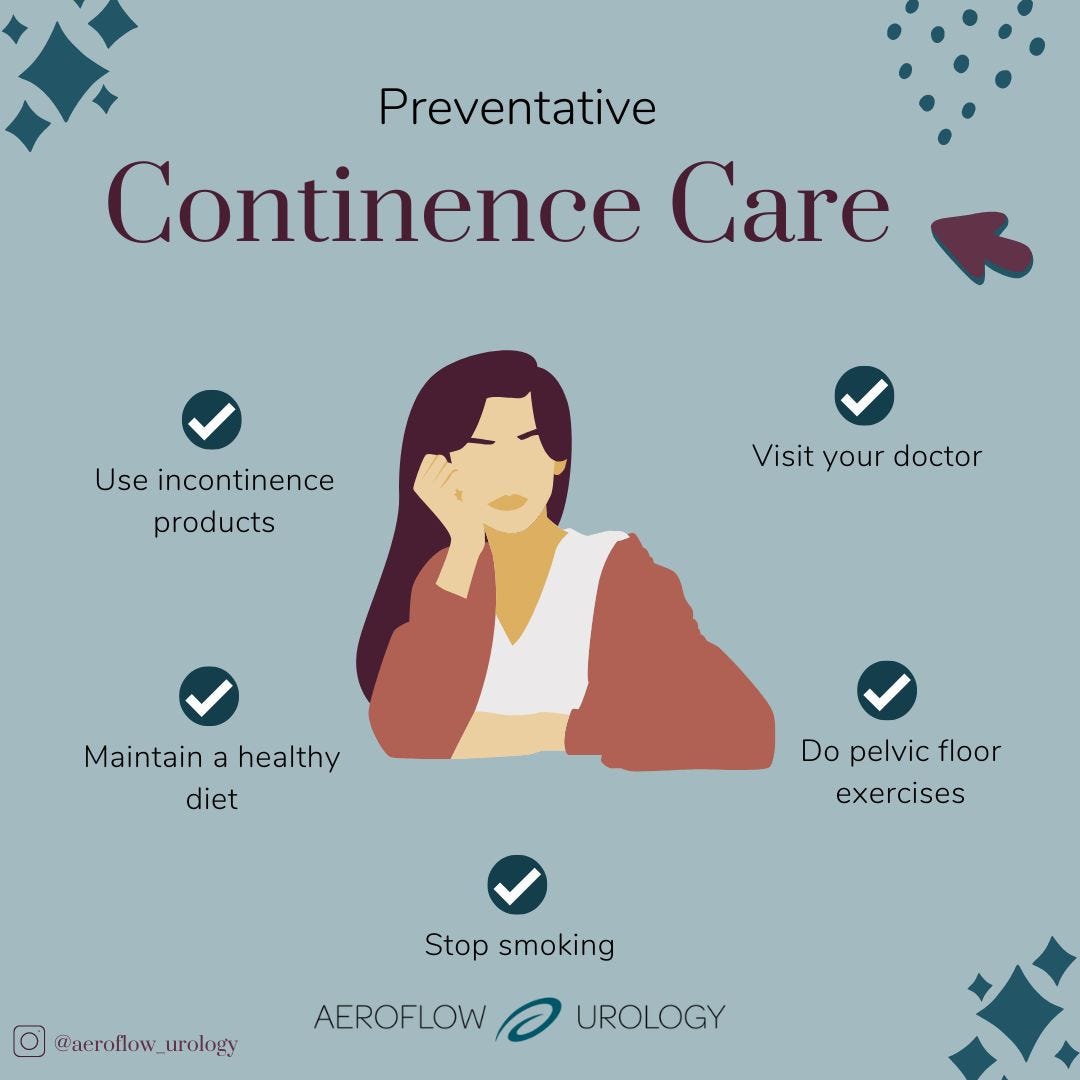 Pelvic floor exercises. Kegel exercises help strengthen your pelvic floor muscles. Everyone should engage in Kegels, including older women and men! They can help improve sexual function, too. You can also see a pelvic floor therapist to help you learn the exercises.
Use incontinence products. Using incontinence supplies to manage your symptoms is one of the best things you can do to relieve stress and anxiety. You can even get incontinence products, such as protective underwear and bladder pads, free through your insurance with Aeroflow Urology.
Eat a healthy diet. Getting enough fiber, drinking enough water, and avoiding bladder irritants can help you maintain a healthy urinary system and improve bladder function.
Visit your healthcare provider. You should never be ashamed to make gynecology visits or general healthcare visits due to a loss of bladder control. Your healthcare provider may be able to help you come up with a treatment plan or recommend medications.
Stop smoking. Cutting out smoking will decrease your incontinence symptoms since smoking is a bladder irritant.
Getting Help With Mental Health
If you're experiencing depression, anxiety, or low self-esteem, know that you aren't alone, and it's okay to reach out for help.
You can do things at home or with a mental health professional to treat your symptoms.
Seek professional treatment. If you're experiencing distress related to your incontinence, seek a therapist or psychologist. They may be able to help you come up with a plan to treat your depression, anxiety, or feelings of self-worth.
Try medications. You can try certain medications to help with your distress symptoms if you need to. Always speak with a mental health professional about treatment.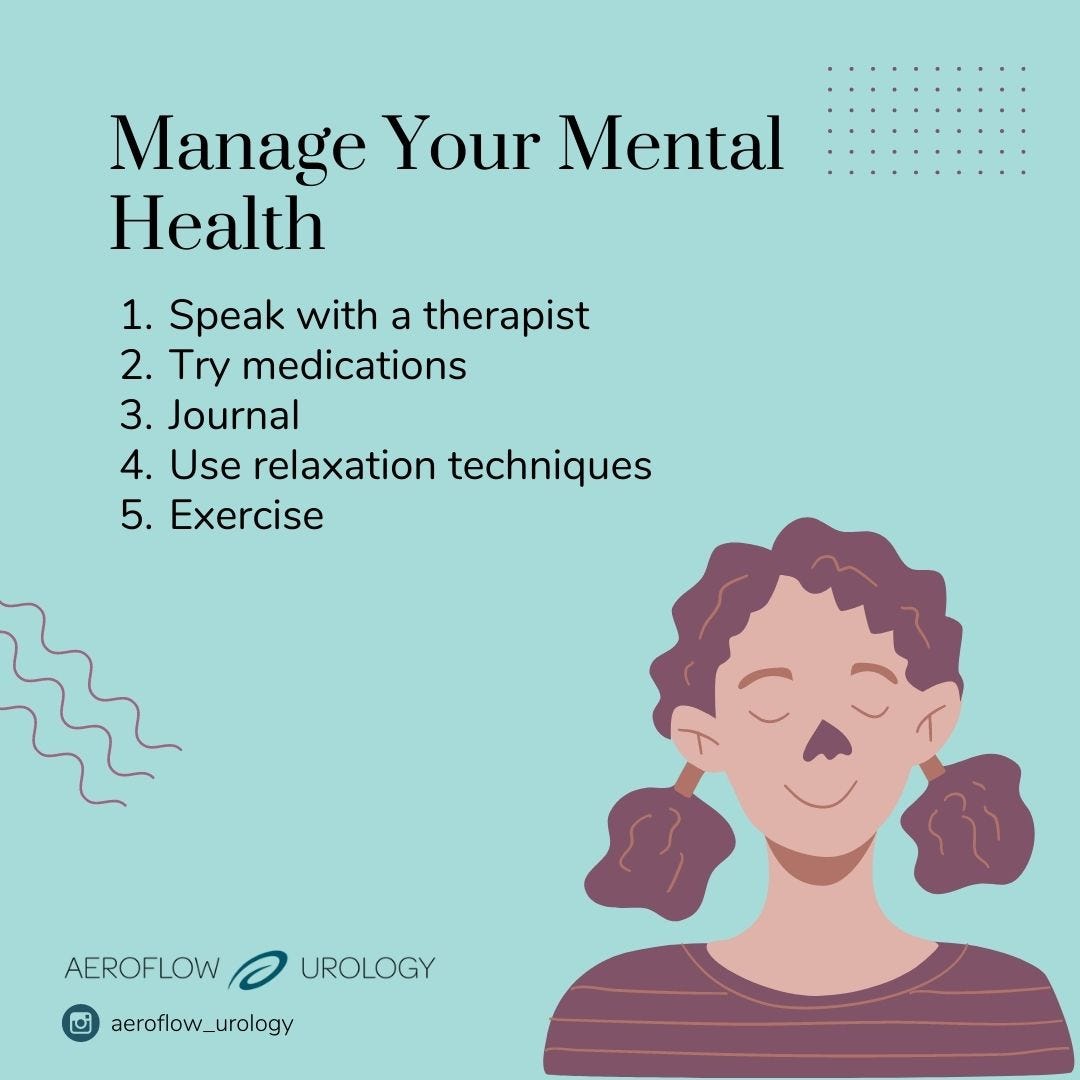 3. Journal. Journaling may seem trivial, but it can help you manage your fear and anxiety around incontinence. Journaling daily also enables you to organize your thoughts, learn your triggers, set goals, and practice positive self-talk.
4. Use relaxation techniques. Studies show that relaxation techniques, such as meditation help improve symptoms of anxiety and depression and increase your quality of life and well-being.
5. Get some exercise. Exercising has been found to decrease anxiety and depression and helps you stay healthy and possibly get out of the house.
How Aeroflow Urology Can Help With Incontinence
---
Aeroflow Urology can provide you with free incontinence supplies that are discreet and perfect for your lifestyle.
You don't need to leave your house to get your products.
We provide approval for qualification, retrieval of your doctor's prescription, and curated shopping. Check out this video to see how it works.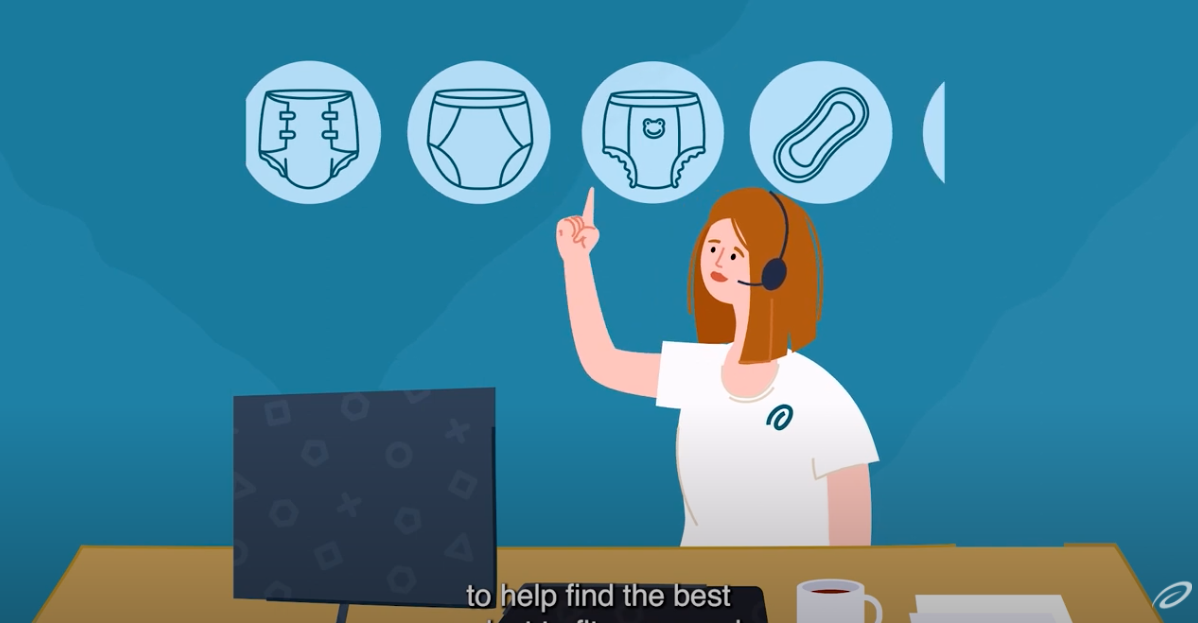 See If You Qualify
Follow these simple steps to see if you qualify to get free incontinence supplies through Medicaid or another private insurance plan.
Fill out our fast qualify form. Just have your insurance card handy.
Once approved, one of our Continence Care Specialists will reach out to you and provide you with all the information you need to choose your supplies.
After you've chosen your products, they'll be shipped directly to your front door every month. We'll also send text and email reminders to tell you when it's time to resupply.
Urinary incontinence in women linked to poorer mental health. (n.d.). Www.healio.com. https://www.healio.com/news/primary-care/20210716/urinary-incontinence-in-women-linked-to-poorer-mental-health
Is Your Overactive Bladder Affecting Your Mental Health? (n.d.). EverydayHealth.com. Retrieved April 19, 2022, from https://www.everydayhealth.com/incontinence/is-your-overactive-bladder-affecting-your-mental-health/
Is Stress Contributing To Your Incontinence? (n.d.). URINARY INCONTINENCE EDUCATION | NATIONAL ASSOCIATION for CONTINENCE. https://www.nafc.org/bhealth-blog/is-stress-contributing-to-your-incontinence
Professionals, S.-O. (n.d.). Women with incontinence suffer poorer mental health, says new research. EAU22. https://eaucongress.uroweb.org/women-with-incontinence-suffer-poorer-mental-health-says-new-research/
https://www.usnews.com/news/health-news/articles/2021-07-08/urinary-incontinence-can-affect-a-womans-mental-health
Miranda Hitti. (n.d.). Depression, Urinary Incontinence Tied? WebMD. Retrieved April 19, 2022, from https://www.webmd.com/depression/news/20060320/depression-urinary-incontinence-tied#:~:text=The%20surveys%20showed%20that%20women
Goyal, M., Singh, S., Sibinga, E. M. S., Gould, N. F., Rowland-Seymour, A., Sharma, R., Berger, Z., Sleicher, D., Maron, D. D., Shihab, H. M., Ranasinghe, P. D., Linn, S., Saha, S., Bass, E. B., & Haythornthwaite, J. A. (2014). Meditation Programs for Psychological Stress and Well-being. JAMA Internal Medicine, 174(3), 357. https://doi.org/10.1001/jamainternmed.2013.13018
Cheng, S., Lin, D., Hu, T., Cao, L., Liao, H., Mou, X., Zhang, Q., Liu, J., & Wu, T. (2020). Association of urinary incontinence and depression or anxiety: a meta-analysis. Journal of International Medical Research, 48(6), 030006052093134. https://doi.org/10.1177/0300060520931348
The Link Between Urinary Incontinence & Depression in Women. (2018, February 17). 180 Medical. https://www.180medical.com/blog/urinary-incontinence-depression-link-in-women/
Therapist, S. (n.d.). Urinary Incontinence and Depression | the Connection | Femina PT. Feminapt.com. Retrieved April 19, 2022, from https://feminapt.com/blog/urinary-incontinence-and-depression-what-s-the-connection
ZORN, B. H., MONTGOMERY, H., PIEPER, K., GRAY, M., & STEERS, W. D. (1999). URINARY INCONTINENCE AND DEPRESSION. Journal of Urology, 162(1), 82–84. https://doi.org/10.1097/00005392-199907000-00020
Bogner, H. R., O'Donnell, A. J., de Vries, H. F., Northington, G. M., & Joo, J. H. (2011). The temporal relationship between anxiety disorders and urinary incontinence among community-dwelling adults. Journal of Anxiety Disorders, 25(2), 203–208. https://doi.org/10.1016/j.janxdis.2010.09.003‌
Anderson, E., & Shivakumar, G. (2013). Effects of Exercise and Physical Activity on Anxiety. Frontiers in Psychiatry, 4(27).https://doi.org/10.3389/fpsyt.2013.00027
Information provided on the Aeroflow Urology blog is not intended as a substitute for medical advice or care from a healthcare professional. Aeroflow recommends consulting your healthcare provider if you are experiencing medical issues relating to incontinence.