Our Story
I am one of two moms to two little girls, one who was born with Down Syndrome. Myah, our first daughter, is a very loving four-year-old who is rocking her extra chromosome. Dreah is our second child, who is a very sassy five-month-old. Both of our girls are amazing and are the light of our days.

My wife's name is Angelica; we met almost 10 years ago and have been together ever since. In 2015 we decided we wanted to begin the process of trying to have our first child. When I became pregnant with Myah, we were told at our 12-week appointment that markers on the ultrasound indicated our child could have Down Syndrome.

Like any parents, we were scared - we had no idea what raising a special needs child was going to be like. I had blood work done which came back positive for Down Syndrome and confirmed what the ultrasound had hinted. Angelica took the news a lot harder than I did, but that's where our story begins. From that moment on, we knew we had to advocate for our daughter and show the world how amazing she is, and that Down Syndrome is beautiful.
Let me be the first to tell you that Myah and her extra chromosome have changed our lives forever. She shows us so much love and loves everyone around her. Myah does have delays, and that's just part of her having Down Syndrome, but she doesn't let that stop her. Everything she has put her mind to she has done - yes, it takes her a little longer, but everyone does everything at a different pace.
Along the Way
Our biggest struggle by far has been her speech; with her not speaking, it's hard to know what she wants and needs. She is able to sign (and she does great with it!), but it's not always her go-to when trying to let us know what she wants. Her speech has caused some significant delays in trying to get her potty trained, but it's a thing we work on daily, and when she is fully ready, we will be too.

When we decided to have our second baby, one thing I wanted to do is have Myah potty trained by the time Dreah was born. Having two kids in diapers just wasn't what I was wanting, but does anything really go the way you want it to? That being said, it did not happen. Aside from having two kids to change, having two kiddos in diapers can get expensive.

When Aeroflow Urology reached out to me, I was beyond ecstatic, I wanted to see what they were all about and how they could help our daughter. Unfortunately, our insurance policy didn't cover the supplies - coverage all depends on your specific state and your insurance plan. Still, we spread the word to help others who's Medicaid plan may cover the diapers, pull-ups and supplemental supplies that they need.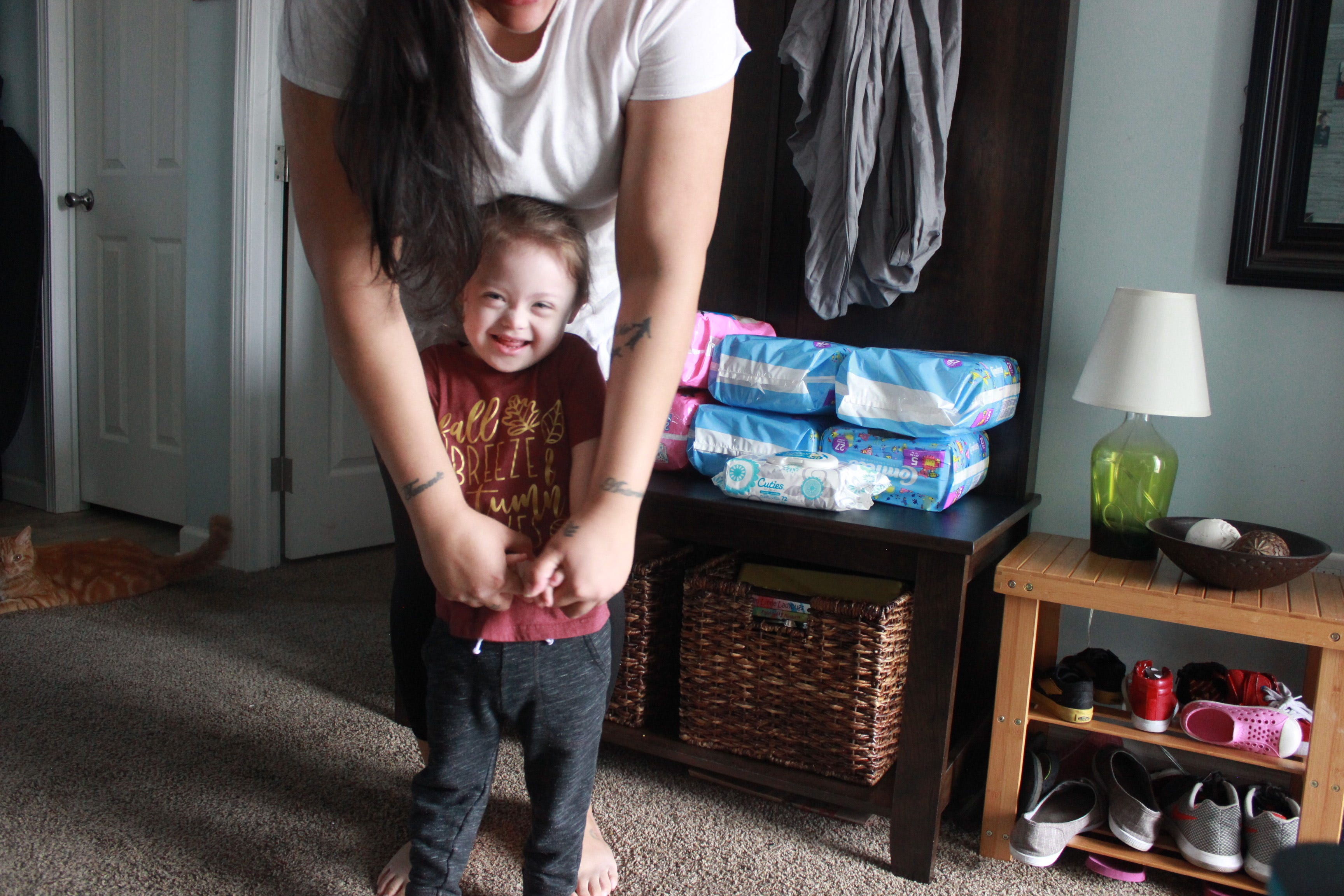 How Aeroflow Helped Us
Aeroflow truly is an amazing company that works to help children with special needs, such as Down Syndrome, receive their supplies at no cost through insurance. As we found out, coverage will depend on your child's age as well as your state Medicaid benefits but they make it so easy. To see if you qualify, all you have to do is visit their website and insert your information into their quick form - they handle everything else. Their Continence Care Specialist will contact your child's doctor to get a prescription and they help you find the right product and size to fit your child's specific needs. The best part is they will be delivered straight to your house each month, which means never having to go to the store for diapers or pull-ups ever again.

Aeroflow has excellent customer service, and if you have any questions, they are more than happy to answer them for you. We recommend Aeroflow Urology to all the special needs families we know.
How Aeroflow Can Help You
Being a parent can be stressful, especially when it comes to potty training and incontinence. That's why Aeroflow Urology is one of the best resources you can have at your disposal! We can assist in supplying incontinence supplies through your Medicaid (and some private insurance) plans. This may be financially beneficial and take out the stress of running to the store for in-person incontinence care supply purchases. With Aeroflow's services, you'll be able to spend more time with your little ones!
Here's how it works: Fill out our qualification form that you see on this page. It's quick and easy to do. Then, if approved, your child's incontinence supplies will be shipped directly to your home in discreet packaging on a monthly basis, ensuring privacy and ease of use.
Information provided on the Aeroflow Urology website is not intended as a substitute for medical advice or care from a healthcare professional. Aeroflow recommends consulting your healthcare provider if you are experiencing medical issues relating to incontinence.