This piece has been medically reviewed by Samantha Eaker DNP, CPNP-PC, Medical Advisor to Aeroflow Urology.
Navigating how to speak to teachers about a sensitive topic like your child's incontinence is never easy, but it is necessary to ensure that your child has the smoothest back-to-school experience they can this fall.
As part of our Back-to-School With Incontinence Series, we'll tell you how to prepare for those tougher discussions so you know exactly what to say to your child's teachers when the time comes.
Why Communication Is Important
The first reason to speak to teachers about your child's incontinence is that changes, such as heading back to school, usually bring stress and anxiety to children, and this can exacerbate incontinence symptoms. Reaching out can help create a trustworthy connection between your child and their teacher before the year even begins, lessening their anxieties.
Second is that teachers want to be helpful and supportive to the children in their classrooms, but if they aren't aware of your child's conditions, they can't be. Communicating with your child's teacher is important so they are given this opportunity and can act as an extended part of your child's care team.
Lastly, keep in mind that your child will be spending most of the day Monday through Friday with their new teacher, so it's important to inform them of their condition.
How to Talk to Teachers About Incontinence
Use these tips on speaking with your child's teachers to let them know about your child's incontinence in the most sufficient way possible.
1. Don't Be Afraid of Communication
You should absolutely communicate with your child's teachers that they have incontinence! This is in no way to make school a harder place for them to be or to overshare; Instead, this can make managing accidents and trips to the bathroom easier for your child while they're in class. Also, keep in mind that incontinence is a common condition!
Not only does speaking to your child's teacher make them feel like an at-school extension of your child's care team, but it can also encourage your child when it comes to managing their incontinence more confidently.
Children are more successful at managing their incontinence at school when their teacher(s) are aware of their condition, so try to work past any awkwardness that may arise when considering whether you should speak with teachers about your child's incontinence or not, and know it will help them in the long run!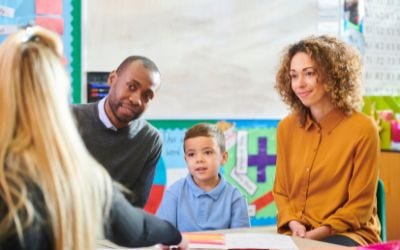 Try to approach teachers ahead of time to speak about your child's incontinence. Every person's incontinence is unique so it may take some time to explain. A scheduled meeting will give you enough time to let the teacher know:
How you'd like them to help or handle accidents, if at all.
About your child's triggers.
How you can both plan on preventing bullying from occurring.
What times your child needs to practice regular voiding to avoid accidents.
About signs that your child gives off that lets others know they need to use the bathroom.
If you'd like your child to sit next to the classroom door in case of emergencies.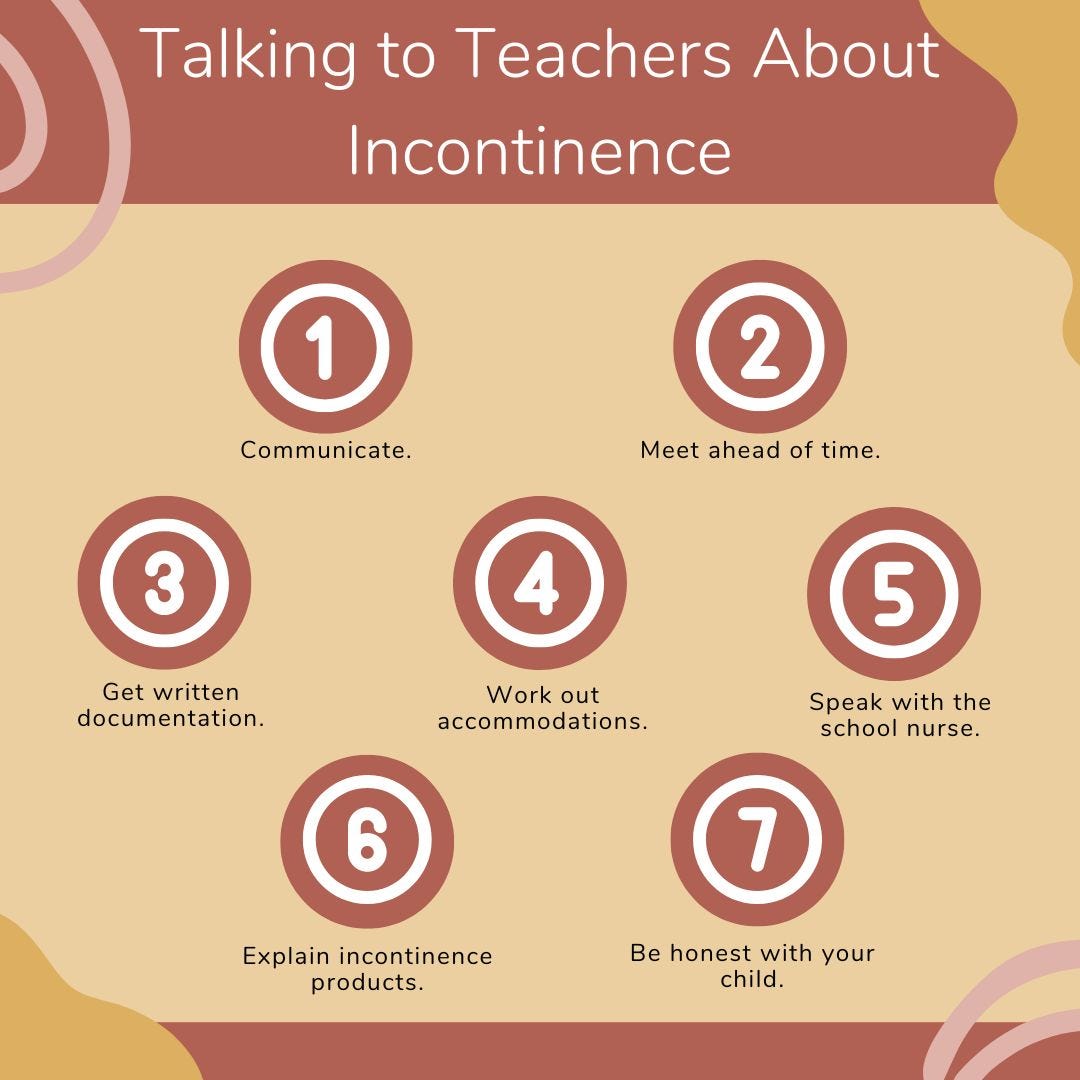 3. Get Written Documentation
If scheduling a meeting isn't possible for you or your child's teacher, you can send a letter from your child's healthcare provider to the school.
Providing your child's school with a letter from your healthcare provider explaining their condition and recommendations can be useful as many schools require some form of written documentation on file when it comes to caring for a child that has a condition such as incontinence.
The recommendations that your healthcare provider may write for your child's school may include:
Allowing the child to use the restroom at their discretion,
Allowing the child to use a particular restroom in the school.
Allowing the child to always keep water with them to encourage hydration.
4. Work Out Accommodations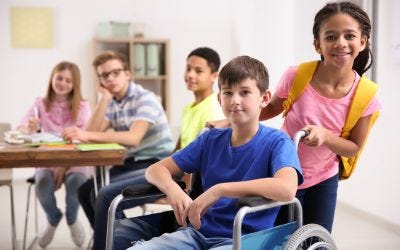 Accommodations are likely to be needed for your child's incontinence management, so try to work these out between yourself and the school staff before your child returns to school for the year.
5. Speak to the School Nurse
Your child's school nurse or health unit may also require some documentation. Furthermore, depending on what accommodations are recommended by your child's provider, said provider may need to assist with an educational IEP (individualized education plan or program) or 504 plan. These plans often require yearly updating so it is important for you to monitor what documentation is required of your child to ensure the paperwork is completed in a timely fashion.
6. Explain Incontinence Products
You can let teachers or nurses know that you send your child to school with incontinence supplies in case an accident does occur or they need help finding them. We recommend sending:
Extra diapers, pull-ups, or pads that fit correctly.
Wipes to help prevent infections and skin irritation.
An extra change of clothes in case of an accident.
Trash bags or other receptacles.
Gloves in case a teacher or nurse needs to help your child change.
Pro Tip: Your child or adolescent may be eligible to receive all of these supplies for FREE through their insurance plan with Aeroflow Urology! To see if they qualify in under 5 minutes, fill out our Eligibility Form.
7. Be Transparent With Your Child
Speak transparently with your child about their teacher knowing about their condition. This will help them to be confident and know they have help in the classroom if needed.
How Aeroflow Urology Can Help Your Child at School
With Aeroflow Urology, your child may be able to get FREE incontinence supplies, such as diapers, pull-ups, pads, and underpads, through their insurance plan. That's right– no more paying out-of-pocket for pricey diapers or pull-ons! All you need to do is fill out our Eligibility Form today to see if your child qualifies.
If they do, we'll help you get the prescription from your child's healthcare provider and answer any questions you may have. We can send free product samples and then mail your child's supplies in discreet packaging right to your doorstep.
Don't let managing your child's incontinence get in the way of the fun they're going to have this school year! See if they qualify today.
Information provided on the Aeroflow Urology blog is not intended as a substitute for medical advice or care. Aeroflow recommends consulting your healthcare provider if you are experiencing medical issues relating to incontinence.