8 Tips for Traveling Discreetly with Catheters
Staying sanitary and dry during short and long trips takes preparation and planning, but you should never let that stop you from getting to where you want to go. Stress less next time you travel by using these eight tips.
1. Pack a catheter kit.
Whether you're traveling by plane or vehicle, it's important that you have all you'll need on your trip. Carrying a personalized catheter kit with you can ease travel stress and help you keep track of your supplies.
It's recommended that you bring enough supplies to last you for 1-2 days longer than your intended travel time in case unforeseen circumstances extend your trip.
In your kit, you should include:
Catheters. Always pack 1-2 days' worth of extra catheters.
Extra underwear and pants in the case of an accident.
Catheter lubricants.
Disposable changing gloves.
Hand sanitizer.
Wet wipes for quick and easy clean-ups and clean surfaces.
A handheld mirror to help you see proper catheterization.
Plastic bags for disposal of used catheters or soiled clothing.
Pads to catch any accidental leaks.
A bottle of water to stay hydrated.
Paper towels, tissues, or a dry cloth.

Pro tip: If traveling on an airplane, separate your catheter supplies, or take two catheter kits in case your bags are lost.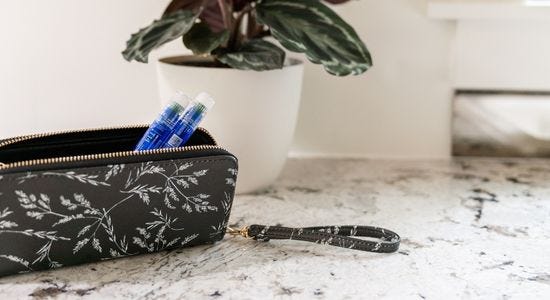 2. Map out bathrooms.
Before going to a museum, airport, or park, look up bathroom locations ahead of time so you won't be struggling to find one when you need it.
3. Set alarms for catheterization times.
Sometimes vacation and travel can be distracting and we forget to do things that are important. To stay on-track, set alarms on your phone for when you need to catheterize or clean your drainage bags. You should clean your bags twice a day and empty them when needed.
4. Dress for success.
If you need to travel with a drainage bag for your foley catheter or external catheter, you may want to conceal it with outfits to hide catheters. Belly bags can be hidden under baggy layers, but this isn't the best option during hot days. Instead, you can strap your leg bag to your upper thigh to easily hide it beneath shorts or a skirt. You can also wear shorts with longer t-shirts. Make sure your clothes are easy to remove to simplify and speed up the process of catheterizing in public restrooms.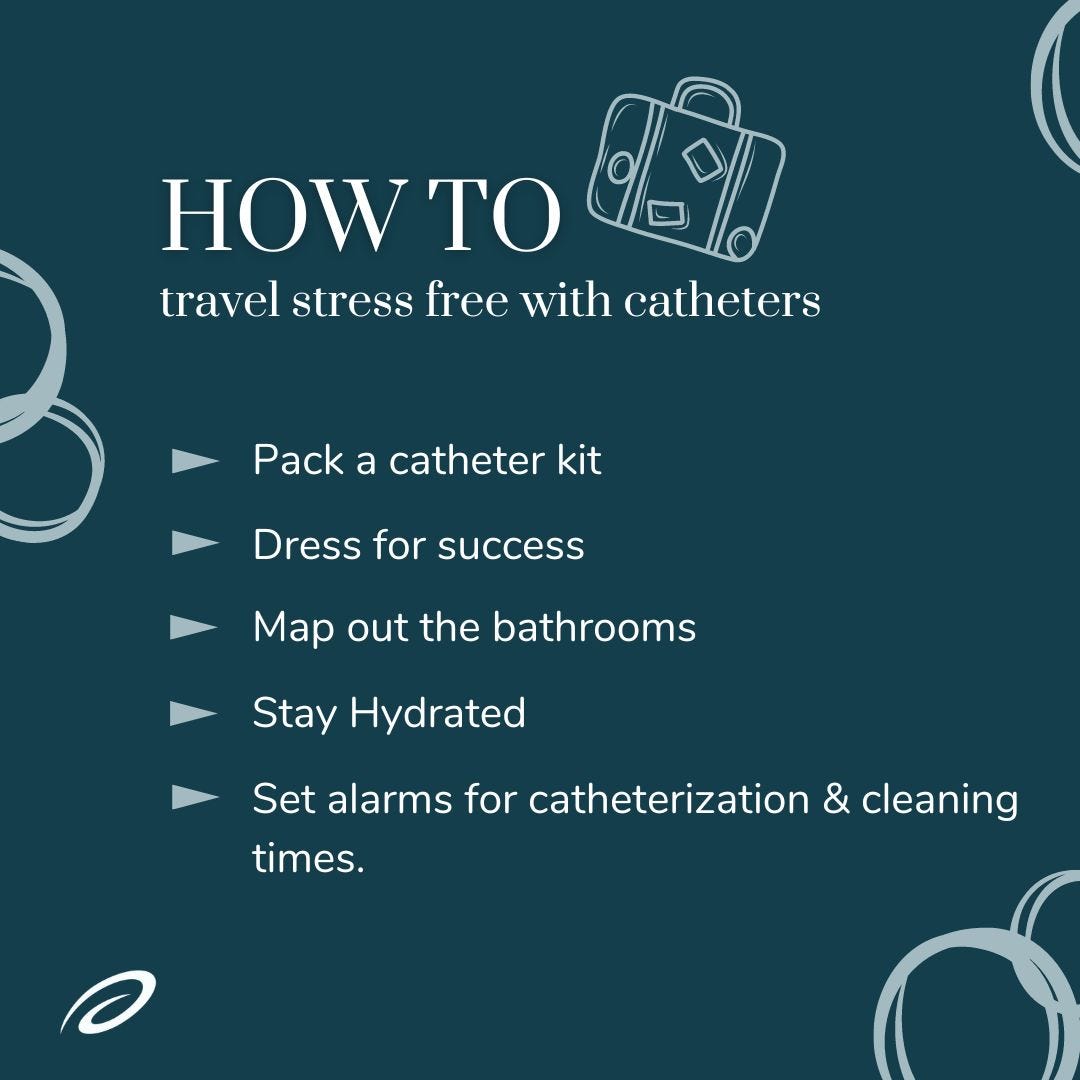 5. Use larger bladder bags for longer trips.
If you have a long flight or train ride, be sure to use your larger bladder bag during your trip. Larger urine bags can be hidden under blankers or placed in a bag. However, make sure your drainage bag is placed below the bladder and the tubing is free of kinks.
6. Use a discreet catheter carrying case.
If you use intermittent catheters you might not feel comfortable carrying them out in the open. Luckily, they're compact and easy to place in a variety of catheter carrying cases.
Here are a few suggestions for places to help conceal your catheter:
Your pockets
A makeup bag or purse
A briefcase
A backpack or drawstring bag
Your glasses or sunglasses case
A fanny pack
Inside long socks
Your service dog's pack
A fanny pack (That's right, we said fanny pack! They're coming back in style.)
When picking a catheter carrying case be sure to pick an item that can store your supplies without bending or crushing them. Straight catheters are often easier to conceal than coude tip ones. Also, female catheters are often longer and take up more space.
7. Have a copy of your medical information on-hand.
Carry a copy of your prescription and your medical provider's phone number in case you have any questions or run into an emergency while away from home. Carrying a doctor's note may also help with carrying medical items through customs if embarking on an international trip. You can only carry liquids such as lubricants in bottles that can hold 3.4 oz. or less unless you have a prescription!
8. Stay hydrated.
Continue drinking fluids to remain hydrated on your trip. Do not avoid drinking water during flights or car rides because it could lead to dehydration, infections, and other complications.
Save On Catheter Supplies
You don't have to settle for discomfort or worry about running out of incontinence supplies on your vacation. Aeroflow Urology can help you pack for your trip by sending you catheter and incontinence supplies if you qualify.
See if you qualify to receive your catheter supplies through insurance! We will submit all of the necessary paperwork to your doctor and insurance provider to have a monthly shipment of supplies sent discreetly and directly to your home.
We take the time to match you with the perfect options to suit your individual needs with a variety of samples to try. There are lots of different catheter types, including smaller travel catheters that can easily be stored in your pockets.
---
Information provided on the Aeroflow Urology website is not intended as a substitute to medical advice or care from a healthcare professional. Aeroflow recommends consulting your healthcare provider if you are experiencing medical issues relating to incontinence.
---
Co-Author & Editor: Marlee Septak