If you care for someone with a mental or physical disability or struggle with a disability yourself, finding proper clothing might be a struggle. Clothes need to be functional, comfortable, and easy to put on and remove! That's why it's time to consider adaptive clothing for disabilities instead of traditional options.
Adaptive Clothing For Disabilities
Because 1 in 4 Americans struggle with a disability, many children and adults see getting dressed for work, school, or a social event as a dreaded activity. Finding a comfortable fabric, buttons to easily clasp, and items fitted to hide incontinence supplies are usually hard to find.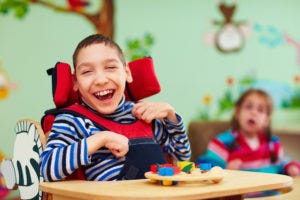 However, more and more brands like Target and Kohl's are starting to recognize the need to be more inclusive with items suited for autistic children with sensory issues, those who use wheelchairs, incontinent seniors, and more.
The movement is growing so rapidly that Runway of Dreams kicked off New York Fashion Week this fall by having models with a variety of disabilities strut down the runway! This event helped to bring awareness to the need for acceptance and inclusion of the disabled in the fashion industry.
Having adaptive clothing is great, but having more style options and more types of comfortable pants would benefit Jessika Kattah, a T-2 paraplegic, as well as many others. She would also enjoy discovering larger sizes as most adaptive clothing manufacturers tend to focus on smaller sizes.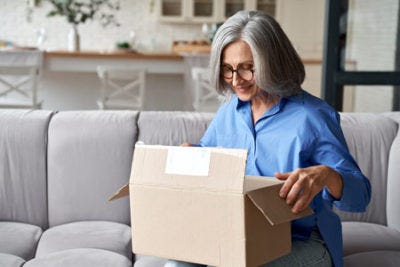 Incontinence Supplies Through Medicaid
Simply provide your insurance information through our quick, easy form and your dedicated Continence Care Specialist will contact you via phone or email in 1-2 business days with an update on your coverage.Check Your Eligibility
So What Types Of Adaptive Clothing Are Available?
Velcro Shirts - There are a variety of velcro shirts that attach at the shoulders or on the sides to make putting them on easy and undressing simple. Velcro clothing for seniors is a great option because they don't have any buttons or zippers. Those with Parkison's, arthritis, and more can easily fasten the shirts shut or pull them off. Velcro pants are available as well.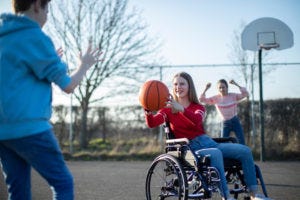 Items With Elastic Waist Bands - There are khakis, jeans, dress pants, casual pants, skirts, swimsuits, and more with elastic waistbands to be soft and comfortable. They stretch to avoid squeezing or being too tight and can easily be pulled up or down without any fasteners to worry about.
Seated Jeans - Seated jeans take disabled clothing for wheelchair users and those with incontinence to the next level. They are taller in the back and shorter in the front with a cut specifically for sitting. The added fabric helps conceal pull-ups, plus some brands have pull tabs to easily pull them on and off.
Sensory Clothing - Adaptive clothing for kids includes a variety of soft fabrics without tags to be comfortable and soothing. Many children have unique preferences, such as wanting to avoid pants with zippers, button-down shirts, or the feeling of jeans. That's why you can find soft pants, pants with elastic waists, pants without buttons and more. If your child likes tight clothes you can find a variety of compression items or weighted clothes and if they don't, baggy clothes are available as well.
Snap Back Items - There are dresses and shirts that snap in the back to help caregivers dress those with disabilities. They are also easier for people who use wheelchairs based on their abilities to dress themselves.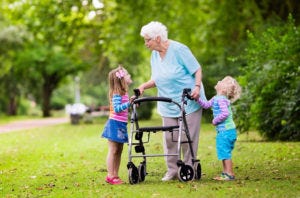 Side Or Back Flap Pants - In order to make pants easier to use, there is a variety that either zip up or fasten with velcro on the side, so they don't have to be pulled up. There are also pants that open in the back to simplify changing someone with incontinence.
Slip Proof Velcro Shoes - There are shoes and slippers made for everyday use that are comfortable and easy to wear with non-skid soles to enhance stability. They fasten with velcro strips so they aren't too tight to put on and don't have to be tied.
Ponchos - Staying warm and dry is essential during any outdoor activity, so don't forget ponchos. They're extra long to keep those seated in wheelchairs dry and won't bunch up in the back. Plus, there are rainproof and fleece options available that remain dry during every season.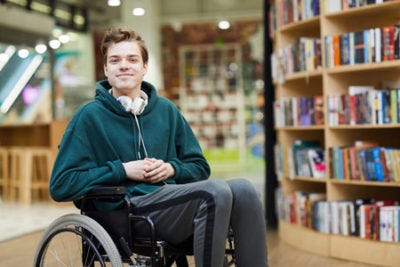 Catheters Through Medicaid


Provide your insurance information through our easy-to-use online form.
We verify your coverage and submit required paperwork on your behalf.
Choose your insurance-covered incontinence supplies.
That's it! Free shipping, straight to your door. Prompt reorder reminders, so you'll never have to remember.
Qualify Through Insurance