'Public bathrooms' is a phrase that could strike fear in your heart, especially when caring for a child with urological issues. Navigating the sea of toilets away from home can be intimidating. From finding a clean one to being prepared for potential accidents, there is a lot to consider. However, with proper planning, you'll be smooth sailing through communal restrooms.
Making Public Bathrooms And Incontinence Easy
1. Finding A Place To Go
When planning a day out or going on vacation it's much easier to schedule bathroom breaks ahead of time, and this involves knowing where to find a place to go. But not just any place, a clean one.
This can be done pretty quickly with the use of an app like Sit or Squat and Got To Go to find bathroom locations nearby. They tend to list if the options are handicap accessible if they have a baby changing station, and if they're clean or not. These mobile apps can also help you find bathroom locations in gas stations, retail stores, and more, so you'll always find the best place to go.
Many apps work even in situations when connectivity is limited to help you find a clean place to go even when your cell service is a little spotty.
2. Have The Right Supplies
You want to be prepared in the event of an accident in public and also have the right materials to prevent messes and to simplify the cleanup process. So, in a backpack or duffle bag be sure to have:


A few pairs of rubber gloves to keep your hands clean
Toileting equipment such as a raised seat
Sanitary wipes for cleaning your child
A spare change of clothes
Disposable diapers (Always pack a few extra incontinence supplies)
Chux or pads to protect furniture such as car seats
Scented bag to take soiled clothes home in or to place diapers in until you can properly dispose of them. They should mask any unpleasant scents and protect other items from getting wet.
Hand sanitizer
It can also be helpful to dress your child in clothes that are easy to remove so they can undress themselves in time to make it to
the toilet.
Complicated zippers and buttons can be time-consuming in the event of an emergency.
3. Staying Clean
Public bathrooms can either be clean and relaxing or a little terrifying, but either way, it's best to practice proper sanitation to avoid germs and infections by:
Using a toilet liner to prevent skin contact with the toilet seat.
Using gloves or paper towels to avoid touching door handles, sink knobs, stall latches, and more.
Using wet wipes to clean changing table surfaces and a towel to prevent coming into contact with the surface.
Having your own hand sanitizer to avoid using the public soap dispenser.
Reminding your child to flush with their foot to avoid touching the toilet handle. They can also avoid contact by using toilet paper to protect their skin.
4. Stick To A Routine
You can help ease pediatric incontinence symptoms by sticking to a regular schedule. Make sure your child goes to the bathroom at regular times about every 2 to 3 hours and after meals. It can also be helpful to have your child eat at regular times too.
Pack meals ahead of time to avoid fast food options that may place stress on the bladder such as caffeine, fried foods, spicy foods, and items packed with refined sugar. Pack water or sugar-free juice, whole grain options, fruits, and veggies instead.
5. Be Confident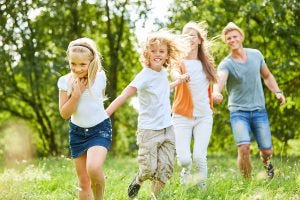 Urinary incontinence can be a source of embarrassment and anxiety. Your child may prefer to stay home in an attempt to avoid accidents. Make sure you reassure them that the trip or activity will be fun and you'll be there to help.
If
an accident
occurs don't get frustrated. A negative reaction could contribute to more stress. Instead of comfort your child and help them clean up. Let them know that they have nothing to be ashamed of and you're still going to have a fun day.
You can relieve some of your stress as well by
qualifying
to receive incontinence supplies through insurance. Have a monthly supply shipped directly to your home to save time and money!
Information provided on the Aeroflow Urology blog is not intended as a substitute to medical advice or care. Aeroflow recommends consulting your healthcare provider if you are experiencing medical issues relating to incontinence.