October is Aeroflow Urology's Wish You Knew Wednesday (WYKW) campaign! During this month, we share stories about Down syndrome to help spread awareness about living with the condition.
In honor of the month, we're sharing 5 things you may not know about Down syndrome that we think everyone should know. Plus, we'll tell you how you may be able to get incontinence supplies for your loved one for free!
5 Things You Might Not Know About Down Syndrome
1. Down syndrome was named after someone. Down syndrome got its name from a healthcare professional named John Langdon Down, who first wrote about the symptoms in 1866.
2. The life expectancy for people with Down syndrome is increasing. In the 1960s, life expectancy for people with Down syndrome was just 10 years old. Today, the average life expectancy is 60!
3. Down syndrome causes incontinence in most people. About 65% of children ages 4 to 12 years old and around 20% of adults with Down syndrome will experience incontinence (a loss of bladder or bowel control) at some point.
4. Down syndrome is an extremely common chromosomal condition. There are around 6,000 children born with Down syndrome every year, making it the most common chromosomal condition in the US.
5. People with Down syndrome have an extra pair of chromosomes. Usually, each person has 23 pairs of chromosomes, but people born with Down syndrome have an extra pair on their 21st set of DNA, which means they have 47 pairs!
Free Incontinence Supplies for a Loved One With Down Syndrome
If your loved one has Down syndrome and incontinence, they may qualify for free incontinence products with Aeroflow Urology.
We help you get your supplies covered by your insurance plan, so you don't have to pay out of pocket!
If you do qualify, we'll…
Send your loved one free product samples before you order your shipment.

Help you find the perfect sizes.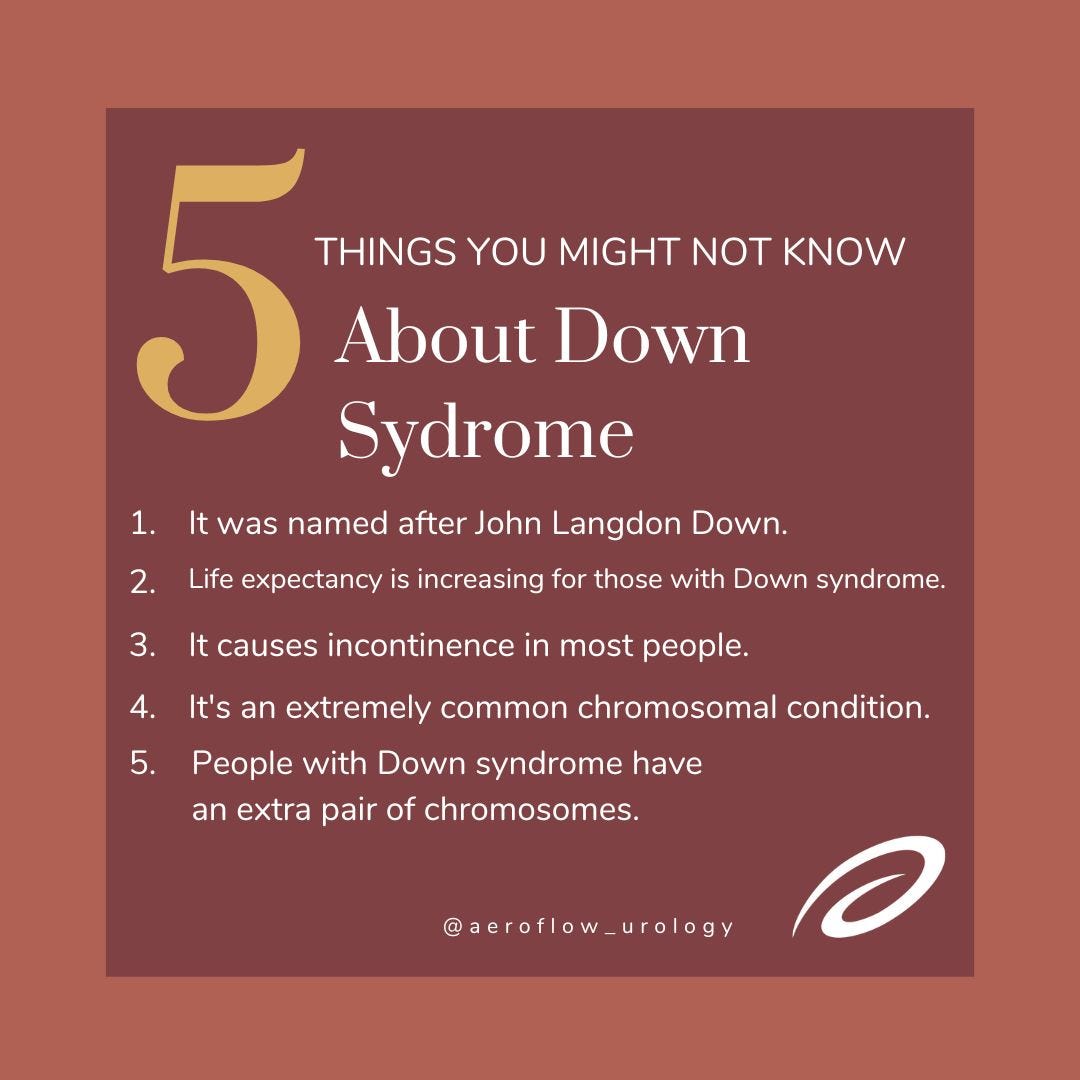 Walk you through the types of high-quality brands and products we offer if you have any questions.
Send your supplies for free every month in unmarked boxes.
Tell you how to refill your supplies with our easy refill process.
Send you friendly reminders through email or text message when it's time to get more products every month.
Information provided on the Aeroflow Urology blog is not intended as a substitute for medical advice or care from a healthcare professional. Aeroflow recommends consulting your healthcare provider if you are experiencing medical issues relating to incontinence.