It can be tempting to reach for a period pad when you're experiencing bladder leaks, especially if you have undiagnosed urinary incontinence, which can happen to females of any age. And it makes sense; menstrual and bladder control pads look similar, and it may seem as if they do the same thing, but they should never be confused!
Learn the 4 significant differences between incontinence pads and menstrual pads and which one you should actually be using to prevent bladder leaks discreetly.
#1. Absorbency
Absorbency level is one of the main reasons you should use an incontinence pad instead of a maxi pad.
Bladder control pads use super-absorbent polymers to help wick away and hold your urine leakage so you feel dryer for longer. The polymer they're made with can hold up to 300 times more liquid weight than regular panty liners, providing maximum absorbent protection.
Bladder pads also include distribution layers. Many incontinence pads offer a soft top sheet layer and an acquisition layer that keep your skin dry.
#2. Odor Control
Another benefit of using bladder pads instead of sanitary pads to control urine leaks is odor protection.
Unfortunately, menstrual pads don't contain odor control, so if you're using one, you may notice unwanted smells throughout the day.
#3. Skin Protection
Your skin health is essential, especially down there! But unfortunately, using a menstrual pad to manage urine leaks can lead to urinary tract infections (UTIs). How? When you're wearing a product like a maxi pad that is not meant to absorb large amounts of urine, it creates the perfect breeding ground for the bacteria that cause UTIs.
This moisture buildup can also cause skin rashes and irritation like itching and burning. More absorbent pads, such as incontinence pads, are commonly made with hypoallergenic materials that allow your skin to breathe so you stay comfortable.
#4. Custom Fit
Unlike many maxi pads, bladder pads are made with features that allow for a comfortable and custom fit for each female and how they intend to use the pad.
Bladder control pads are also made with more or less padding for different absorbency levels.
Bladder pads can also be made with adhesive strips for reuse, so you don't have to replace the pad every time you use the bathroom.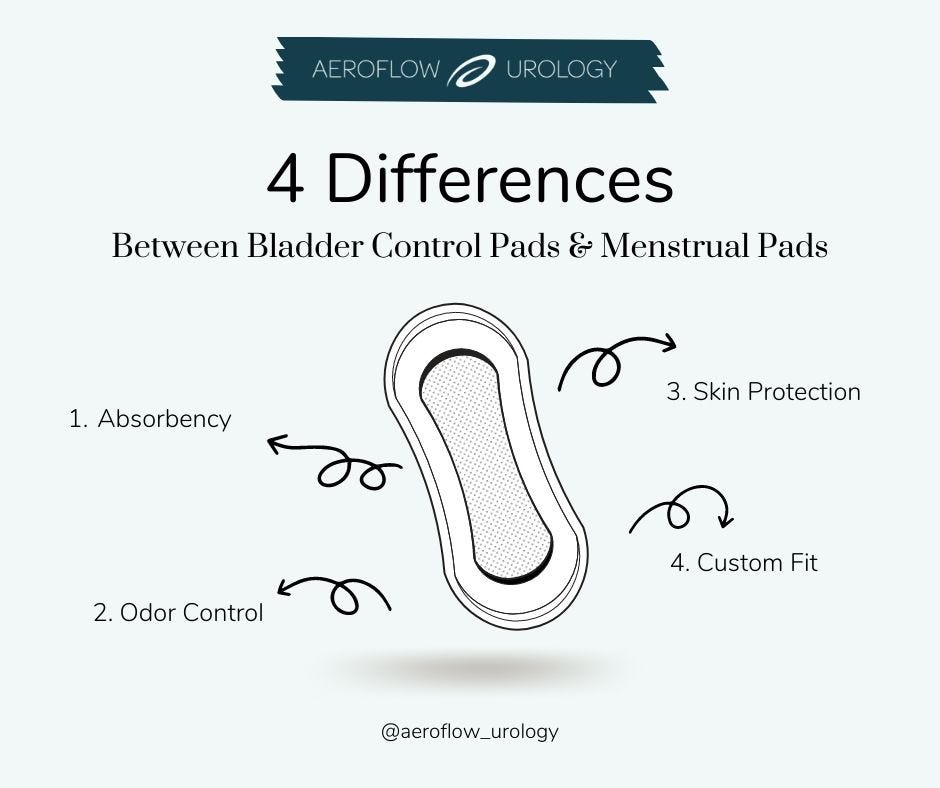 Why You Need Bladder Control Pads Through Insurance
When preventing bladder leakage, you need products much different than menstrual pads for their absorbency, odor control, skin protection, and custom fit. Incontinence products, such as bladder control pads and female protective underwear, are excellent ways to be discreet about catching leakage. Specific pads, such as 3-in-1, can also protect against your period and incontinence!
Not only can you get incontinence pads that help protect you against leaks better than menstruation pads, but you can also get these products covered 100% by your insurance plan!
No more spending your money buying menstrual pads to keep yourself dry from urinary incontinence; Let your Medicaid plan pay for them!
Aeroflow Urology is one supplier that can help you get these products through insurance. We help you...
Navigate your specific coverage depending on the state you live in and your insurance plan.
Find the right product for your incontinence needs.
Contact your healthcare professional for a required incontinence prescription.
Get your free products delivered to your doorstep in plain, unmarked boxes.
Take the stress out of paying for menstrual pads out of pocket.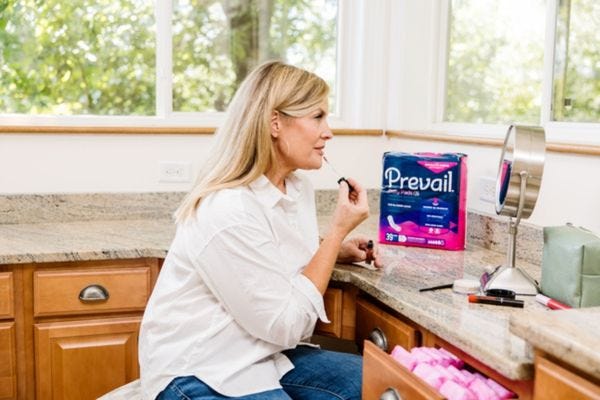 Other Products Available Through Aeroflow Urology
Adult protective underwear: Pull-on style underwear made to look and feel like women's underwear.
Adult briefs: Briefs that are extra absorbent for heavier incontinence that have tab closures for easy changes.
Accessories: Underpads, gloves, wipes, and bed pads.
Information provided on the Aeroflow Urology website is not intended as a substitute for medical advice or care from a healthcare professional. Aeroflow recommends consulting your healthcare provider if you are experiencing medical issues relating to incontinence.