The novel coronavirus (COVID-19)  has led to the necessary practice of social distancing to help flatten the curve and prevent vulnerable persons from being exposed to the disease. For many, this includes staying at least six feet away from others and limiting outings to only essential activities. In senior care facilities however, quarantine may look a little different, with many residents confined to their rooms for weeks at a time. With residents isolated, not only from other residents and staff but also their family members, they could experience increased loneliness and even depression.
Here are some simple, fun activities that the administration and staff of assisted living facilities or nursing homes can do to help combat depression and bring joy to their residents during the COVID-19 pandemic.
"Hello" Letters
Purchase a pack of blank cards or easily create some with any additional paper materials you have at the facility. Address a "hello" card for each resident, and then circulate the cards to residents and staff members to write messages. In the end, each resident will have a card filled with messages from their friends throughout the facility that they may not have seen for quite a while.
Handwritten Notes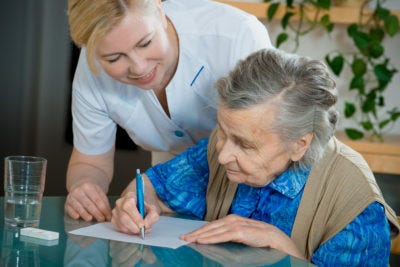 If you're worried about passing cards from resident to resident, provide your residents with blank cards or paper to write individual letters to their friends inside the facility. You can even create mailboxes for your residents that they can decorate (shoeboxes are perfect for this). Staff members can pick up the letters and deliver them to residents' rooms at a designated time during the day.
Video Calls
Sometimes having a face to face conversation can make all the difference. Consider setting up an area where residents can schedule a time to video chat with their family members. This could be as simple as setting up an existing laptop or purchasing a frame, such as a Facebook Portal, ViewClix, or Google Nest Hub. If your facility has wifi access, consider bringing the frame to the resident's room, just remember to sanitize it afterward before allowing another resident to use it.
Daily Announcements
Have your staff video their daily announcements and updates (birthday wishes, new activities, important updates, etc.). Your residents can watch these on social media, or if possible, on their T.V. If your residents can't view the announcements, consider making them over a P.A. system. If you held any contests during the week, you could announce the winners here!
Puzzles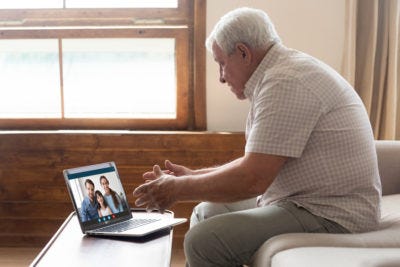 Many facilities already have a vast collection of puzzles. Offer to set one up in resident's rooms that are interested in working one by themselves. If you need additional puzzles,
Jigsaw Puzzle Warehouse carries
a collection of puzzles specifically for seniors that have large pieces making them easier to pick up while maintaining an adult level challenge.
'Group' Exercise
We've all seen the awesome group exercises being hosted across the globe. Set up a time when your residents can go out onto balconies (if available) or in a large open space (while still maintaining social distancing), and host a yoga or Zumba class. If you don't have ample space available, consider asking residents if they would like to take a walk around the facility or outside while accompanied by a staff member.
Outside Visits
If your residents have a room on the ground floor with a window, encourage their family members to visit with them by sitting outside their window and chatting with them through the glass. Even a short visit can help boost their mood and make them feel less isolated.
Group Music & Singing
Schedule a time when residents can open their doors and join together for music or singing. Tap into some of their talents and have some residents volunteer to join in with instruments.
Trivia
Create a list of trivia questions and have them delivered to each resident's room with their breakfast. Residents can fill them out on their own time, and then staff members can collect them at the end of the day. You know your residents the best, so offer some fun prizes that you know they will like!
Crossword Puzzles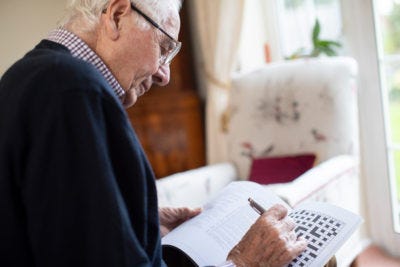 \
Activities that exercise the brain can keep senior's minds sharper and keep them entertained. The website,
Q.E.T.S.
, offers free large print crossword puzzles and word searches in a PDF format. If the puzzle still isn't large enough for your residents to easily see, you can make it bigger by adjusting the print settings.
Library Cart
Collect up books from residents, staff, family members, or purchase a few online to create a mini-library. Amazon has a vast collection of large print books that make them easier for residents with vision impairments and even audiobooks for those who would prefer to listen. If you have a small cart to hold the books, roll them from room to room and let residents browse the collection and check them out.
Movies
If your residents have DVD players, consider offering them movies that they can borrow, or if they have cable, create a newsletter that outlines what movies are coming on the T.V. during the week. This would also be a great item to include in your morning announcements! This way, if they have trouble reading the small print of the T.V. guide, they will know when to tune in to catch their favorite movie.
Family Newsletters
If you keep an updated email list of all of your patient's families, consider sending them a newsletter letting them know what the facility is doing to keep its resident's healthy, both mentally and physically, and what they can do to help. Whether it's donating books and movies, or simply reaching out with a phone call, your families are an excellent resource.
When in doubt, Ask!
During this unprecedented time, one of the best things we can do is to limit the spread of fear. It's essential to stay educated and keep your residents informed about what is happening, but make sure they know the safety measures your team is taking to keep them safe. Continue to talk to them, visit with them and listen to their concerns. Ask your residents what entertainment options they would like to have to help them feel less lonely, and try your best to provide them. Hopefully, some of the suggestions above will help bring some joy to your residents during this uncertain time.
Let us know how your residents like our suggestions! Send us a message or tag us on
Facebook
&
Instagram
!