Editor's Note: Andi Putt uses identity-first language ("autistic children," "autistic individuals") because it is the preferred identity language for the vast majority of adults diagnosed with autism and is generally aligned with neurodiversity-affirming practices.
The beginning of a new school year often holds many mixed emotions for children. They may be excited to see classmates and teachers, sad to leave the freedom of summer schedules, anxious about unknown upcoming changes and expectations, and so much more.
Most kids are able to recognize, understand, process, and cope with these feelings fairly easily and quickly, but many autistic children require additional support to regulate their emotions and adjust to new routines during the back to school transition. While caregivers and teachers won't be able to take away a child's difficult emotions, there are many ways they can provide accommodations and support to help autistic kids ease into a new school routine.
Read this article by guest writer Andi Putt, MS, CCC, SLP, Pediatric Speech Language Pathologist, for insight on how you can help autistic children transition into the back-to-school routine.
Edited by Marlee Septak
Why Do Some Autistic Kids Have a Hard Time With Transitions?
Before adults attempt to provide needed support, it's important to understand why autistic children may have difficulties with transitions.
Autism is a neurodevelopmental condition that impacts how a person thinks, communicates, learns, and behaves. It is a constellation of characteristics in which a person presents with differences in social communication as well as differences in interests, routines, and/or sensory processing.
Many (but not all) autistic individuals have a strong preference for predictable routines and as a result may struggle with novel events or changes in routine. This can make the beginning of a new school year extra difficult for some kids as there are many unknowns which can lead to high levels of anxiety.
When kids feel anxious and dysregulated, their bodies can go into fight or flight mode causing strong reactions such as crying, screaming, shutting down, aggression, and more. However, adults can help ease these struggles by understanding the underlying causes, and providing needed support early and often.
8 Ways to Help Autistic Kids Get Into the Back-to-School Routine
The majority of support can actually happen before the school year even begins.
1. Set a Schedule
First, caregivers can implement a "back to school" routine by setting wake up, bed, and mealtimes similar to the upcoming school routine.
2. Normalize School Again
Reading books, listening to songs, and watching videos about going back to school can help children gain ideas for what to expect and begin to visualize and process the idea of transitioning back to school.
3. Teach Feelings
Many autistic children have differences in how they interpret and respond to the senses in their body, called interoception, and as a result they may struggle to recognize their emotions.
It can be helpful to explicitly teach these feelings (tickling in stomach can be nervous, feeling hot all over your body can be anger, etc.) to help them know their feelings before they become too strong to effectively manage. This can help kids know when they need to ask for a break before their body goes into fight or flight mode.
4. Practice Calmness
Teach and practice calming strategies while your child is calm and regulated (not just when they are upset). It can be extremely helpful to share which strategies work for your child with school staff so they can implement the same or similar accommodations.
5. Work Closely With Staff
Caregivers should work closely with the school staff to provide your child with back-to-school information more specific to them and their individualized needs. Request a tour of the school and classroom early as well as for a copy of the daily schedule before the first day of school. Walk your child through their daily/weekly schedule and take pictures and videos as you walk from the school entrance to the classroom, from the classroom to cafeteria, etc.
6. Inform Teachers
If your child has an Individualized Education Program (IEP) or 504 accommodations, confirm your child's teacher has the information they need to be able to implement the support and share any personalized information that may be helpful before school begins.
7. Use Social Stories
Create a social story using the pictures and videos of your child's school. Social stories can go over what to expect, familiarize children with their teachers, review the daily schedule, and can tell kids exactly what they can do to get support if needed. Social stories should also include what to do if they are feeling overwhelmed (ask for help, ask for a break, access sensory items or noise canceling headphones, walk to the bathroom, see a trusted adult, etc).
While there are many generic social stories available, having an individualized social story generally has the greatest benefit. Having a printed visual schedule that a child can access throughout their day, both at home and school for both independent use and use with an adult can also help reduce anxiety about changes. Repeat and review the videos, visual schedules, and social stories often and not just one time!
8. Meet Obstacles With Compassion
Once the school year begins, caregivers and teachers should expect some obstacles and challenges in kids who routinely struggle with transitions. Meeting these struggles with compassion and providing co-regulation support when autistic children become overwhelmed is key to building and strengthening relationships. For example, a child may enter fight or flight mode with a small but unexpected change, and may scream and knock their chair over.
Many adults may see this and think this child is being "bad." Challenge these thoughts to change and instead of thinking "bad" and needing a punishment, use the term "dysregulated" and in need of support. Changing this one small thing can be a game changer for supporting autistic kids and helping them thrive!
How to Get Free Incontinence Products for the School Year
If your child with autism is headed back to school, you know the importance of getting them prepared, but the preparation doesn't have to stop with your little one!
You can prepare yourself financially and emotionally by using Aeroflow Urology's free diaper and pull-up service to stock up on incontinence products so you and your loved one are fully ready to manage incontinence this school year!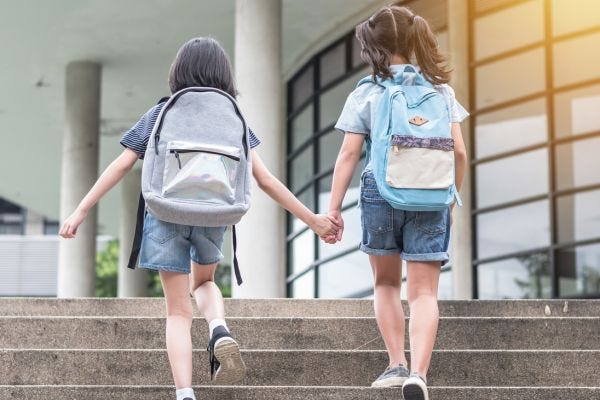 If your child qualifies for our services, we'll send their free products right to your doorstep and refill their products every month, saving you time, money, and stress. To see if your child qualifies for free pull-ups, diapers, bed pads, and more through insurance, fill out our secure Eligibility Form.
While difficulty with back to school transitions is a common experience for many children, having the right support and accommodations can help ease these struggles to have a smoother, less stressful start to a new school year.
In addition, meeting these struggles with compassion and understanding is crucial to helping a child feel safe and respected in a manner that can set them up for a positive school experience that can continue not just this year, but in years to come. Always remember that each child is unique and some may benefit from more repetition or take longer to adjust, and this is okay! Meeting a child with empathy, patience, and continued support will have long term benefits to help a child thrive in school.
Disclaimer
Information provided on the Aeroflow Urology website is not intended as a substitute to medical advice or care from a healthcare professional. Aeroflow recommends consulting your healthcare provider if you are experiencing medical issues relating to incontinence.