We recently conducted a survey to better understand seniors' experiences with independence and aging, particularly when it comes to needing assistance from friends and family members with incontinence. After using a third-party surveyor to poll 1,003 adults over the age of 60 in the United States, we can now illustrate just how crucial the need for better communication is among seniors and their close ones as they age.
Incontinence Survey Results
44% of seniors either experience issues with incontinence or know someone else who does.
68% discovered that someone they know suffers from incontinence because the person told them.
32% learned of someone else's incontinence issues by noticing an accident.
54% said that if they experienced incontinence, they would feel embarrassed discussing it with their friends or family.
48% of seniors would ask friends or family for help if they had incontinence issues.
47% said if they experienced incontinence symptoms, they wouldn't say anything about it and would hope it would go unnoticed, while 5% said they would lie about it to hide it, meaning more than half of seniors wouldn't be open about it.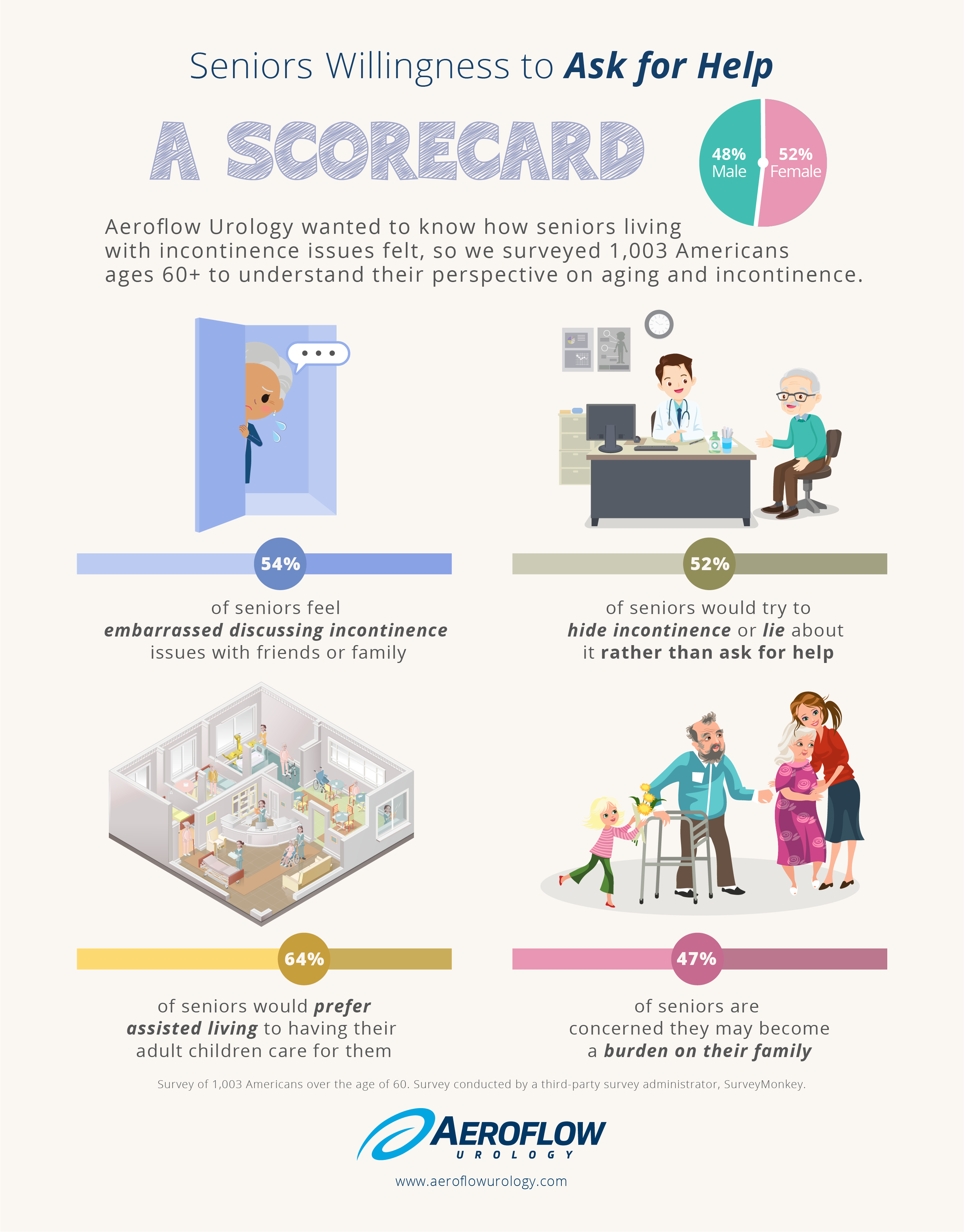 25% said they had either skipped a social event due to incontinence or know someone else who has.
96% of participants do not have any of their adult children caring for them.
64% would prefer assisted living over having their adult children care for them if their daily routine became too difficult.
78% would not be opposed to entering an assisted living facility if they were unable to care for themselves.
47% of seniors are concerned that they may become a burden to their family.
When it comes to using incontinence supplies:
10% use briefs
9% use pull-ups
22% use bladder control pads
6% use bed pads
2% use catheters
66% use nothing – if up to 44% of seniors suffer from incontinence and only 34% use supplies to manage it, that means there are seniors with incontinence who aren't taking steps to control it!
Receiving Free Incontinence Supplies Through Medicaid
Incontinence supplies can become costly very quickly, especially if you're on a fixed income. Through Aeroflow Urology, you can receive free bladder control products through your Medicaid plan each and every month. All you have to do is fill out our quick and easy 2-step form, and we'll take care of the paperwork. We'll verify your insurance coverage with your provider, and one of our Continence Care Specialists will review your coverage options with you in 1-2 business days. Dealing with incontinence can be emotionally taxing, but it doesn't have to be economically taxing.
Information provided on the Aeroflow Urology blog is not intended as a substitute to medical advice or care from a healthcare professional. Aeroflow recommends consulting your healthcare provider if you are experiencing medical issues relating to incontinence.