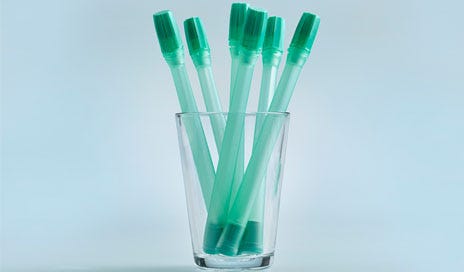 Coloplast Catheters
Choosing the right medical products is almost universally a daunting task for both patients and their caregivers. In choosing the right catheter for you or your loved ones, one brand, in particular, stands apart as one of the industry leaders in patient outcomes and product quality, and that is Coloplast catheters.
Hydrophilic Catheters
Coloplast is among the largest catheter manufacturers not only in the US, but in Europe as well. They were one of the pioneering creators of hydrophilic catheters. Because
hydrophilic catheters
have a pre-coated lubricant, you can easily insert a sterile catheter. While this newer technology is inherently slightly more expensive, it also decreases the likelihood of urethral damage and increases patient comfort, which can lead to increased adherence to a program of intermittent catheterization. Coloplast's SpeediCath series of products is among the highest quality hydrophilic catheters on the market, with sizes ranging from female and pediatric, to male sizes in a variety of French sizes.
Compact, Discrete Catheters
One of the most popular products that Coloplast offers is their compact, discrete catheters for both males and females. While many catheters come in a traditional plastic sheath and can be up to 16" long, Coloplast compact discrete sets are constructed to look more like ink pens, mascara, lipstick, or other innocuous items.
For patients that travel often and must catheterize in public or workplace restrooms, these compact discrete sets can be a source of both convenience and dignity. Rather than women needing to fold over a long catheter in a larger purse, or men worrying about catheters sticking out of their pocket, you can easily conceal these convenient Coloplast catheters in almost any location.
The female compact Speedicath, for example, is smaller than a tube of lipstick, yet with a telescoping 6" catheter included. Likewise, the male compact Speedicath is the same size as a ballpoint pen, enabling men to conceal it in their shirt or pants pocket with no issues. Finally, the slightly larger Speedicath compact set includes a closed system urine collection bag, allowing for easy, sterile collection in any setting, decreasing the likelihood of UTI's and other complications.
SpeediCath
Studies show that
SpeediCath
is preferred by users for its convenience, speed, and discretion. SpeediCath is the proven and reliable catheter that has set the standard for catheterization for almost 15 years. These Coloplast catheters are available in a variety of lengths and sizes to suit women, men, and children.
When dealing with complex medical conditions that require intermittent catheterization, patients, and their caregivers will want a brand that they can stand behind. Aeroflow Healthcare is proud to partner with Coloplast to offer their entire suite of medical products. Additionally, Aeroflow Healthcare has access to all major national catheter brands and products, allowing us to be your one-stop shop for all your urological needs. Our trained representatives can even contact you monthly or quarterly to assist with discrete resupply, directly to your home. If you or someone you know is using catheters, do not delay, contact Aeroflow Healthcare today at 844-276-5588 or fill out the
qualification form
.
Information provided on the Aeroflow Urology blog is not intended as a substitute to medical advice or care. Aeroflow recommends consulting your healthcare provider if you are experiencing medical issues relating to incontinence.
Qualify For Catheter Samples!