Making last-minute trips to the store for catheter products, running out of supplies, and not knowing which type of catheter you need while shopping are all obvious reasons you should switch from buying intermittent catheters to getting them through a catheter shipping service.
But did you know you could save hundreds of dollars a year by getting your catheters covered by your insurance plan?
It's true! Catheter users spend an average of $1,464 on supplies each year out of pocket, but with a durable medical equipment supplier (DME), like Aeroflow Urology, you can save your money and simplify the process of getting intermittent catheters.
Here are 5 reasons you should stop buying your catheter products over the counter.
5 Reasons You Should STOP Buying OTC Catheters
This is probably the most essential reason to switch from buying urinary catheters in drugstores to getting them through a supplier.
Rather than spending over $1,000 on catheter supplies each year, you can save your hard-earned money for other things.
We know that medical supplies for incontinence, like catheters, are necessary for maintaining your quality of life and should be covered by insurance, which is why we offer medical-grade products through insurance.
2. YOU HAVE TO LEAVE YOUR HOME
Getting your intermittent catheters from the store requires you to leave your home every time you need products.
You'll most likely need to drive to the store, navigate the isles trying to find the type of catheter you require, and wait in long check-out lines. We eliminate this process completely by shipping your catheter supplies straight to your home every month you need them in unmarked boxes, all for free!
After placing your order online, you'll enter your shipping information, and no matter where you live, we'll ship your order completely free, cutting out the store trips.
3. YOU MIGHT NOT FIND THE CATHETER YOU NEED
Many stores don't carry every type of catheter, and if they do, they may run out, especially during the pandemic when people are stocking up on medical supplies.
In some cases, you might purchase a catheter and then get home, only to realize you've bought the wrong type of catheter which could cause you pain or discomfort! Then, you'd have to back to the store and spend money on the right one.
Our selection of catheter products spans from intermittent catheters to different types of catheter tubes, and we carry the highest-quality brands that will suit your specific medical condition.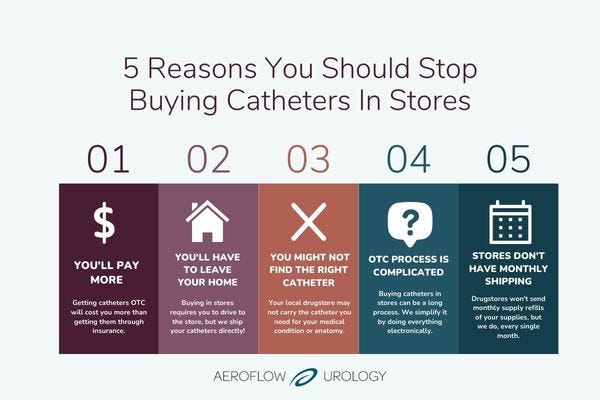 4. OTC PROCESS IS COMPLICATED
Buying catheters OTC can be a complicated process, especially if you're a first-time catheter user.
You'll probably start by researching which types and brands of caths your closest drugstore has. Then, you'll need to locate the store and make time in your day to run the errand. After you arrive at the store, you'll need to walk the aisles and inspect each type of catheter the store has on its shelves. Do you need a red rubber catheter? Do you need a product that works for intermittent catheterization or an indwelling catheter? Once deciding at the store, you'll wait in line to buy it. While at home, you'll need to read the product's directions.
All of this could be eliminated by using a DME like Aeroflow Urology.
How?
We make it super simple by offering everything right on your mobile device or computer in your own home! After filling out our Eligibility Form, our insurance experts will determine your eligibility and contact you. Then, our Continence Care Specialists can:
Walk you through product recommendations.
Offer self-catheterization advice.
Send you free samples.
Ship your order.
And this all happens at the touch of a few buttons!
5. STORES DON'T HAVE MONTHLY SHIPPING
Each time you need more catheters, you'll have to go to the store, probably around once a month.
By using our services, your supplies will be refilled each month so you won't run out!
We send you friendly, monthly refill reminders to either your mobile phone or your email based on your preferred method of communication.
From there, all you need to do is log in to your Aeroflow Urology account and reorder your products.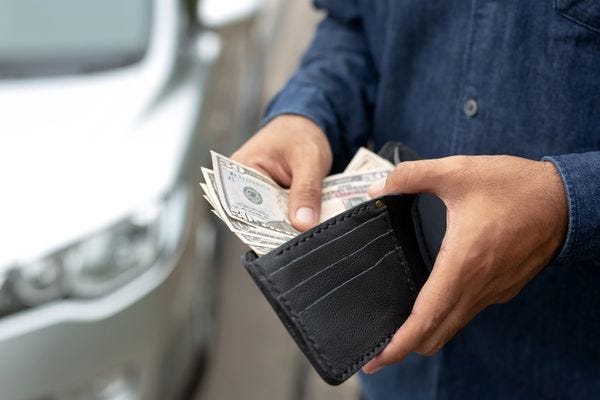 How to Get Catheters for Less Through Insurance
We know that catheters are medical supplies that are necessary for keeping yourself or your loved one in good health and should be covered by insurance.
To see if you or your loved one qualifies, follow these simple steps.
Provide your insurance information with our secure Eligibility Form or give us a call at 844-276-5588.
We'll verify your coverage and submit all required paperwork on your behalf.
We'll provide you with a curated selection of supplies covered by your insurance.
That's it!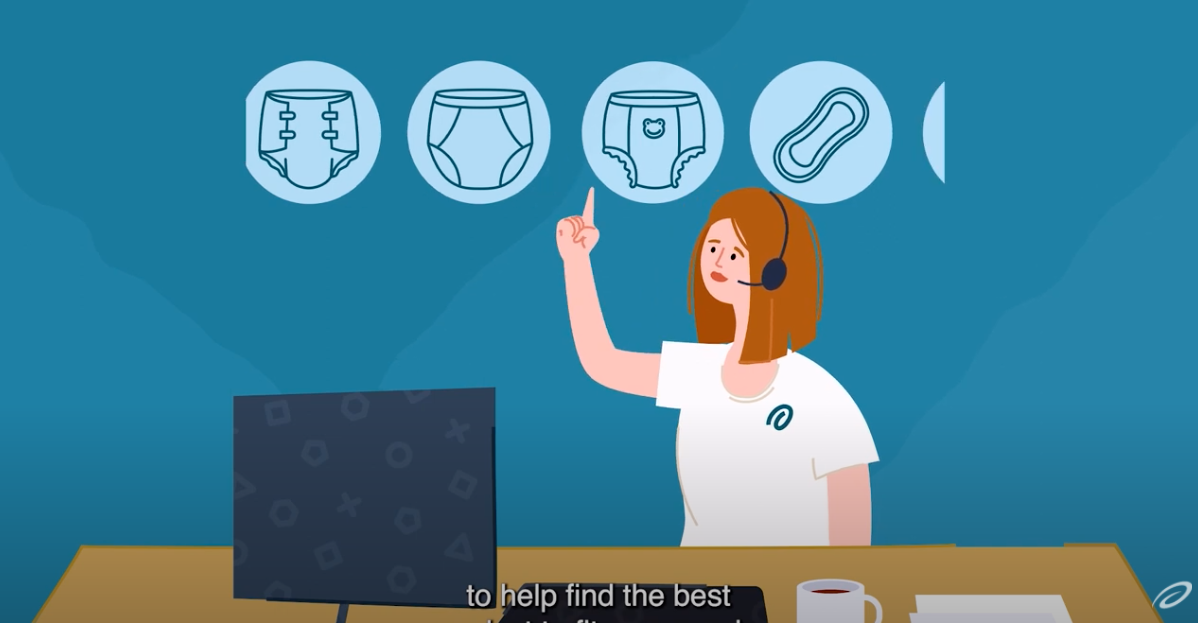 Your supplies will ship to your home each month as allowed by your insurance policy.
National Study Finds Limited Health Plan Coverage and High Out-of-Pocket Costs for Catheter Users. (n.d.). Spina Bifida Association. https://www.spinabifidaassociation.org/news/national-study-finds-limited-health-plan-coverage-and-high-out-of-pocket-costs-for-catheter-users/
Information provided on the Aeroflow Urology blog is not intended as a substitute for medical advice or care from a healthcare professional. Aeroflow recommends consulting your healthcare provider if you are experiencing medical issues relating to incontinence.