Adult Diapers for Incontinence
Dealing with incontinence can be a challenging experience. Fortunately, there are solutions to control leaks and maintain a sense of dignity. One of the most effective and popular options is the use of adult diapers. Use this guide to learn about our adult diapers and how to get them through insurance.
What Are Adult Diapers?
Unlike incontinence pads or pull-on incontinence underwear, adult diapers are unisex, tab-style briefs fit for those with more severe urinary incontinence or fecal incontinence.
These discreet, disposable diapers are equipped with odor control and maximum absorbency for excellent incontinence protection while still being breathable to keep the wearer comfortable and protect against skin irritation, such as diaper rash.
While all of our medical-grade disposable briefs have these qualities, there are different types to consider.
What's the Difference Between an Adult Diaper and a Pull-On?
An adult diaper is designed with tab-style closures for easy changes and typically comes with maximum absorbency for those with heavy, severe, or overnight incontinence. Adult protective underwear (pull-on) are made to look and feel like real underwear and are best suited for moderate incontinence.
Types of Adult Diapers
Different incontinence diapers are designed to fit different needs. You can choose from different absorbency levels, daytime or overnight diapers, or bariatric briefs.
Our incontinence briefs are made by the following top brands:
TENA

Attends

Cardinal Health

Medline

Prevail

Tranquility
Find out if you qualify to get these high-quality brand adult diapers 100% covered by insurance in under 5 minutes with our Eligibility Form.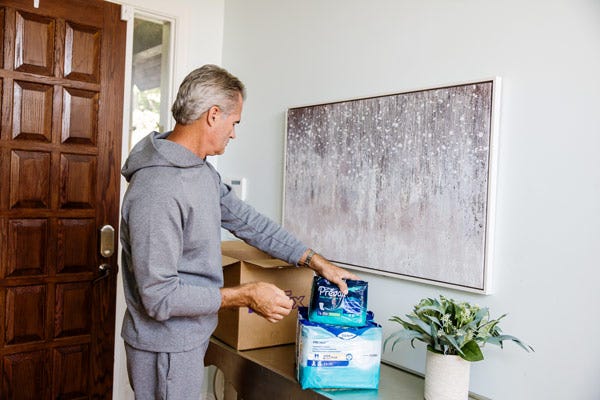 What to Consider When Choosing an Adult Diaper
It's important to find the perfect adult brief for you or your loved one to avoid issues like leakage or irritation. When choosing your product, consider the style, absorbency level, and size needed to fit your unique incontinence needs
Style
Each of our adult diapers is designed with flexible, tab-style closures that are perfect for those with heavy to severe incontinence to ensure easy removal and application. With ultra-absorbent yet breathable fabric, your skin will stay dry to keep you comfortable throughout the day or night.
Absorbency
It's crucial to your continence care that you choose the correct absorbency level for your unique needs. While adult briefs are made to protect against the heaviest urinary and bowel incontinence, you can choose from an assortment of absorbencies. Choose the adult diaper that correlates with your level of leakage.
Moderate absorbency: Moderate to heavy leakage.
Super absorbency: Heavy to severe leakage.
Maximum absorbency: Heavy to severe leakage.
Overnight absorbency: Severe/overnight leakage.
Size
Sizing is critical for the efficacy of your adult brief. Your product should fit comfortably around your body and not be too tight around your legs or waist. If your sizing is incorrect, you may experience leakage.
Use a cloth tape measure to measure your hips and waist size. These sizes will indicate which size adult brief you need. You can choose from:
Small
Medium
Large
Extra Large
2XL
3XL
If the specific product you're choosing doesn't correlate with hip and waist size, you can determine the size you'll need by your height and weight.
Best Adult Diapers Free* Through Medicaid
Prevail Per-Fit 360 Daily Briefs
Prevail Per-Fit 360 Daily Briefs are a tabbed-style adult diaper with maximum absorbency.
Unisex

Omni-Odor Guard

Microclimate Care

Expandex Wings

Maxsorb Gel Technology
These briefs are best suited for those with heavy bladder or bowel leakage.
TENA ProSkin Briefs
Equipped with maximum absorbency, TENA ProSkin Briefs have tabbed closures and full-length hook fasteners.
Unisex

Insta-Dry Skin Caring system

DRY-FAST Core

Wetness indicator

Hook fasteners
TENA ProSkin Briefs are designed for those with heavy to overnight incontinence.
---
Attends Baraitric Briefs
Attends Bariatric Briefs have tab closures and are made to fit larger waists.
Unisex

Designed to fit 2XL and 3XL sizes

RapidLock Dual Core

SuperSorb Dryness layer

Soft, breathable fabric
These briefs are made for those with a larger waist and heavy incontinence.
Prevail Air Overnight Briefs
Designed for those with overnight incontinence needs, Prevail Air Overnight Briefs offer extended-use protection.
Fast-absorbing Dual Core

Breathable fabric

Skin Smart Fabric with Aloe, Vitamin E, and chamomile

Advanced zoning system

Reattaching fasteners
Prevail Air Overnight Briefs are best suited for those with severe to overnight incontinence.
---
---
Will Insurance Cover My Adult Diapers?
We know that adult diapers are a medical necessity for those with incontinence. That's why we help you easily and quickly determine if you qualify to get your adult briefs 100% covered by Medicaid. While most state Medicaid plans cover incontinence products, your eligibility will be determined by your specific state, coverage, and diagnosis.
To find out if you qualify, fill out our Eligibility Form. It takes under 5 minutes and all you need is your insurance card.
We'll also...
Send you free adult diaper samples so you know you're getting the correct size and absorbency for your needs.
Help you easily navigate and understand your insurance policy and coverage.
Ship your adult diapers for free in unmarked boxes.
Send you a text message or email when it's time to refill your supplies.
If you fill out our Eligibility Form and find out that you don't qualify for adult diapers covered through Medicaid, you can still get the same high-quality adult briefs at our Aeroflow Store. We offer low prices to fit your budget, the same discreet packaging, and free 1-3 day delivery on orders over $25.
Other Products Free* Through Medicaid
We offer other incontinence products that may be free* through Medicaid, including:
Bed pads

Booster pads

Incontinence pads

Adult protective underwear

Underpads

Gloves

Wipes
Disclaimer
*Medicaid coverage varies by state. Submitting your info is not a guarantee of benefit.