Susie Gronski, PT, DPT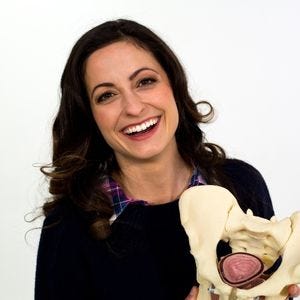 Specializing in men's pelvic and sexual health,
Susie Gronski, PT, DPT
is a Medical Advisor and Writer for Aeroflow Urology and a licensed doctor of physical therapy, certified pelvic rehabilitation practitioner, Michigan-trained sex counselor and educator, and international teacher. She is the author of "Pelvic Pain The Ultimate Cock Block."
Getting to Know Susie Gronski
What is a typical day like for you?
A typical day for a pelvic crusader like myself starts with a workout at my favorite gym, MADabolic Asheville at 6 a.m. (nothin' wrong with gettin' strong!). I take my fur baby, Stella, out to the park for a doggie date with her friends and after that, I have a date with my meditation cushion before starting my workday.
My typical workday begins with one-on-one patient care at the office where I see about four to five patients per day. Afterward, I have an evening date with my hubby and doggie. We may hike, relax on the deck in the sun, or walk through our favorite neighborhoods in our city. We then have dinner (need to fuel up and nourish my body), and I have another rendezvous with my meditation cushion. My head hits the pillow around 9:30 p.m. most nights.
What made you get into this field of medicine?
My passion for men's pelvic health began over a decade ago. After opening my private practice (which at the time was in Illinois and focused mostly on women's health), I had men reach out asking if I could help them with similar symptoms (pain with sex, pain with sitting, bladder pain, testicle and penis pain, etc).
It was because of these brave men who didn't give up and had the courage to reach out to me for help that I was motivated to be an advocate for men in the realm of pelvic health. It was clear to me that a space for pelvic and sexual health for men was desperately missing.
What is your favorite part about your job?
My favorite part about my job is empowering individuals to talk about their pelvic and sexual health concerns in a non-judgemental and sex-positive space. Sexuality is an integral part of health and well-being that is often accompanied by stigma and shame.
So, to be able to offer a therapeutic container where people can embrace their sexual selves, speak freely about their intimate health concerns, and discover strategies to address these concerns is such a blessing!