My dad opted for open-heart surgery at the young age of 87. He had run out of options. My mom was in mid-stages of dementia and my dad wanted to do everything he could to help take care of her. Even heart surgery was worth it if it meant he could gain some precious time with her. He decided to make peace with the risks.He did great during the surgery and came through with his usual grit and determination. I could see he was physically devastated but remained positive and hopeful as always.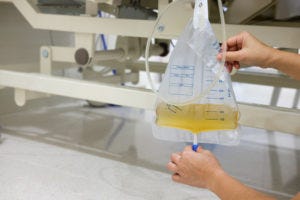 As we began his recovery, there was so much we weren't prepared for and the learning curve was pretty big. We quickly realized my Dad was having
bladder issues
. We discovered that the operation and the anesthesia had shut down his organs and his body was in shock, taking its sweet time to reboot. He was fitted with a catheter and told it was just a waiting game. After speaking with various urologists, we found a brilliant and kind doctor who was confident we would be able to get my dad back to his personal best and be free of the catheter in due time.
'In due time' turned out to be months, testing my dad's endless patience and resilience. I tried everything I could to make him as comfortable as possible. I became the
catheter
and
catheter bag expert
. I found easier, smaller, safer options so he could feel free to go out and about. I would help him empty and clean and I made sure we did everything possible to
avoid infection
. Nevertheless, it was a father's nightmare and a daughter's heartbreak. I was so nervous and worried I would hurt him or upset him.
He was stoic and wonderful, even though his dignity took a major hit. We were both embarrassed at the beginning. Eventually, we started getting into a routine as we got used to the new normal.  Finally, we started kidding around again. We began to relax with each other and with our situation. We realized it was what it was and we might as well take the time we had together and enjoy it as much as possible.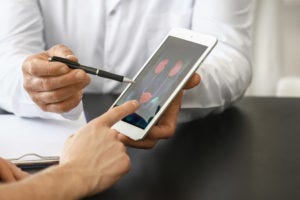 I learned a lot about myself and my dad during this time. Humor and the power of love can conquer anything. And things we thought we would never be able to do are the very things that we end up handling with grace under fire. I look back at this time with my dad and am grateful we were able to be such a great team together, and that we were given an opportunity to bond over our ability to conquer any challenge we faced.
The story has a happy ending. My dad's amazing urologist was able to perform a procedure on my dad which he responded to and we were able to throw that
catheter
in the garbage for good. Due to our persistence and Dad's patience, he was able to return to normal, functioning on his own for the rest of his days. I give both of us so much credit for braving the storm and persisting until the sun broke through. The gift of it all was that we became closer, and got to know each other in a very special way. I believe it's not the actual challenges we face that help us grow, but how we react to them. In our case, a painful and uneasy time gave us a chance to be our best selves and turn into best friends.
--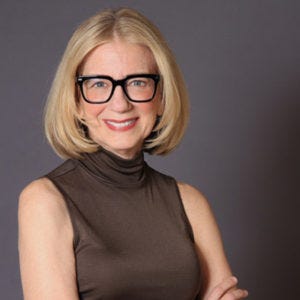 About the Author
Susanne White
is the founder of
Caregiver Warrior
. She was blessed with the opportunity to care for her parents and ventured out on a caregiving journey that would change her life. She blogs about this journey on her website,
caregiverwarrior.com
and shares her experience, strength and hope with others so that they too may survive caregiving with grace and empowerment. Follow her on
Twitter
 LinkedIn
Facebook
Instagram
.