Incontinence in adults can often be an embarrassing problem that people would rather not talk about.
However, there are so many products out there on the market that making a decision on what incontinence products to use can become very difficult.
Aeroflow would like to give you a short guide on how to choose an incontinence product that is best for you and your health.
How to Choose an Incontinence Product
Pads and Liners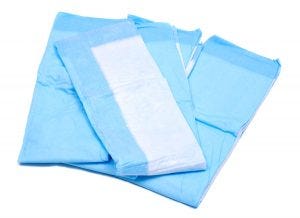 Chux or under pads protect beds and seats
If you are living with mild incontinence, then
pads and liners
may be best for you. Pads and liners are worn inserted on to your normal underwear. This makes it easier to adjust to wearing them. Simply remove the pad or liner from the package, peel off the adhesive revealing the glue center, then stick the pad or liner to the crotch of your regular underwear. Pads and liners are not visible under your clothing which makes them a good option for those who want to be discreet. They are also a snap to dispose of in public restrooms or when making a visit to friends and family.
Protective Underwear
Protective underwear, also called
pull-ups,
offer the wearer the benefit of a cloth-like material on the outer shell. This will not only help improve the feel of the protective underwear against your skin, but it will also allow your skin to breathe.
Prevail Extra Underwear
is a great example of this benefit. It also offers a much more discreet option than other plastic-backed briefs. The material stretches to offer the wearer a more secure fit that won't lead to accidents.
You may also find protective underwear that is made to be specific to gender. The gender-specific version is made to look like traditional underwear worn by that gender. A final benefit is that protective underwear can easily be disposed of just like adult diapers. Simply tear the sides, wrap it up, and throw it into a proper garbage disposal.
Adult Diapers
Adult diapers
are for those who need full protection. These have the tabs on the sides that make it easier to pull the adult diaper on and off as needed – even while wearing pants, shoes, and socks. What some may see as a disadvantage to adult diapers or briefs is that they tend to appear bulky under clothing. This may be a drawback for adults who are conscientious about their appearance.
However, adult diapers do provide a much higher level of absorbency than all of the other incontinence products.
Aeroflow makes it easy to order the incontinence supplies you need to live your life. You can make your order online using our secure website, or
qualify through insurance
for your incontinence supplies. Medicaid also covers a certain number of diapers per month — 
Most state Medicaid plans can pay for up to 200 disposable incontinence supplies each month.
You can also call our customer service number and speak to a representative to make your order. Aeroflow makes it even easier to get your incontinence supplies on a monthly basis with our easy subscription system. Simply tell us what you need on a monthly basis, and we will automatically send your supplies to your home automatically.
Information provided on the Aeroflow Urology blog is not intended as a substitute to medical advice or care. Aeroflow recommends consulting your healthcare provider if you are experiencing medical issues relating to incontinence.