Aeroflow Urology works with patients, doctors, and insurance providers to deliver top quality incontinence and urological supplies. Our dedicated Continence Care Specialists take time to match each patient with the best items to help them confidently manage incontinence on a daily basis. Our simplified process helps children, adults, and seniors get the most out of their insurance benefits and receive a monthly supply of chux, pull-ups, bladder pads, changing, gloves, and more. Check out what our patients are saying about the supplies and service they receive, and take the first steps to get started!
Aerflow Customer Testimonials
For many people with incontinence, it can be a struggle to purchase an adequate supply of adult briefs, underpads, and other supplies to manage symptoms. These patients, as well as their caregivers, are often surprised at what they may be eligible to receive through Medicaid to help maintain quality of life and minimize stress. Find out what our adult patients and caregivers have to say about working with Aeroflow Urology.
Aeroflow Adult Facebook Reviews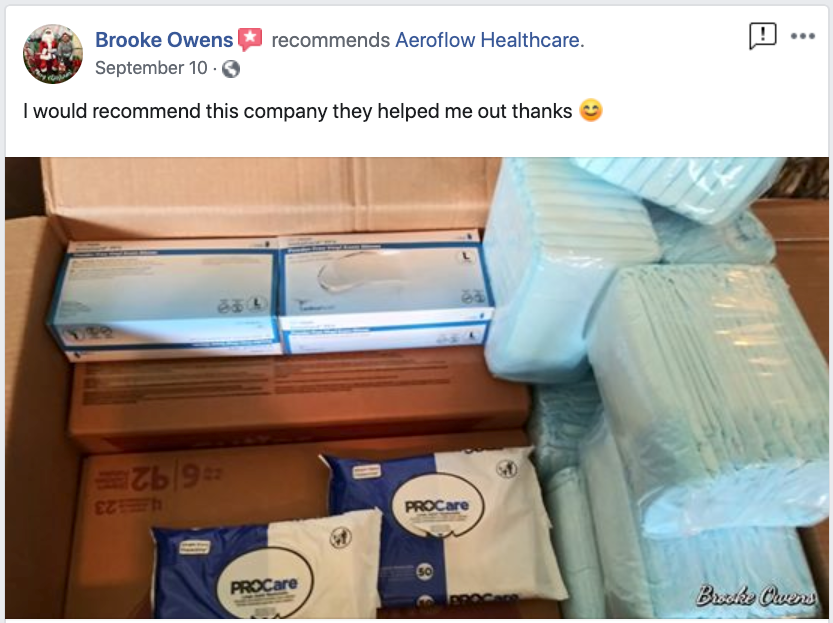 "Wow that order came in just a few days, not the ten we expected. The great service is really appreciated! Thank you.""Aeroflow was very professional and helpful! The customer service was great. After making my order it arrived in only two days. Couldn't be more pleased!"

"I talked to a rep one day and a few days later we got a shipment (the first one). I moved while using this service and informed my rep that we were moving and the day that we were moving, and when I arrived with the moving van to the new location a delivery came about halfway through unloading the moving van. I love this company. I recommend everyone look into them and use them. Getting a delivery the day we moved was wonderful."

"I am very impressed by the service they provide. It is so convenient for me, I do not have a vehicle to go out and purchase. They accept my insurance and deliver on time each month! Thank you Aeroflow Healthcare!!"
"Not only is your rep extremely competent and excellent at her job, she is so kind, helpful, and understanding to talk to. I can't tell you how much we appreciated her help."

Madeline Delp on Working with Aeroflow Urology
Madeline Delp, a car wreck spinal cord injury survivor, shares what it's like to deal with incontinence on a daily basis while maintaining an active lifestyle. She relies on Aeroflow Healthcare to provide highly specialized care, discretion, and guidance on what products work best for her unique situation.
Aeroflow Pediatric Facebook Reviews
"These tremendously helped me more than they know. Especially me being an unemployed young parent with a disabled child.""Your rep is the most compassionate person I have ever worked with… I'm so thankful, she's doing what's important."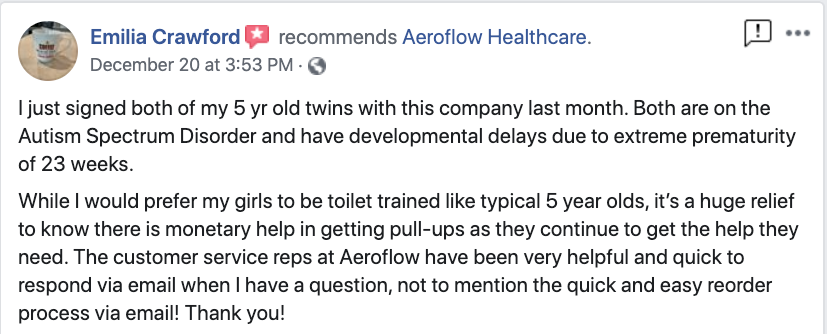 "We just received our packages for my 3 yr and I'm so grateful for this! Pull ups are expensive and now we can get them for free is such a weight lifted off my shoulders. We're working with the ABA therapist and his special education teacher to potty train but in the meantime we have to use pull ups until he can use the potty on his own. So THANK YOU Aeroflow !!!"

"I loved the service provided to me by Aeroflow. They made it super easy to get diapers and it was super fast. Thank you so much.""Your rep is the most compassionate person I have ever worked with... I'm so thankful, she's doing what's important."

"It was the easiest process! My product was shipped in no time. Awesome service!""I had the pleasure of working with Aeroflow Healthcare and all I can say is superb!"
"Thank you for making getting diapers so easy and affordable! I love the quality and having them delivered to my door every month!""I got a dozen boxes of plastic gloves, lotion, six boxes of pull-ups (which was crazy expensive for one box) baby wipes (omg their wipes were AMAZING, better than any bought at the store), bed pads- the throw away kind and reusable kind."

Incontinence Supplies Unboxing
Ever wonder how our patients obtain the supplies they need? They are actually discreetly packaged and shipped directly to patients' homes every month as insurance allows. No more last-minute trips to the store when supplies run low, you can count on a consistent stock to keep you or your loved one covered for any situation.
Qualify For State Medicaid Incontinence Supplies Now!
We will help you determine your coverage options and a monthly supply of exceptional incontinence products! Simply refer to the following steps to get started.


Fill out our quick qualification form.
We will contact you with your options.
Relax as a monthly shipment of incontinence supplies arrives at your home!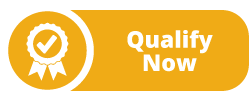 *Information provided on the Aeroflow Urology blog is not intended as a substitute to medical advice or care. Aeroflow recommends consulting your healthcare provider if you are experiencing medical issues relating to incontinence.